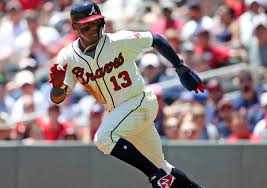 Last season, we were predicting that 2019 would be the year that the Atlanta Braves (90-76) break through. We were not the only ones saying that. Well, obviously the Braves weren't paying attention, as their rebuilding efforts paid dividends a year or two earlier than expected. In 2018, Atlanta won 90 games, made the playoffs, and finished on top of the NL East. They did not get to the Promised Land, the World Series, but they sure played well. At this point, the Braves appear to be the best team in the NL East. Our 2019 Atlanta Braves preview sees this team as pretty much repeating what they did last season. But they should do it by winning a few more games.
Pitching
Atlanta pitching was solid, as the Braves hurlers held hitters to a .229 BA (2nd). In terms of ERA, their 3.75 mark was seventh in the majors. Their starting rotation performed better than average when compared to others in the league. Atlanta's bullpen put up stats that pretty much reflected the NL average. The Braves were 16th in saves with 40. That was one below the average. Their 90 wins tied them for 10th in MLB.
Starters
At the top of the Atlanta rotation is righty Mike Foltynewicz (13-10 W/L, 2.85 ERA, 1.08 WHIP). Foltynewicz, who led all NL starters in average velocity (96.4 mph), offers a well-placed fastball and an effective slider. Last season, Foltynewicz made his first All-Star team. Next in line is lefty Sean Newcomb (12-9 W/L, 3.90 ERA, 1.33 WHIP). Newcomb had an uneven year. He got off to a rocky start, as over nine games he posted a 5.77 ERA. Then, after a near no-hitter versus the Dodgers, Newcomb found balance and performed well.
Right-hander, Julio Teheran (9-9 W/L, 3.94 ERA, 1.17 WHIP) is slotted to pitch third. In each of his six MLB seasons, Teheran has made 30 starts. His stuff is not that of an ace, but he is a solid performer who makes hitters work hard. Our Atlanta Braves preview notes that Kevin Gausman (10-11 W/L, 3.92 ERA, 1.30 WHIP) came to Atlanta last season in the summer from the Orioles. In Atlanta, over 10 starts, he had a 2.87 ERA. Righty Touki Toussaint (2-1 W/L, 4.03 ERA, 1.34 WHIP) fills out the starting rotation. He's a swing and miss pitcher who can accumulate strikeouts quickly. His K/9 last season was 9.93.
Relievers
The bullpen is strong and includes two guys who can close out games. The primary ninth-inning hurler is Arodys Vizcaino (2-2 W/L, 2.11 ERA, 1.17 WHIP). Since the right-hander was named Atlanta's closer in July 2017, he has converted 28 of 31 chances. He brings a heater that clocks-in at 98 mph and an effective curve. However, over the past six years, there have been injury and suspension issues. If Vizcaino proves to not be reliable, there is lefty A.J. Minter (4-3 W/L, 3.23 ERA, 1.29 WHIP). Minter is the setup guy, but last season, he recorded 15 saves when Vizcaino was on the DL. That's the most by any rookie lefty since Will McEnaney saved 15 for the Reds in 1975. In middle relief, left-hander Jonny Venters (5-2 W/L, 3.67 ERA, 1.22 WHIP) can mow down lefty batters.
Everyday Players
The Braves were a better than average team when it came to offense. They were fifth in batting average, as the team hit .257. In just about every other batting category they finished from ninth to 11th in the majors. The one exception was homeruns, as the team had 175, which ranked them 19th. Our Atlanta Braves preview observes that this team was 11th in slugging percentage (.417), on-base percentage (.324), OPS (.742), and RBI (717). They finished ninth in total bases (2330), 10th in stolen bases (90), and tied for 10th in runs (.759).
Hitting
The Braves have a formidable lineup that starts with left fielder Ronald Acuna Jr. (.293 BA, 64 RBI, 26 HRs). Acuna may strikeout a lot, but he has power, speed, and energy. The next two slots in the batting order will be filled by Ozzie Albies (.261 BA, 71 RBI, 24 HRs), the Braves' second baseman, and first baseman Freddie Freeman (.309 BA, 98 RBI, 23 HRs). Albies poked 69 extra-base hits in 2018, while Freeman led the league in hits with 191. Over the past two seasons, Josh Donaldson, who played for Cleveland and Toronto last season, has compiled a slugging percentage of .838. He'll bat cleanup.
The fifth spot will go the catcher Brian McCann (.212 BA, 23 RBI, 7 HRs). McCann, who comes back to Atlanta from Houston, is a hit-producer. He did have an off-year in 2018. Last season, Ender Inciarte (.265 BA, 61 RBI, 10 HRs) had a tough time at the plate, as his batting average fell to .265. That's a 39-point drop. He did steal a career-high 28 bases. Right fielder Adam Duvall (.195 BA, 61 RBI, 15 HRs) bats seventh. He too struggled last season. Look for Duvall and Inciarte to bounce back in 2019. In 2018, shortstop Dansby Swanson (.238 BA, 59 RBI, 14 HRs) was solid in high-leverage situations. At crucial moments, he hit .333 and smacked five round trippers.
Defense
The Braves were just about average when it came to double plays. They finished off 134 DPs (tied 16th). Atlanta was ranked eighth in fielding (.986). The middle infield is young and talented and still trying to find their way. Swanson plays short and Albies second. They'll be working hard to make their partnership productive. Third will be patrolled by Donaldson who the Braves signed to a one-year contract. From 2013-16, he was the best third baseman around. Atlanta is hoping to see him recreate his former self. Freeman, who is one of the best hitters in baseball, does a good job at first. McCann, who was a fan favorite when in Atlanta, returns to the Braves at the age of 35. His bat is still good, but look for him to be more of a solid clubhouse guy who will smack some homers. Tyler Flowers, who's an excellent pitch-framer, is likely to see most of the action.
Left fielder Acuna, who was the NL Rookie of the Year in 2018, is a top-notch fielder. He just turned 21 and should have a long career. Despite problems at the plate, Inciarte proved to be one of the best center fielders in the game. Last season, he won yet another Gold Glove. Although Duvall performed poorly when he came to Atlanta from the Reds last July, he'll be given a chance to redeem himself. If that doesn't work out, then expect to see Johan Camargo in right. Last season, Camargo played second, short, and third. He's a fine athlete and consistent performer.
Management and Front Office
Our Atlanta Braves preview observes that GM Alex Anthopoulos and manager Brian Snitker must be doing something right. Anthopoulos has done a good job at making deals without giving away the farm and the prospects on it. Plus, he's a solid evaluator of talent. After three years at the helm, Snitker has proven to be much more accomplished than the Braves had anticipated. He's a no-nonsense guy who's put together an excellent coaching staff. Snitker is popular in the clubhouse and proved last season to be a sound tactician.
2019 Atlanta Braves Preview: Final Word
Our Atlanta Braves preview finds that there's a lot to like about this team. The starting rotation and bullpen are both well-stocked. The batting order is filled with guys who can knock out extra base hits. The outfield is sound defensively, there's a good mix of youth and experience, and the Braves possess depth. Of course, there are some concerns when it comes to the lower part of the batting order, and Vizcaino can provide some unexpected complications. Still, our 2019 Atlanta Braves preview sees this team as taking down the NL East.
Projected Finish: 1st NL East, Record: 96-66
LINKS