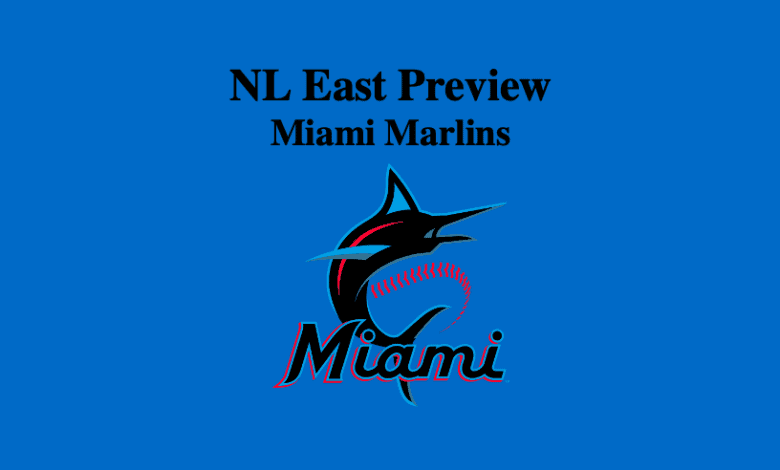 Our NL Miami Marlins preview 2021 observes that of the 30 teams in MLB, it was this club that surprised everyone. The Marlins finished 31-29 with an adjusted 162-game record of 84-78, finishing second in the NL East and garnering a wildcard spot. The Marlins, which had not been to the playoffs since 2003 when they won the World Series by beating the New York Yankees four games to two, made it to the NLDS where they lost to the Atlanta Braves three games to none. Was last season an anomaly or can Miami put in a repeat performance? The truncated season certainly helped the Marlins, a team that was 57-105 the year prior. A long, hot, hard 162-game season could be this team's undoing.
NL Miami Marlins Preview 2021 – Pitching
In 2020, the Marlin pitching staff posted a 4.86 ERA (11th), while opponent batting average came in at .267 (12th). Their 1.45 WHIP was the fourth highest in the league. Miami pitchers gave up the fourth-most homers (82) and allowed the third-most walks (226). Their 451 Ks ranked 14th in the NL. They did have 16 quality starts (tied-6th), and their 18 saves were the most in the senior circuit. Despite some good numbers, there were too many areas where the performed at a less-than adequate level.
Miami Rotation
In a season where his starts were truncated by a bout with COVID-19, ace Sandy Alcantara still put up some solid numbers. Over seven starts, he was 3-2 with a 3.0 ERA and a 1.19 WHIP. He throws two wicked high-velocity pitches, a 97mph fours-seam fastball and a 97mph sinker. Plus, his change comes in at 91mph. To keep batters really off-balance, he also offers a 88mpg slider and 82mph curve. Pablo Lopez is the second man in the rotation. Last year, after two seasons of dealing with injuries, he was the only Miami Marlin to be in the rotation for the entire season. Over 11 starts, he was a solid 6-4 with 3.61 ERA, 1.19 WHIP, and 1.3 WAR. He uses a 94mph four-seamer and a sinker that comes in at the same speed. He mixes it up with his quickly bottoming out 88mph change.
Three Through Five
Elieser Hernandez, who showed solid consistency as the teams fifth starter, slips into the third position. Trevor Rogers and Nick Neidert are fourth and fifth. Last season, Hernandez season was cut short after six games due to arm strain. He went 1-0 last season. As the season starts, he's once again has been placed on the 10-day IL. Rogers has shown potential. Although, he has a long way to go to find consistency. He utilizes a fastball, slider, and change. Our Miami Marlins preview 2021 notes that Neidert, who appeared in four games in relief last season, gets the opportunity to join the rotation.
Relief
In relief last season, Yimi Garcia made 14 appearances. He was solid, winning three and losing none while posting a 0.60 ERA and 0.93 WHIP. He also recorded four holds, one save, and one blown save. He's a premium setup man. Dylan Floro joins the Marlins from the Dodgers where last season he appeared in 25 games. He won three, lost none, and recorded four holds. Veteran closer Anthony Bass pitched for the Jays last season appearing in 26 games. He saved seven, held four, and blew two saves. Bass, who's 33, recorded a 3.51 ERA and 1.01 WHIP. Bass relies on three pitches, a 95mph sinker, 86mph slider, and 87mph splitter.
Miami Marlins Preview 2021 – Everyday Players
Along with having pitching challenges last season, the Marlins also had issues when it came to offense. With a team batting average of .244 (9th), OBP of .319 (9th), and slugging percentage of .384 (13th), this team did not have enough pop in their bats. Plus, their OPS of .703 ranked 12th. The Marline finished 12th in round trippers (60), 11th in doubles (82), and 11th in RBI (247). They struck out 537 times (5th) and drew just 191 walks (12th). One promising part of their offense was their speed. The Marlins 51 steals were the second-most in the league.
Miami – Infield
In the middle infield, Miguel Rojas takes short and Jazz Chisholm second. Rojas, the unofficial team captain, enters his seventh season with Miami. Despite catching COVID-19 last season, he put up good numbers, playing in 40 games and batting .304. Rojas had 20 RBI, four homers, and 10 doubles. He was also a Gold Glove finalist. Chisholm, a talented prospect, played in 21 games last season, recording an OPS of .563.
Third baseman Brian Anderson, who played in a team-high 59 games last season, was a Gold Glove finalist with .255/.345/.465 with an OPS of .810. although he can be streaky at the plate, he is a solid offensive and defensive force. At first, Jesus Aguilart starts his eighth MLB season and second one with the Marlins. Our Miami Marlins preview 2021 notes that catcher Jorge Alfaro came to the Marlins from Philadelphia in 2019. As he did for the Phillies, he put up solid numbers at the plate. But last season, he had various health issues and never got on track. He hit .226 with 16 RBI and three homers over 31 games. Chad Wallach, who covered for him last season, is the backup.
Outfield
Corey Dickerson returns to play left field and Starling Marte is back in center. They are veterans who offer both the outfield and club stability. At the plate, Dickerson underperformed last season, but he's expected to bounce back. He's capable of hitting over .280 with 20 homers, 30 doubles, and 65-plus RBI. Marte also saw his production drop off. Look for his numbers to be in the same vicinity as Dickerson's. Seven-year veteran Adam Duvall, who takes right field, spent the last three seasons with the Braves. Although not one to hit for average, he does have solid power and RBI potential.
NL Miami Marlins Preview 2021 – Final Word
Our NL Miami Marlins preview 2021 acknowledges that manager Don Mattingly certain deserved last year's NL Manager of the Year Award. Mattingly and his coaches, James Rowson (bench) and Mel Stottlemyer, Jr. (pitching), did a great job coordinating efforts in what was a challenging season. The major issues for the Marlins are that unlike the more competitive clubs in the NL East, they have done little to improve. The Braves are still the favorites while the Nationals and Phillies have reloaded. We doubt that the Marlins will lose 105 games as they did in 2019, but, also, we don't think they'll win 90.
Summary – Miami Marlins Preview
Record: 80-82 (Fourth-place NL East)