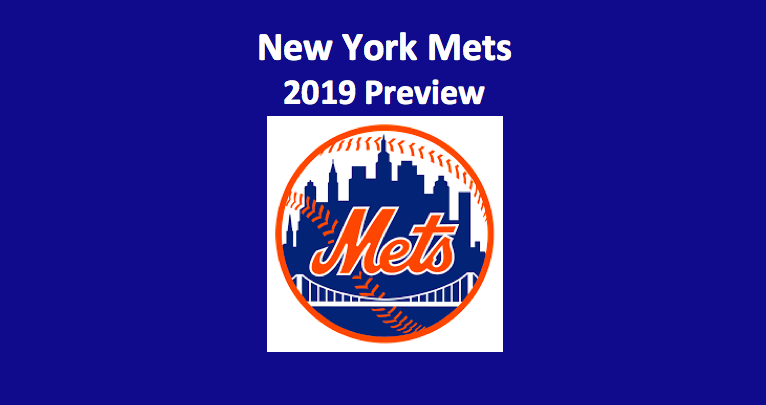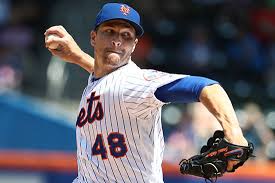 In 2018, the New York Mets (77-85) had one thing working for them. That was their starting rotation. But they had at least two things working against them, their bullpen and offense. Both were dismal. The Mets were pretty good a few years ago. In 2015, they won the NL pennant and in 2016, they made the playoffs again. But the following season, NY finished fourth winning 17 fewer games than they did the season before. Last year, the Mets were fourth again. Our 2019 New York Mets preview notes that this team still has a solid rotation, but we wonder if they have made enough changes in other areas to compete in the NL East?
Pitching
When you consider overall pitching stats, this team looked fairly average. They ranked 16th in the majors in ERA (4.07), 14th in opponent batting average (.246), and tied for 14th in saves (41). Their 77 wins ranked 20th. But the performances by Met starters were better than the NL average, while the bullpen ranked far below. Here are the basic pen stats. Met reliever ERA was 4.96, while the league average was 4.08. Batting average against for Met firemen was .261. The league average was .244. And NY relievers allowed opponents 82 homers. The NL average was 66. Those numbers say a lot.
Starters
The starting rotation includes 2018 Cy Young Award winner Jacob deGrom (10-9 W/L, 1.70 ERA, 0.91 WHIP) in the top spot. deGrom, who's currently on a streak of 29 straight starts allowing three runs or fewer, offers three pitches, a fastball, changeup, and slider. Last season, the righty threw more than 200 innings and posted an ERA of 1.70. He's only the 10th pitcher since 1920 to accomplish that feat. His 10 wins are the fewest for any Cy Young winner. Righty Noah Syndergaard (13-4 W/L, 3.03 ERA,1.21 WHIP), who's heat ranges from 97-100 mph, is tough for batters to catch up to. He's second in the rotation, while Jack Wheeler (12-7 W/L, 3. 31ERA, 1.12 WHIP), another right-hander, starts in the third position. He had a solid second half last season, going 9-1 with a 1.68 ERA.
Our New York Mets preview then anticipates two lefties in the fourth and fifth spots. Steven Matz (5-11 W/L, 3.97 ERA, 1.08 WHIP) looked good last season. He got in 30 starts after recovering from his Tommy John surgery. Finally, there's Jason Vargas (7-9 W/L, 5.77 ERA, 1.12 WHIP). He's struggled the last two years and may not make it through the season,
Relievers
Despite facing numerous challenges last year, the Mets do have some good relievers. Closer Edwin Diaz (0-4 W/L, 1.96 ERA, 0,79 WHIP) comes to the team from Seattle. Last year, he saved 57 games for the Mariners. That total tied Bobby Thigpen for the most saves in one season. Two Met bullpen denizens return from last season, durable and dependable setup man Robert Gsellman (6-3 W/L, 4.28 ERA, 1.30 WHIP) and the versatile Seth Lugo (3-4 W/L, 2.66 ERA, 1.08 WHIP). Lugo can start, come in for middle relief, or work a later inning or two.
Everyday Players
How bad was NY hitting? The team batting average was .234. That was dead last in MLB. Our New York Mets preview observes that the best ranking on offense secured by this team was a tie for 19th in stolen bases (71). Otherwise, on offense the Mets ranked in the low- to mid-20s. They were 21st in dingers (170), 22nd in RBI (649) and on-base percentage (.312), and 23rd in runs (676). The Mets posted an OPS of .701 (24th) and a slugging percentage of .389 (26th).
Hitting
The batting order sees right fielder Brandon Nimmo (.263 BA, 47 RBI, 17 HRs) coming to the plate first. In the second half last season, Nimmo notched a .446 OBP. It didn't hurt that he drew 29 walks in September, the most by any Met batter in a month. Third baseman Todd Frazier (.213 BA, 59 RBI, 18 HRs) won't thrill anyone with his batting average. But he can launch homers. Third in the order is Robinson Cano (.303 BA, 50 RBI, 10 HRs) who came over to NY in a postseason trade with the Mariners. Cano was suspended for 80 games last season for PED use. He's 36 years old and has five more years on his contract. Can he produce, remain healthy, and stay out of trouble? Cleanup in the order will be the job of Michael Conforto (.243 BA, 82 RBI, 28 HRs). Conforto came on strong in September, accumulating 29 RBI and smacking nine homers.
Catcher Will Ramos (.306 BA, 70 RBI, 15 HRs), an addition from the Phillies, is a top-notch offensive player. Over three seasons his OPS is .826. Ramos hits fifth. Last season rookie first baseman Jeff McNeil (.329 BA, 19 RBI, 3 HRs) punched 36 hits in September. That's the most in a month ever by any Mets rookie. Seventh is shortstop Amed Rosario (.256 BA, 51 RBI, 9 HRs) and eighth in the order is centerfielder Juan Lagares (.339 BA, 6 RBI, 0 HRs). Rosario stole 24 bases, the most by a Mets player last year. In limited action, Lagares impressed as a hitter.
Defense
Although the team ranked 25th in double plays with 121, they tied for 14th in fielding percentage with a .985 average. Some weakness on defense include shortstop Rosario. He doesn't cover enough territory and his glove is deficient. If Rosario doesn't come around look for prospect Andres Gimenez to get a shot. The Mets hope that Cano will revive his career at second. That's a mighty tall order for a mid-30s fielder who is definitely in decline. In the corners, we expect to see Todd Frazier in one of them. He can play either, and that is a big help. If he plays third, McNeil will ably handle first. As a defender, catcher Ramos is much less accomplished than he is as a hitter.
Lagares, a former Gold Glover, will handle center and do so nicely. Nimmo is developing in right and should be fine. We expect Conforto will hold the fort in left field. Lagares is the glue of this group.
Management and Front Office
Our New York Mets preview notes that the new general manager for this team comes to the job with no front office experience. It's former baseball agent Brodie Van Wagenen. Last season, the team hired a new manager, Mickey Callaway, who certainly had a bumpy road in a town where you're constantly under scrutiny. At one point, the team batted out of order and were forced to forfeit the game. And although Callaway is back for a second season, he may be on thin ice if this team does not perform well. As for Van Wagenen, he has to deal with Mets CEO Jeff Wilpon, who loves to intervene and create havoc. Van Wagenen has surrounded himself with three former GMs who will serve as consultants, Ruben Amaro Jr., Allard Baird, and Omar Minaya. This should be interesting if nothing else.
2019 New York Mets Preview: Final Word
Our New York Mets preview sees chaos on the horizon for this team. There's no doubt that the Stanford-educated Van Wagenen is savvy about baseball and exceptionally smart. But there are bound to be major challenges, and we expect that mistakes will be made. And with a CEO like Wilpon hovering, we can also expect things to get a bit tense and unpredictable. In any case, our 2019 New York Mets preview does not see this front office approach as leading to success. New York finishes fourth again.
Projected Finish: 4th NL East, Record: 79-83
LINKS