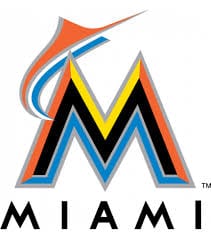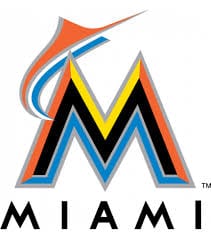 The Miami Marlins (79-82) seem to be comfortable these days finishing third in the NL East. Unfortunately, finishing third in the NL East is not like finishing third in the AL East where that position might get you the second wild card spot. For the past two seasons, Miami has ended up in the middle of the division standings. Before 2015, they were fifth in 2012 and 2013 and fourth in 2014.
Miami has a lot to work on for 2017. Primary for the Marlins is their pitching staff, which is overall an unknown.  They've also got some major question marks in their infield. The outfield, on the other hand, is their best unit. They should be able to produce. At any rate, this is not a first or second place team. That goal looks to be a years away. Here's how we see the team this season in our 2017 Miami Marlins preview where we wonder exactly from where they will get the talent that they need to succeed this season.
Starting Pitching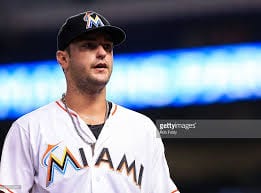 Wei-Yin Chen (L, 5-5 W/L, 4.96 ERA) will most likely be first in the pitching rotation with Edison Volquez (R, 10-11 W/L, 5.37 ERA) getting the second spot. Another lefty, Adam Conley (L, 8-6 W/L, 3.85 ERA) will get the middle start. Most likely Tom Koehler (R, 9-3 W/L, 4.33 ERA) and Jeff Locke (L, 9-8 W/L, 5.44 ERA) will follow in that order. The pitching rotation is lacking, especially with the loss of Jose Fernandez last season in a boating accident. This is a real wait and see what happens rotation. We expect this group to be quite different by midseason.
Bullpen
A.J. Ramos (R, 1-4 W/L, 2.81 ERA, 40 SV) will occupy the closer role. David Phelps (R, 7-6 W/L, 2.28 ERA) will precede Ramos in the setup role. Also in the pen are Kyle Barraclough (R, 6-3 W/L, 2.85 ERA), Dustin McGowan (R, 1-3 W/L, 2.82 ERA), and Hunter Cervenka (L, 0-0 W/L, 4.82 ERA).
Hitting and Fielding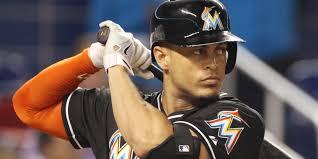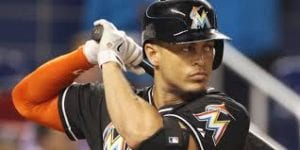 Both guys in the middle, second baseman Dee Gordon (.268 BA, 1 HR, 14 RBI) and shortstop Adeiny Hechavarria (.236 BA, 2 HR, 38 RBI) had poor seasons. After a fine 2015, Gordon was suspended 80 games for violating MLB's PED policy. When he came back the shortstop proved to be rusty. It took him a while to find his swing. For the first time in two seasons, Hechavarria did not earn a Gold Glove, and he also struggled at the plate. Third baseman Martin Prado (.305 BA, 8 HR, 75 RBI) was so productive he earned a new three-year $40 million deal. Justin Bour (.264 BA, 15 HR, 51 RBI), at first, was also having a solid season until he sprained his ankle in early July. He's back but will most likely be platooned with catcher J.T Realmuto (.303 BA, 11 HR, 48 RBI) filling in at first. Realmuto is entering his third MLB season, and he looks like he could be a major player both behind and at the plate.
The outfield is stellar and includes Christian Yelich (.298 BA, 21 HR, 98 RBI) and Marcell Ozuna (.266 BA, 23 HR, 76 RBI) in left. Yelich earned a NL Silver Slugger Award while Ozuna made it onto his first All-Star team. Giancarlo Stanton (.240 BA, 27 HR, 74 RBI) was proving to be a major homerun producer until a groin injury sidelined him for a month. We expect him to continue to pound the ball out of the park.
Coaching and Management
Don Mattingly kept it together through both highs and lows last season. It was his initial season at the helm for the Marlins. He put together a solid crew of coaches. Owner Jeffrey Loria doesn't give President of Baseball Operations Michael Hill the support he needs to really create a dynamite team. That's unfortunate.
2017 Miami Marlins Preview Final Word
Losing the talented and young pitcher Fernandez shook everyone last season. This season they will have to deal with that loss in practical terms, as the loss of talent will be felt. The Marlins have some fine young position players, but they are lacking in the pitching ranks. Our 2017 Miami Marlins preview sees this team battling for second but ending up in third.
2017 Miami Marlins Preview Projected Finish: 3rd NL East