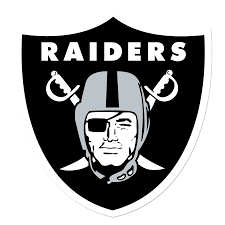 Last season, the Oakland Raiders (12-4) were running on all cylinders from late October into December and then QB Derek Carr broke his leg on December 24 during a 33-25 win against the Indianapolis Colts. The next game, the final regular season contest, saw Oakland lose to Denver 24-6 and in their first playoff game, Houston took the Raiders down 27-14. Derek Carr is back, and that's good because the Raiders desperately need his skill and talent to get to and through the playoffs. Oakland is in an odd place in many ways. They feature a top-notch offense, a defense that needs to take it up a notch and, of course, controversy. Our Oakland Raiders 2017 NFL preview notes that there are two primary things to consider regarding this team. The first is the Raiders will be moving to Las Vegas in 2020, and the other is that for this season the team replaced their very successful offensive coordinator, Bill Musgrave, with their very successful quarterback coach, Todd Downing, who has never been an offensive coordinator. The first raises questions about fan interest in a lame duck team and the second beggars the question, "If it ain't broken, should you fix it?"
Offense: 8.5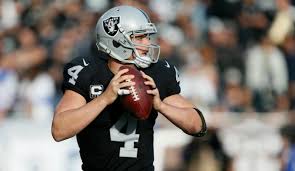 The offense is where it is at with this team. At quarterback Derek Carr passed for close to 4,000 yards, hitting for 28 TDs while throwing six picks. Carr starts his fourth NFL season in command of his game and has become especially proficient at getting the most out of the fourth quarter. He benefits, as do Raider running backs, from having one of the best offensive lines in the game.
In the running back area, Oakland welcomes former Seattle ground gainer Marshawn Lynch, while they bid ado to Latavius Murray. Last season, Murray average 4.0 YPA, gained 788 yards and scored a dozen touchdowns. Lynch, who got injured partway through 2016 and had low numbers, joins two other fine runners, DeAndre Washington (5.5 YPA, 2 TDs) and Jalen Richard (5.9 YPA, 1 TD). The question is can Lynch perform as well as he did from 2011-2014 or will Oakland get the ineffective running back that Seattle saw for the past two seasons? Carr has two primary guys to throw to, Michael Crabtree (89 REC, 11.3 AVG, 8 TDs) and Amari Cooper (83 REC, 13.9 AVG, 5 TDs). Both has 1,000-plus yard seasons.
Defense: 6.5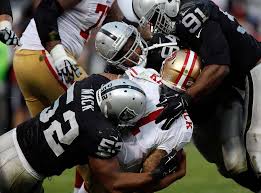 The Oakland defense was overall under average in 2016. They were 20th in points allowed (24.1 PPG), 26th in overall defense (375.1 YPG) and 32nd in sacks (25). The D did tie for ninth in picks with 16 and the offense and defense combined for a plus/minus of +16, which tied them for first in the NFL. On the line, end Kahlil Mack, who was the NFL Defensive Player of the Year, was outstanding. He proved to be a top defender against the run and led the team in sacks with 11 and was third in tackles with 77. But the rest of the line was problematic and plagued by injuries or unable to make needed adjustments.
OLB Bruce Irvin was the highlight player on the linebacking unit. In his first season with the Raiders, he was second in sacks with seven. Who will comprise the rest of the unit is presently unknown. There are candidates, but none from last season proved to be outstanding. In 2016 the secondary was plagued by miscommunication. They did get better as the season progressed. Safety Reggie Nelson, who made the Pro Bowl, led the group with five picks. CBs Sean Smith and David Amerson each had two. Smith showed a lot of improvement and a breakthrough year in 2017 could enhance this unit's play.
Special Teams: 8.0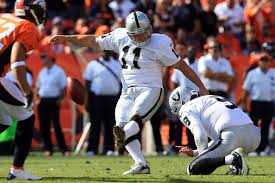 The coverage units lost many key players to free agency, which means Oakland will have a lot of new players in the mix. That could be a problem. The Raiders were tied for 22nd in kick returns and were 11th in punt bring backs. Free agent Cordarello Patterson joined the team in the off-season and could add a spark to the return squad. Veteran kicker Sebastian Janikowski missed two extra points and six field goals, but is back for one more season. Punter Marquette King, who put 34 punts inside the 20-yard line and had an average net of 41.4 YPP, is one of the best in the game.
Coaching and Management: 8.0
Jack Del Rio (19-14 Overall) is back for his third season with Oakland. In two years, he's done a good job of getting this team back into the playoffs. In three seasons this team has gone from 3-13 to 7-9 and 12-4. That's progress. Although Del Rio's move replacing his successful offensive coordinator with his successful QB coach is questionable, no one is questioning Del Rio's hiring of former Charger's defensive coordinator John Pagano as an assistant head coach. He'll focus on getting the secondary better coordinated and on improving their communication. Special teams coach Brad Seely has a lot of work to do considering how many players he has to replace.
Oakland Raiders 2017 NFL Preview: Last Word
The Oakland Raiders are certainly the favorite to win the AFC West. They have a great quarterback, fine receivers, and a potentially explosive running game. But our Oakland Raiders 2017 NFL preview has to ask how far can they go? Carr's injury severely crippled them last season, and the team's defense may, once again, be less than adequate.
Oakland Raiders 2017 NFL Preview Prediction: 1st AFC West; Record: 12-4
GO BACK TO: