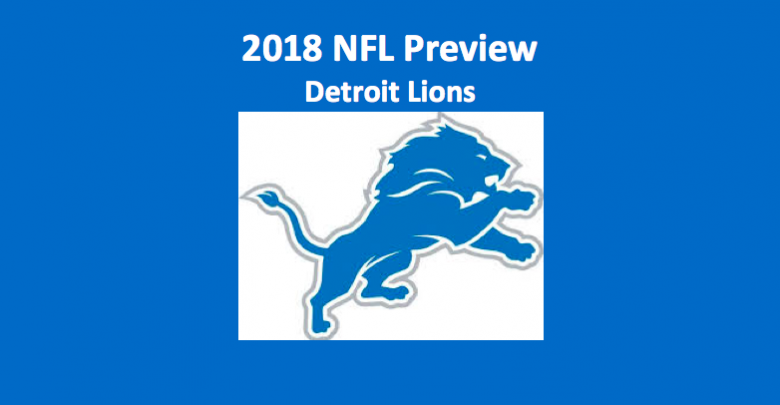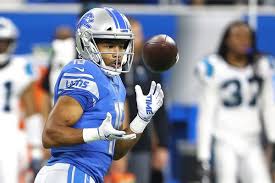 The Detroit Lions (9-7) are coming off of two straight winning seasons. Last year, they finished second in the division, but missed a wild card berth by a game. A loss to Cincinnati late in the season put their playoff chances in jeopardy. Our 2018 Detroit Lions NFL betting preview notes that with Bill Belichick protégé Matt Patricia (0-0 Overall) coming on as head coach this team can go either way. Consequently, a new head coach with 10 new assistants/coordinators makes for a lot of adjusting on both sides of the ball in what is a tough NFC North division.
Offense
The Lions scored an average of 25.6 PPG (7th NFL) and had 261.4 YPG (6th NFL) in passing. Although they had a healthy air game, their ground attack was ranked dead last in the league, as they were good for just 76.3 YPG. The team's third down conversion rate of 39% tied them for 13th, while the 47 sacks they allowed tied them for 24th.
Quarterbacks and Running Backs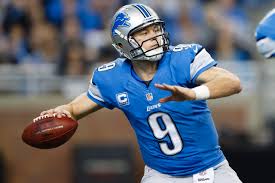 Matthew Stafford (565 ATT, 371 COMP, 4,446 YDs, 29 TDs, 10 INTs) has been on an upward swing the past three seasons. His TD-to-INT ratio is one of the best in the league, and Stafford is noted for being a clutch performer. He's become a solid and resourceful field general. There are two decent backups on-hand too, as Jake Rudock and Matt Cassel compete for that spot.
The running game needed help last season, and our 2018 Detroit Lions NFL betting preview concludes that it needs help this time around too. LeGarrette Blount, who's been on two Super Bowl Championship teams in-a-row, the Pats and Eagles, comes over from Philly to try to beef up the ground attack. With the Eagles, he carried the ball 173 times for 766 yards and two touchdowns. Blount averaged 4.4 YPA. In reviewing stats, we found that's certainly better output in terms of yards gained and average yards per carry than any Lions back last season.
Talented Auburn RB Kerryon Johnson, who was picked up in the second round of the draft, could add some power and sizzle to the ground attack. But that may take some time. Still, it's a better crew than they had in 2017. Theo Riddick (84 ATT, 286 YDs, 3.4 YPA, 3 TDs), who was the team's second-most productive rusher, offers solid yardage potential.
Receivers and Tight Ends
Lion receivers include two 1000-plus yard wideouts, Golden Tate (92 REC, 1003 YDs, 10.9 YPC, 5 TDs) and Marvin Jones (61 REC, 1,101 YDs, 18.0 YPC, 9 TDs). Jones is especially capable of breaking the big play, while Tate offers exacting routes and sure-hands. Riddick returns with the third-most catches. He grabbed 53 passes last season for 444 yards, while averaging 8.4 YPC and scoring two times. Productive TE Eric Ebron, who had 53 catches and scored four TDs, was cut, leaving a major gap in this spot.
Offensive Line
The O-line will be looking for something they simply could not find last season, consistency. One reason for their inability to come together and gel had to do with the fact that just about each week the starters changed in some manner. Detroit had a total of 10 different starting O-lines. One reason for this had to do with the numerous injury problems they had to deal with, as four starters missed multiple games. Good health, a new offensive line coach, and few additions for depth could help.
Defense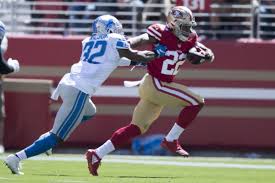 Detroit excelled at picking off opponent QBs, as they finished the season tied for fourth in the league with 19 interceptions. They also tied for fifth with a turnover differential of +10. But, they allowed 23.5 PPG (21st NFL), 355.8 total YPG (27th NFL), and 243.2 passing yards per game (27th NFL). Finally, their sacks numbered 35 (20th NFL).
Defensive Line
DE Ezekiel Ansah led the team with a dozen sacks. But the highly paid defender, who's in his sixth season, is often injured. This line has some big issues, which include the loss of quality NT Haloti Ngata. The D-line fell apart in 2017 when he got injured and now he's gone for good. Former first-round pick NT Sylvester Williams joins the team from Denver. He may help a bit. But this is a group that is very thin and is lacking the premium defenders needed to ensure they can be productive.
Linebackers
Our 2018 Detroit Lions NFL betting preview find the LB unit to also be worrisome. In 2017, the arrival of draft pick Jarrad Davis, who was second in tackles with 96, helped this group. But there were still some holes that has not been attended to. In the offseason, the Lions added Devon Kennard, Christian Jones, and Jonathan Freeny. These player additions are focused on specific areas such as stopping the run and handling tight ends, pass coverage, and providing more depth. Kennard, who comes to Detroit from the Giants, is a fearsome pass rusher.
Secondary
The defensive backs are the best unit on this side of the ball. Darius Slay, at corner, led the NFL in interceptions with eight and was a Pro Bowl pick. The entire starting group is talented and skilled and includes corner Nevin Lawson, safety Glover Quin, and safety Quandre Diggs. Glover is amazingly durable, having started 132 stright games, while Diggs can play various roles. Seattle corner DeShawn Shead has been added. He's versatile enough to play any of the spots, but will most likely be used at the outside/slot corner.
Special Teams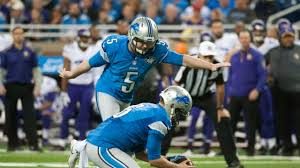 According to our 2018 Detroit Lions NFL betting preview, the special teams are in great shape. In his rookie season, Jamal Agnew eanred a Pro Bowl spot as a punt returner. He's exceptionally dangerous. PK Matt Prater, who hit 30-of-35 field goals and 40-of-41 extra points, was also a Pro Bowl selection. When punter Sam Martin is healthy, he's one of the best in the league, while 15-year veteran long snapper Don Muhlbach has not mishandled a snap throughout his tenure.
Coaching
How good will Matt Patricia and his crew be? It's hard to say. Belichick protégés have not done well once they go off on their own. Paul Pasqualoni has been brought in the coordinate the defense, while Jim Bob Cooter, a five-year Detroit coordinator vet, stay on to focus on the offense. Jeff Davidson, a 24-year NFL coaching vet, has come on board to develop the O-line. Overall, there's a solid crew here. The big question is how steep will Patricia's learning curve be?
2018 Detroit Lions NFL Betting Preview: Final Word
Our 2018 Detroit Lions NFL betting preview finds that this team will be competitive within their division. We see them finishing the season with a winning mark and a chance of making the playoffs. As we've noted, Stafford is a solid QB, and there are some fine offensive weapons. However, the offensive line must come together. Plus, the D-line needs to show progress this season.
2018 Detroit Lions NFL Betting Preview Projection: 9-7 Record, 2nd NFC North
Unit Ratings
Offense:
QB: 8.2, RB: 6.7, OL: 7.2, WR: 8.5, TE: 6.5
Defense
DL: 6.2, LB: 7.25 DB: 8.6
Special Teams
PK: 9.5 PT: 9.2 RT: 9.5
Other
Coaching: 7.2
Intangibles: A very tough schedule of games will test this team in a major way.
Overall Rating = 7.8
Links