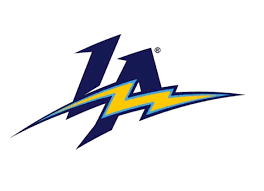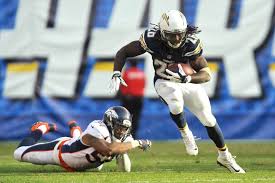 For this Los Angeles Chargers 2017 NFL preview, we consider a team that has decided to leave their home of 57 seasons in San Diego and set up shop in the Los Angeles area, which has a glut of sports teams. The team leaves behind a loyal fan base to play at their temporary home, a 30,000-seat soccer stadium in Carson, prior to moving into a new stadium in Inglewood that is being built by Rams owner Stan Kroenke. It is complicated. At the same time, head coach Mike McCoy, who's first and only head coaching job was with the Charges, is gone after four years, and Anthony Lynn, another guy who's never held a head coaching position, has replaced him. The good news is Lynn has some great talent with which to work.
Offense: 8.0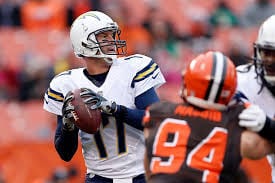 The Chargers do have a lot of fine players, but the problem is they all continue to get injured. Phillip Rivers, who is going on 36, has one of the quickest releases in football. Last season, he aired out passes for 4,386 yards, completing 349 of 578. Rivers tossed 33 TD strikes, but he also put up 21 interceptions. He's been solid over the span of 14 years, starting 176 consecutive games and last year completing his ninth 4,000-plus yard passing season. Rivers also has a few guys to whom he can throw, including Tyrell Williams (69 REC, 1,059 YDs, 15.3 YPC, 7 TDs), Dontrelle Inman (58 REC, 810 YDs, 14.0 YPC, 4 TDs) and Antonio Gates (53 REC, 548 YDs, 10.3 YPC, 7 TDs). This team is rich in receivers.
At running back, Melvin Gordon had a fine season, gaining 997 yards on 254 carries while averaging 3.9 YPA and scoring 10 touchdowns. He missed the final month of the season with a knee injury, but did prove in his second season that he has the stuff to be a top rusher in the NFL. At this point, the Chargers don't have a solid number two guy, but there are a few on the roster who may fit the bill. The offensive line is presently a conglomeration of players who need to be sorted into their respective roles. This is going to be a mix and match game where hopefully this season LA can find the right combination.
Defense: 7.5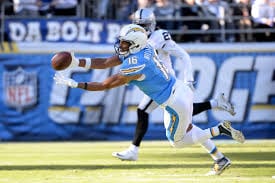 The new 4-3 defense model should allow for more sacks with Joey Bosa (10.5 Sacks) improving on his rookie-year output where he missed the first four games. Bosa was AFc Defensive Rookie of the Year in 2016. Melvin Ingram (8 Sacks), who has the franchise tag, will be expected to increase his number of sacks. With the new scheme it will be possible for Bosa and Ingram to total over 20 sacks and the team may certainly rank better than they did in 2016 when they were tied for 14th with 35 QB bring downs.
The linebacking unit includes Jatavis Brown, a fifth-round pick who excelled, notching 3.5 sacks and finishing second in tackles with 73. Denzel Perryman was the ultimate knockdown artist, making 80 tackles and Korey Toomer proved to be up to just about any task. He had 69 tackles on the season. Kyle Emmanuel is very fast and a proven pass rusher who could help to increase the number of sacks. The secondary has some good players; in fact there are two Pro Bowlers, CBs Jason Verrett and Casey Hayward, Verrett can pretty much defend anyone when he is healthy, but that's not often. He played in just four games last season. Hayward went to the Pro Bowl this past year, as he grabbed 7 INTs. Can he repeat that performance? He's smart, has great skills and amazing instincts. SS Jahleel Addae is solid but has to mind his health and FS Dwight Lowery is dependable. Corner rookie Desmond King is fast and athletic and should see playing time in 2017.
Special Teams: 6.5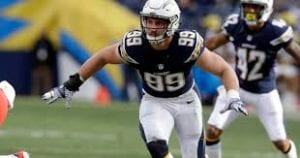 In the kicking game, accuracy was a problem last season. Punter Drew Kaser can send the ball a long distance, but he needs to start controlling that leg. He tied for 29th in the league by placing just 18 punts inside the 20-yard line. Josh Lambo had a tough time hitting field goals from 50 or more yards away. He had three shots and missed every one. Lambo's field goal accuracy was just 81.3%. He also missed four extra points. The return units need major overhauls, as the Chargers were 27th in punt returns and 30th on kick bring backs.
Coaching and Management: 6.5
Lynn is a rookie head coach who brings a lot of football experience. He was a NFL running back and then went into coaching with his last gig being the Buffalo Bill's running back coach. He likes to run the ball and was successful in creating a solid running scheme for the Jets. If he can open up the field for Gordon that will both increase the talented running back's output and take some pressure off of Rivers. That could be a win-win.
Los Angeles Chargers 2017 NFL Preview: Last Word
The Chargers have won just nine games in the last two seasons. It would be a long shot for them to put in a winning season forget about making it to the playoffs. But they certainly have a shot at upping their number of wins. Our Los Angeles Chargers 2017 NFL preview sees this team nearing the even mark in 2017.
Los Angeles Chargers 2017 NFL Preview Prediction: 4th AFC West; Record: 7-9
GO BACK TO: