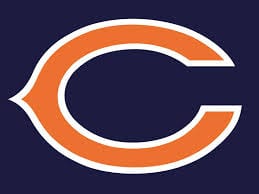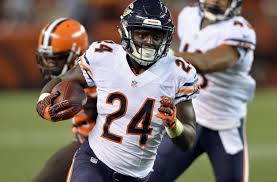 The thing to remember when reading our Chicago Bears 2017 NFL preview is that this is a team that is rebuilding and building for the future. That entails giving Mike Glennon the support he needs at quarterback to succeed with draftee QB Mitchell Trubisky looking over his shoulder, making WR Kevin White a starter, and attempting to develop some corners that can actually make interceptions. This will not be an easy season, but we do expect the Chicago Bears (3-13) to do better than they did last year. Last year on offense they averaged just 17.4 PPG (28th). Management will be watching coach John Fox closely. Now in his third season with the Bears, he needs to manage the clock better and create more dynamic play calling.
Offense: 6.5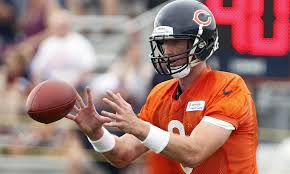 The running game, with Jordan Howard (1313 YD, 5.2 AVG, 6 TD) and Jeremy Langford (200 YD, 3.2 AVG, 4 TD) coming back and the addition of free-agent and former Ram Benny Cunningham (101 YD, 4.8 AVG, 0 TD), is in decent shape. On the o-line, if OL Kyle Long can make a full recovery from his severe ankle injury that will be a big help. When Long combines with guard Josh Sitton and center Cody Whitehair, the trio comprises one of the better lines in the NFC. That's good for both the running and passing game.
Speaking of passing, QB Glennon finally gets a chance after sitting on the bench for more than two seasons. But there's controversy already, as many think that 2017 draft pick Trubisky is the Chicago quarterback of the near future. Trubisky is exceptionally accurate and moves well. The Bears added vet Mark Sanchez for support. With Alshon Jeffrey gone, the receiving squad is a lot lighter. Three free-agent receivers have been added, but none are of the caliber of Jeffrey. WR Cameron Meredith, who caught 66 balls, averaging 13.5 YPC and scoring four touchdowns, is the main man.
Defense: 7.0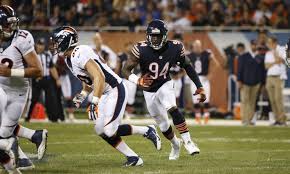 The defense definitely had it's problems last season. They were 24th in points allowed (24.9), 27th in rush defense (121.9), and tied for 29th in picks (9). Plus at minus-20, they were dead last in turnover differential. The best part of their D was that they limited teams to an average of 224.0 YPG (7th) in the air.
The best unit is the linebacking group. Rookie Leonard Floyd looked like the real thing last year except in his size and strength. Floyd, who had seven sacks, is fast, agile, and athletic. But he got worn down and hurt; he has to bulk up fir this season. Willie Young (7.5 Sacks) also looked good, as he ably harassed quarterbacks. OLB Pernell McPhee (4 Sacks) shed 25 pounds and worked on getting his knee in shape. He could be very productive. On the line, Akiem Hicks (7 Sacks) had a fine season, starting all 16 games and bagging 11 TFL and making 17 quarterback hits. It was hoped that Eddie Goldman who be a big-time force, but ankle injuries lessened his output. If he's healthy, he'll be a major factor on D.
The secondary was exceptionally weak last season. With that being the case, the Bears have made an effort to upgrade. With that they brought in corners Marcus Cooper, who had a big year with the Cardinals in 2016, and Prince Amukamara, a veteran with solid balls skills and dexterity, and safety Quintin Demps, a vet who knows how to track the ball and receivers. Last season, the deep backs played inconsistently. The Bears hope that won't be the case this year.
Special Teams: 8.0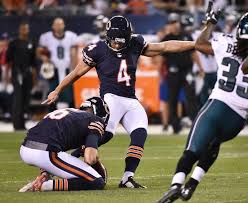 At placekicker, Connor Barth took over for veteran Robbie Gould last year. Barth had a rough start but found consistency as the season wore on. On punts, Pat O'Donnell does a good, consistent job. The return job is open. The Bears were 18th on kick return and 19th on punts. Deonte Thomas, Eddie Jackson, and Benny Cunningham will all try to land the job.
Coaching and Management: 8.0
GM Ryan Pace made quite a few moves in the off-season. He has more to make. With the draft, the Bears have certainly given themselves some choices at QB. Coach Fox has not yet proved himself. If the team shows no improvement or not enough, he'll be out. Also, if his skills and decision-making don't improve, you can expect him to be out of Chicago perhaps even before the season is over.
Chicago Bears 2017 NFL Preview: Last Word
Our Chicago Bears 2017 NFL preview finds that the team has improved. However, they could go 0-6 before getting a win as they face a slew of tough teams in the first few weeks. Expect twice as many wins as they got last season with a fourth-place finish.
Chicago Bears 2017 NFL Preview Prediction: 4th NFC North; Record: 6-10
GO BACK TO: