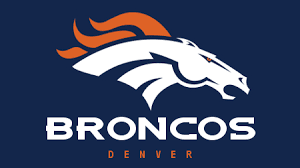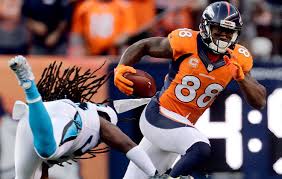 The big consideration in our Denver Broncos 2017 NFL preview is which quarterback will the team decide to focus on in terms of playing time and development, Trevor Siemian or Paxton Lynch? That became a big question with the retirement of head coach Gary Kubiak and the hiring of Vance Joseph. Siemian, who earned the respect of the locker room last season, will probably get the first shot at the job. But the fact is with the retirement of Payton Manning and Brock Osweiler's move to Texas all happening last season and Kubiak's retirement at the end of the 2016 campaign, there are a lot of questions for Joseph and GM John Elway.
Offense: 7.5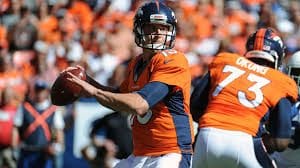 The Denver offense is okay, but it's not good enough to win a lot of games on its own. The defense often has to make up for their counterpart's inconsistencies and mistakes. Siemian played the bulk of last season throwing for just over 3,400 yards and completing 289 of 486 passes. He threw 18 TD passes and 10 interceptions. The 21st ranked passing offense featured two sound receivers, Demaryius Thomas, who had 90 catches for 1,083 yards, and Emmanuel Sanders, who brought down 70 passes for 1,032 yards. Both players had five TD catches, while Thomas averaged 12.0 YPC and Sanders 13.1 YPC. There's a lot of depth at wideout, but tight end is another story. A.J. Derby and Virgil Green presently occupy those spots.
The Bronco rush attack was ranked 27th last season. Devontae Booker and C.J. Anderson combined for a total of 1,049 yards with each scoring four touchdowns. Anderson average 4.0 YPA, while Booker came in at 3.5. Free-agent RB Jamaal Charles has been added to the mix. The problem for Denver in the running area is injury, Anderson has had issues since 2015 and Charles has knee problems. Jake Butt, a fifth-round pick out of Michigan, is a tight end who may convert to running back. Butt would have been a second-round pick but for a torn ACL in the Orange Bowl. The O-line may be helped by first-round pick Garett Bolles who could start at tackle. The line, which was inconsistent last season, will be changed up quite a bit. Still, there are concerns about this area this season too.
Defense: 9.0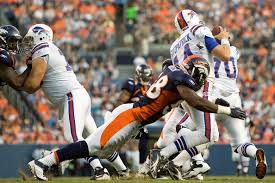 Denver is noted for its tenacious and skilled defense. Last season, they were ranked second in the AFC and fourth in the league in total yards allowed and earned the same rankings in points allowed, which stood at 18.6 per game. Their pass D was first in the league, while against the rush they were 28th. Denver came in first in the AFC is sacks and tied for third in the NFL with 21, while their 14 INTs earned them an NFL ranking of 12th.
The frontline saw Malik Johnson leave as a free agent prior to the start of the 2016 season, and then in 2016 there were key injuries to various starters. Those situations taken together resulted in a porous line that teams could run through. This season NT Sylvester Williams went to another team and although the Broncos brought in a former top NT in Domata Peko, that might not be enough. There is hope that free-agent Zach Kerr and second-round pick DeMarcus Walker can solve some of the O-line problems.
The LB unit's leader DeMarcus Ware retired at the end of last season. But Von Miller, who notched 13.5 sacks and came within one vote of winning Defensive Player of the Year, is back, and he is fearsome. Shane Ray, who ended up with eight sacks, came on strong near the end of the season. This is still a solid unit. The deep backs are some of the best around. All-Pro corners Aqib Talib (3 INTs) and Chris Harris Jr. (2 INTs), two massive talents, are back. Free safety Darian Stewart, a Pro Bowl pick, grabbed three interceptions last season, while safety T.J. Ward was consistent throughout. There's also depth in the secondary.
Special Teams: 7.5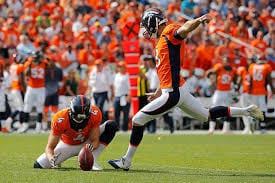 The punt and kickoff returns last season were overall average. Both may change with the addition speedy of draft-picks Carlos Henderson and Isaiah McKenzie. In his rookie season, punter Riley Dixon placed 28 punts inside the 20 and managed to post the best net average for a first-year punter (41.3 YPP). Placekicker Brendon McManus continues to be on target on field goals and extra points and is one of the best at kickoffs.
Coaching and Management: 7.5
Vance Joseph comes into an interesting situation, as he takes over a team that suddenly became uncompetitive in 2016. Remember that the Broncos won the AFC in 2013 and the Super Bowl in 2015. Joseph got Mike McCoy to come on board as offensive coordinator and has replace Wade Phillips, who decided to go to the Rams, with secondary coach Joe Woods. Brock Olivo comes from the Chiefs to handle special teams. John Elway drafted Ole Miss quarterback Chad Kelly just in case neither of his potential starters works out.
Denver Broncos 2017 NFL Preview: Last Word
The Brocos are a team in flux and it will take them some time to work through their various challenges. Although Elway and Joseph ay want things fixed now, it's going to take some time to make this team competitive once again. Still, our Denver Broncos 2017 NFL preview finds this team to be pointed in the right direction with their journey definitely being an uphill climb.
Denver Broncos 2017 NFL Preview Prediction: 3rd AFC West; Record: 8-8
GO BACK TO: