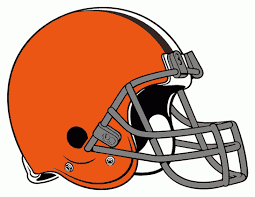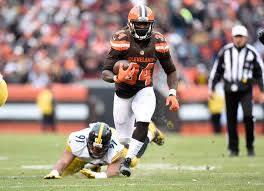 Last season, the Cleveland Browns (1-15) beat the then San Diego Chargers 20-17. That was the team's one victory. It occurred on the next-to-the-last game of the season. Interesting to note that five of the team's 15 losses were by six points or less. The Browns were 31st in scoring, generating just 16.5 PPG, and they were 30th in points allowed, giving up 28.2 PPG. The good news is the Browns had a solid draft that got them three first-round picks. Additionally, they do possess some decent weapons on both sides of the ball. But still our Cleveland Browns 2017 NFL preview finds that this team lacks that quarterback who can get them over the 500-mark on make them playoff competitive.
Offense: 7.0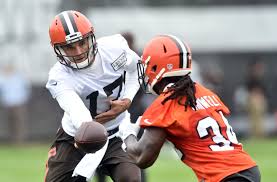 Who starts for the Browns? Will it be the newly acquired Brock Osweiler, who quickly wore out his welcome in Texas, or Cody Kessler, who proved to be fairly ineffective last season? With Houston last year, Osweiler was removed from the lineup when he proved to be completely ineffective. He ended the season with 2,957 yards, 15 TD passes and 16 INTs. Kessler, who was one of a few QBs who started for Cleveland, threw for 1,380 yards and hit for six TDs while tossing two INTs. Osweiler was 8-6 last season, and Kessler was 0-8. To complicate things the Browns picked QB DeShone Kizer (Notre Dame) in round two of this year's NFL Draft. But he needs work on his mechanics and is expected to sit.
On the receiving end, the team's two top pass catchers do not return, as WR Terelle Pryor went to the Washington Redskins as a free agent and TE Gary Barnidge was cut after they drafted David Njoku (Miami, FL) in the first-round as the 29th pick overall. Njoku should be a major upgrade. Talented second-year WR Corey Coleman, who caught three TD passes as a rookie, will join him. RB Isaiah Crowell enters his fifth season having shown promise last year. He rushed for 952 yards while averaging 4.8 YPC and scoring seven touchdowns. The O-line has been upgraded, as the Browns signed free agents Kevin Zeitler (G) of the Bengals and J.C. Tretter (C/G) of the Packers. They're solid.
Defense: 7.0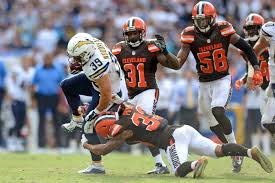 The best you can say about last year's defense is it will be hard for them to be any worse. Of five-of-seven major categories in 2016, they finished 29th in one, 30th in two others, and 31st in the other three. The unit's best stats were on pass defense where they were 21st and on picks where they ended up tied for 23rd. Again, like the offense, this side of the ball has been improved. Two of Cleveland's three first-round picks this year were on defense and there were two more in rounds three and four. Two of those four defensive players are bound for the secondary. Last season, the Browns allowed 36 passing TDs. Safety Jabrill Peppers (25th pick overall from Michigan) will most likely start while corner Howard Wilson (Fourth-Round, 126th pick from Houston) will challenge Briean Boddy-Calhoun for the nickel-back job. Left corner will be Joe Haden, who played nine games with groin injuries last season, and right corner will be Jamar Taylor. Each had three picks in 2016.
ILB Christian Kirksey returns having led the team in tackles with 143, while also making 2.5 sacks. OLB Jamie Collins, who has 69 tackles, got a contract extension after last season, which offers the unit some stability. But this is a thin group. They simply don't have the number of impact players they need. The frontline will welcome end Myles Garrett (Texas A&M). Garrett, who will have an immediate impact, was unanimously considered to be the 2017 number one pick, and that's what Cleveland made him. NT Danny Shelton played his third season in 2016 and grew immensely, while Emmanuel Ogbah moved from LB to DE and led the team in sacks with 5.5.
Special Teams: 7.0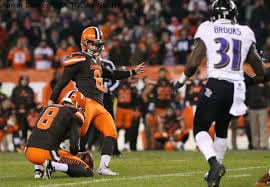 The Browns lacked any type of effective return last year. Peppers is expected to change all of that in 2017. Placekicker Cody Parkey will have competition from seventh-round pick Zane Gonzalez (Arizona State). Parkey missed 3-of-6 in his first game last season but then went 17-of-19 for the rest of the year. Britton Colquitt, a nine-year vet, had his best season since 2012. In 2016, his first year with the Browns, he averaged 45.3 yards per punt while lofting the ball 83 times. Charley Hughlett is back as the long snapper. He's extremely dependable.
Coaching and Management: 8.0
Hue Jackson (1-15) came in as head coach last season and led this team to its worst record in franchise history. Jackson made a lot of changes at the end of the 2016 season, bringing in the passionate Gregg Williams as defensive coordinator, while also ushering in a slew of new defensive assistants. Williams is going to be flexible with 3-4 and 4-3 schemes and has vowed to defend "every blade of grass" on his side of the ball. David Lee is the new QB coach and will try to create more action downfield. New O-line coach Bob Wylie has to get that unit on point. They allowed 66 sacks last season. Head coach Jackson is extremely popular with young players as well as vets. He's positive and has a lot of enthusiasm.
Cleveland Browns 2017 NFL Preview: Last Word
Our Cleveland Browns 2017 NFL preview finds that his team is headed in the right direction. Expect to see improvements in all areas. The quarterback situation is a huge challenge. If Osweiler can step up, this season could go much better than anticipated. But that is a big if.
Cleveland Browns 2017 NFL Preview Prediction: 4th AFC North; Record: 5-11
GO BACK TO: