NCAA Previews
2017 Independents College Football Preview
Notre Dame Looks To Come Back While UMass Struggles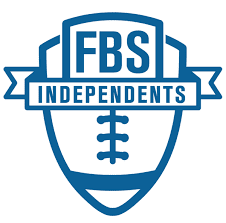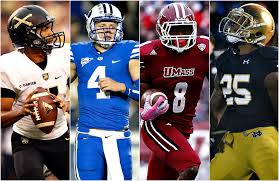 Our 2017 Independents College Football Preview is composed of four teams. They include The Notre Dame Fighting Irish, BYU Cougars, Army West Point Black Knights, and Massachusetts Minutemen. Because they do not belong to a conference, the schedules of these teams tend to be quite diverse and challenging. Also, because they do not have the context that a conference offers, they can be a bit tougher to figure out than teams that belong to one of the 10 FBS conferences. Here is an overview of each of these four college football teams.
Notre Dame Fighting Irish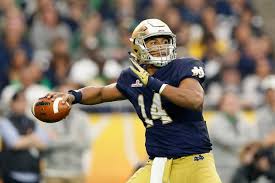 Of the four teams in our 2017 Independents College Football Preview, the Fighting Irish are the only club to crack the top 25. The Irish had a tough season last year, going 4-8. We expect them to do better in 2017.
Quarterback and Receivers
Sophomore Brandon Wimbush comes in untested and inexperienced. But he does possess skill, talent, and maturity. He has a slew of receivers to throw to, including junior Equanimeous St. Brown. St. Brown led Notre Dame last season with 58 catches for almost 1,000 yards and nine touchdowns. Behind him are three other guys with 20 or more catches.
Running Back and Offensive Line
Junior running back Josh Adams returns after gaining 933 yards last season and breaking the goal line five times on rushing plays and once on a pass catch. He averaged 5.9 yards per rushing attempt. Adams had to deal with a hamstring pull that held him back for the first few months. If healthy, he can be a breakaway threat. The Irish O-line is seasoned and tough. They are sure to be a major asset to this team.
Defense
On defense, the Fighting Irish welcome back their two top tacklers, MLB Nyles Morgan (94 TCKLS, 4 SCKS, 2 TFL, 3 PBU) and ROV Drue Tranquill (79 TCKLS, 2 TFL, 2 PBU, 1 INT). The linebacking unit is deep and experienced, while the secondary is skilled but young. The frontline is a concern in both its ability to put pressure on QBs and stop the run.
BYU Cougars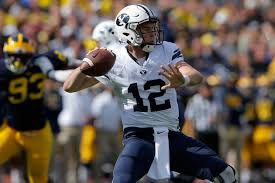 The BYU Cougars have put together five straight seasons where they have either gone 8-5 or 9-4. They are the most consistent of any of the Independents. We expect more of the same from this team in 2017.
Quarterback and Receivers
This season junior QB Tanner Magnum, a pocket passer, will step into the starting spot. In limited action over the past two seasons, he's done well and has developed a reputation of last-minute wins. Magnum has a strong arm and is a talented passer. The top three receivers from last season are gone, but there is some decent talent, if not a lot of experience.
Running Back and Offensive Line
Jamaal Williams, the team's star rusher, is also gone. Williams ran for 1,375 yards and a dozen touchdowns last season. The Cougars are expected to use two or maybe even three guys in his place with the most promising being junior Squally Canada who had 74 carries for 315 yards while averaging 4.3 YPA last season. The frontline returns almost entirely intact and includes three seniors.
Defense
BYU sees seven starters return to its defense, which was ranked 14th nationally for points allowed (19.5 PPG). They were ninth against the rush, but ranked 96th versus the pass. The linebacking group is top-notch and includes senior OLB Fred Warner (86 TCKLs, 1.5 SCKs, 9 TFL, 6 PBU, 3 INTs). Corner Dayan Ghanwoloku had an amazing freshman season last year grabbing three picks and knocking down four passes while making 48 tackles. You can expect more from him in his second season. The D-line is tough and stalwart.
Army West Point Black Knights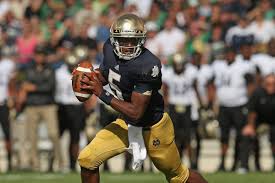 Over the past five seasons, the Black Knights have put up winning numbers just once, and that was last year when they were 8-5 and managed to beat their rivals the Navy Midshipmen 21-17. You can expect Army to do much of the same in 2017.
Quarterback and Receivers
Senior Ahmad Bradshaw, who is more of a rushing than a passing quarterback, returns. His passing stats last season were unimpressive as he connected on just 44% of his attempts, throwing nine interceptions and just four touchdowns. Edgar Poe, his top receiver with 16 catches is gone, but the player with the second-most receptions, Christian Poe who had 10, is back. Expect this team to run more than it passes.
Running Back and Offensive Line
The Army offensive line is very good, and will do another fine job of opening up rushing routes for Bradshaw, Andy Davidson, Darnell Woolfolk, and others. Bradshaw carried the ball 184 times for 824 yards and eight scores. Davidson had an amazing season, with 190 carries for 961 yards and 12 TDs. He averaged 5.1 YPA and during the entire season lost only three yards. Woolfolk was good for 109 carries, 600 yards and nine scores. He averaged 5.5 YPA. He lost just four yards. Army had the second ranked rushing game in the nation, averaging 339.5 YPG. Their pass attack was 128th with 74.4 YPG.
Defense
The Black Knights allowed just 19.8 PPG and had the 18th ranked rushing defense and sixth ranked passing D. Army will be missing two of their top tacklers from last season, but they will still field a fine defense that includes five players with a total of 10 picks and 13 PBU. Plus, senior SLB Alex Aukerman returns after posting 59 tackles, 7.5 sacks, 7.5 TFL, and two QBH.
Massachusetts Minutemen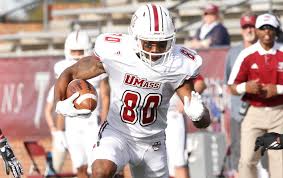 In their past five seasons, the Massachusetts Minutemen have gone 10-50 with their best record being 3-9, which they posted in 2014 and 2015. Last year, the team was 2-10. We don't expect much improvement this season, as we expect either two or three wins from this group.
Quarterback and Receivers
Junior QB Andrew Ford connected on 60.8% of his passes for 2,665 yards and 26 TDs. He also tossed 14 picks. But the fact is that the Minutemen had a decent pass attack that was ranked 48th nationally. His two top receivers, senior TE Adam Breneman (70 REC. 11.5 YPC, 8 TDs) and senior WR Andy Isabella (62 REC, 12.9 YPC, 7 TDs), are back and those connections should be strong.
Running Back and Offensive Line
Although they are young, the offensive line is better than average and should be an advantage. Look for junior RB Marquis Young, who gained 898 yards and scored four times last season, to get most of the carries.
Defense
Defense is this team's Achilles Heel. In 2016, they allowed on average 35.5 PPG and 259.6 YPG in the air. They were ranked 108th and 106th in those respective categories. Nine starters return on D, including MLB Steve Casali (105 TCKLs, 3.5 Sacks, 4.5 TFL); he's the top tackler and the foundation of the LB crew. Senior DE Da'Sean Downey, who had 48 tackles and nailed six sacks, also returns. The front men and linebacking unit are both sound. But the secondary is still suspect.
2017 Independents College Football Preview
Bowl Projections
Notre Dame Fighting Irish: Belk Bowl
BYU Cougars: Independence Bowl
Army West Point Black Knights: Armed Forces Bowl
2017 Independents College Football Preview
Projected Best Bets
Our 2017 Independents College Football Preview offers two picks for each team. Remember that these picks should be treated with care, as injuries, real game stats, and other factors, including the actual spreads, need to be assessed.
Aug 26: Portland State @BYU- BYU by no more than -23
Sep 2: Temple @Notre Dame- Notre Dame by no more than -16
Sep 23: Massachusetts @Tennessee- Tennessee by no more than -23
Oct 21: USC @Notre Dame- Notre Dame by at least +17
Oct 28: San Jose State @BYU- BYU by no more than -20
Nov 11: Duke @Army- Army by no more than -9
Nov 18: Massachusetts @BYU- BYU by no more than -38
Dec 2: Navy @Army- Army by no more than -3.5