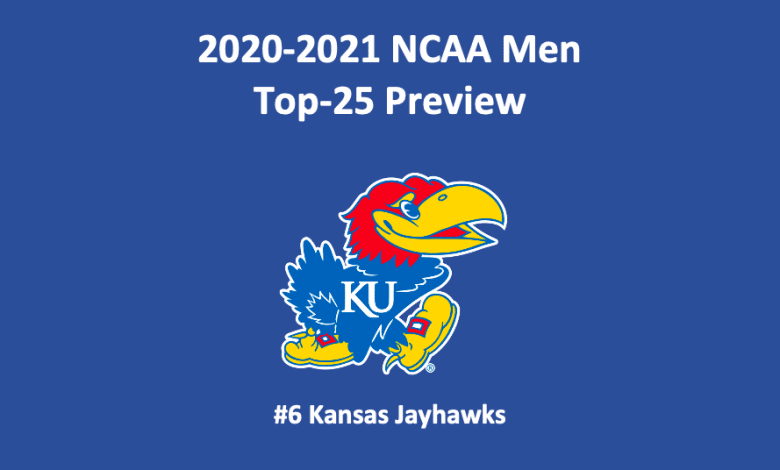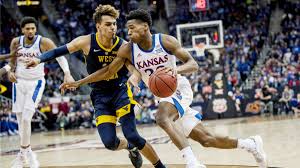 Our Kansas basketball preview 2020 – 2021 observes that last season coach Bill Self's Jayhawks were virtually unbeatable. They finished first in the Big 12 with a record of 17-1. That one conference loss was 67-55 to Baylor. Overall, Kansas finished the season on a strong note with their other two losses coming in the first game of the season when Duke edged them 68-66 and on December 21 when Villanova snuck by the Jayhawks 56-55. The Jayhawks' overall mark came in at 28 wins and three losses. This is a team that thrived on the output of Devon Dotson and Udoka Azubuik. Together, last season, they averaged 31.8 PPG.
Stats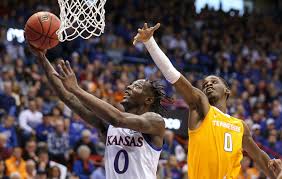 In 2019 – 2020, Kansas was solid on both sides of the ball. They were first in the Big 12 and 87th in the nation in scoring offense (74.7 PPG). On the other side, they were second in the conference and ninth in the nation in scoring defense (60.7 PPG). Those two stats gave them a PF/PA differential of +14.0. Also, in field goal percentage and defense, the Jayhawks came in first in the Big 12 and ninth in the nation. Their rebound margin of 6.6 ranked them first within the league and 18th in the country. However, free throws did not fall well for this basketball team, as they were seventh and 301st with a 66.7% success rate.
Kansas Basketball Preview 2020 – 2021 – Players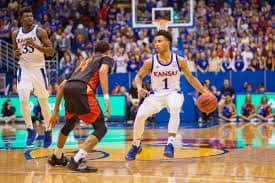 As noted, Dotson will be missed at guard and Azbuike at forward. Both were fine two-way players. Last season, Dotson posted a 46.8 FG%, dished off 4.0 APG, and made 2.1 steals while Azbuike shot 74.8% from the field, averaged 10.5 RPB and blocked 2.6 SPG. Replacing these two won't be easy. Look for junior Ochai Agbaji to step up production at guard. We also expect sophomore Christian Braun, who showed fine shooting skills last year, to see more playing time. Plus, the potential contribution of Marcus Garrett, who can score and shut down opponent offenses, should not be underestimated.
In the frontcourt, Silvio de Sousa, David McCormack, and Mitch Lightfoot will step in and up. Last season, both de Sousa and McCormack saw action, while Lightfoot, a senior, sat out 2019 – 2020. His absence last season will likely will result in him seeing more playing time this year than he would have with Azbuike on the team. The three forwards will serve as the muscle in front. Sophomore Tristan Enaruna will likely be utilized more than he was last season.
Frontcourt
At 6-10, junior forward David McCormack will be one of the big bodies up front. Last season, heaverage 6.9 PPG and 4.1 RPG. Although he's solid, McCormack is more of a role player. Don't expect him to accumulate a lot of points. We find that Tyon Grant-Foster will occupy the wing. The versatile Grant-Foster, a junior college transfer who was a JUCO All-American Honorable Mention in 2019-20, promises to be an offensive powerhouse with the ability to take his game to the next level and higher. In 2019 -2020, he averaged 16.5 PPG, 6.5 RPG and 1.5 BPG. Red-shirt freshman Jalen Wilson will certainly get minutes. It's hard to say how much effect red-shirt senior Lightfoot will have. One thing is certain, if he can step up, he'll be used,
Backcourt
Our Kansas basketball preview 2020 – 2021 likes freshman Bryce Thompson. Thompson is a prototype combo guard who can ably set up plays, shoot, and defend. This is the type of player that coach Self absolutely loves to utilize. As a freshman, he'll require some time to adjust and will need mentoring. The good news is that along with Self guiding him, Agbaji, who has plenty of experience, will certainly be a solid role model. Last season, Agbaji put in 10.0 PPG while dishing off 2.0 APG and grabbing 4.2 RPG.
Senior guard Garrett offers even more stability in the backcourt. Garrett, who averaged 9.2 PPG, 4.6 APG, and 4.5 RPG, can hit from downtown, knock in twos, and switch into defensive mode quickly. In 2019 -2020, he hit 32.7% of his threes, 47.3% of his field goals, and made 1.8 steals per contest. As a freshman last year, Braun hit for 5.3 PPG while taking in 2.9 RPG.
Jayhawks – Make or Break for 2020-2021
Our Kansas basketball preview 2020 – 2021 finds that this edition of the Jayhawks will be good, but they won't be overwhelming teams the way they did last season. Self is a fine coach who will get more out of his players than anyone can anticipate, but in the highly-competitive Big 12 that won't be enough. The Jayhawks have not replaced the talents and skills that defined Dotson and Azbuike. Expect both defensive and offensive output to suffer.
However, of special note in this instance is coach Self. If he can define and/or redefine the roles of some of his players, and they can step up, this will be a much better team than we presently anticipate. But that will take patience, creativity, and mentoring. And all of that can take time. Right now, it's hard to identify those one or two players who can transform this team from being a high-level competitor to a club that is all but impossible to beat.
Kansas Basketball Preview 2020 – 2021- Final Word
Although we paint a rather bleak picture for this Jayhawk team, the fact is they will still be darn good. But there is no way they will be as dominant as they were last season. The fact is the 2019 -2020 season was theirs for the taking. The Kansas Jayhawks possessed every element they required to go all the way and then some. Still, our Kansas basketball preview 2020 – 2021 observes that this team will win many more games than it loses, and they will fight and battle in every one of them. After all, they do have talent and depth. How they develop and what they do to focus their strengths while taking on their challenges will eventually define where they end up in the conference and how they proceed through the tournament.
Kansas Jayhawks – 2020-2021 NCAA Projection
Big 12 Finish – Fourth
NCAA Tournament Result – Sweet 16