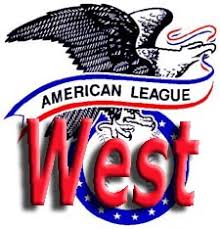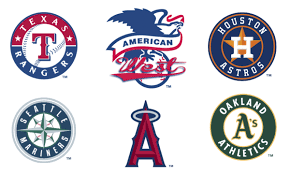 The AL West has two highly competitive teams and one club that could be a spoiler. Of course, the MLB season is long and arduous and anything is possible. This is especially true due to the wild card spots. The team with the worst record in the playoffs could certainly end up in the World Series and win the whole thing. However, our AL West 2018 MLB preview page sees a more predicable outcome. We think that the World Series champion Houston Astros will win the division. After that it's a battle between the Los Angeles Angels and Seattle Mariners for second place with LA coming out on top. But we don't see the Angels as having enough wins to earn a wild card spot. The other two teams in the West, the Texas Rangers and Oakland A's, will settle into the bottom two spots.
The Astros come to this season with a whole lot of offense. In MLB, perhaps there's only one team that's more loaded, the Yankees. Houston's lineup includes three-time and current batting champ Jose Altuva and slugger Carlos Correa. They have numerous players who regularly smack multi-base hits. Plus, on the pitching side, which includes Dallas Keuchel and Justin Verlander, there's nary a weak link. This team will be tough to beat.
The LA Angeles should not be taken lightly. They have some fine hitters including Mike Trout and Albert Pujols. Also joining the team this year is first baseman Ian Kinsler. When it comes to hitting, there is a negative side for this club. There's a lack of depth in the batting order, and age seems to be catching up to Pujols. However, the biggest problem for the team is pitching, which is average at best. They don't have the arms to go the distance.
The A's have a whole lot of problems, including a lack of revenue, which is really hurting this team's ability to create a viable lineup. The pitching staff has been patched together and there's no depth on offense. The number one starter will likely be Kendall Graveman. He has the potential to be a premium hurler. On offense, DH Khris Davis is always a power threat. He'll have some big moments this season.
The Seattle pitching staff needs to stay healthy. This is a thin group and any loss could be disastrous. Closer Edwin Diaz has the potential to save 35 or more games. There are some fine hitters on the team, including Dee Gordon. Gordon comes to Seattle via a trade with the Marlins. Robinson Cano is still a homerun threat and Kyle Seager is noted for smacking doubles as well as round trippers. The Mariners should score some runs this season.
The upper levels of the Ranger minor league system have been emptied of talent, and that fact makes things a bit dire for this team. The rotation is very unstable and the closer role is a question mark. Ranger hitters can certainly boom balls out of the park, and they can steal bases and score. But they have a tough time with consistency. The team ranked 26th in batting average last season. They'll be able to launch some rockets. But other teams with better pitching will be able to do the same against them.
AL West 2018 MLB Preview: Predicted Finish
Here's our prediction for the order of finish in the division. Our AL West 2018 MLB preview sees one team from this division going to the playoffs. All others will be sitting out the postseason. To link to other AL divisions, click here.