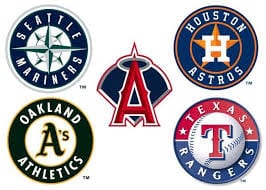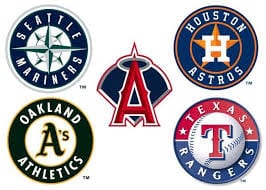 Our 2017 AL West preview sees a two-team battle for first place with, perhaps, a third team being in the mix. The West includes two teams who seem to be well positioned to not only compete within the division, but, also, outside of it. In the West, the Angels' Mike Trout may be the best players in the AL. But whether or not he and some of the other fine everyday players can bring that team to postseason berth is yet to be seen. Here's a thumbnail of each of the teams that can be found in our 2017 AL West preview pages.
Houston Astros
The 2017 Houston Astros are young, talented, and driven, which means that they a quite dangerous. The club seems to have a fine starting rotation and solid pen. They hopping ace Dallas Keuchel stays healthy and closer Ken Giles starts where he left off. On defense, they are one of the best in the AL, and second baseman Jose Altuve is a powerful offensive weapon as is shortstop Carlos Correa. Although not a superior strategist, manager A. J. Hinch knows how to handle his players. The Astros have depth, and that will help them in what is a very long season.
Los Angeles Angeles
Last season, the Angeles had to deal with major injuries to their pitching staff. That hurt them greatly. This season, the starting pitching staff may be healthy, but overall they look unremarkable, and the relievers are an uneven mix of talent. The strength in this team is in the outfield with Trout, Kole Calhoun and newly signed Cameron Maybin bringing fine offense chops to the plate. GM Billy Eppler wants to make this team a contender, but that will take time.
Oakland Athletics
As spring training started, the A's did not have a set rotation plus they had some new talent in the field that simply needs to mature. This is a team that's rebuilding, and that means a few years of tutelage. Oakland was one of the worst offensive teams in MLB last season and not much better when it came to pitching. Look for more of the same in 2017. By 2019, the A's may once again be able to contend.
Seattle Mariners
For part of the 2016 season the Seattle Mariners were competitive. But then their starters got tired and/or injured and the Mariners suffered. If the starters can stay healthy and the bullpen performs as is expected, this team will give Houston and Texas a fight. However, that is a big "if" for this team. They have some good hitters, which includes second baseman Robinson Cano. Still, there are some holes on offense especially when it comes to the outfield. We think that in the end, the Mariners won't quite make the cut.
Texas Rangers
If the Rangers had more depth on their roster and a better farm system, they'd have it made. Both their pitching and hitting are solid. But when things breakdown there's very little they can do to fill in those gaps. The good news is that manager Jeff Banister is very good at handling changing situations. Also, GM Jon Daniels is always looking to make deals that will benefit the team. In 2017, Texas will be on Houston's heels.
2017 AL West Preview Predictions
In our 2017 AL West preview, here's how we see these teams finishing:
Houston Astros
Texas Rangers
Seattle Mariners
Los Angeles Angels
Oakland Athletics