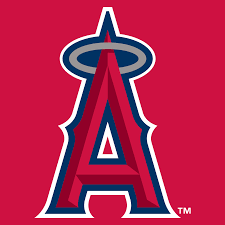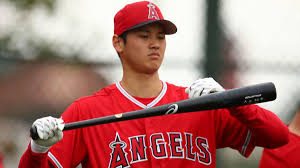 The Los Angeles Angels (80-82) have not been to the playoffs since 2014 when they won the AL West. The Angels were eliminated three games to two that year by Detroit. Since taking the World Series in 2002, Los Angeles has gone 10-22 in the playoffs. A major question concerns their ability to get to the postseason, a place they have not been for the past three years. Last season, they missed a wild card by five games. Our Los Angeles Angels 2018 preview sees this same scenario as being a real possibility.
Pitching
Last season, the Los Angeles pitching staff was fair-to-middling. They were 12th in ERA (.4.20) tied for ninth in saves (43), and 10th in opponent on base percentage (.251). Their 8.6 hits allowed per nine innings was sixth in the AL. They also allowed the third-lowest number of walks in the league.
Starters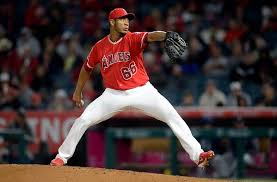 Here he comes, the highly touted phenome from Japan Shohei Ohtani. He comes to the majors with a fastball that ranges from 96 mph to 102 mph and a wicked split-finger pitch. He's also a solid hitter. But there are concerns about a nagging right elbow problem. The number two and three starters, Garrett Richards (0-2 W/L, 2.28 ERA, 8.8 K/9) and Matt Shoemaker (6-3 W/L, 4.52 ERA, 8.0 K/9), will both be looking for consistency. JC Ramirez (11-10 W/L, 4.15 ERA, 6.4 K/9) took the mound as a starter for the first time last season. He had a stellar road record of 8-4 with a 3.48 ERA. The only lefty in the group is Tyler Skaggs (2-6 W/L, 4.55 ERA, 8.1 K/9) who since 2015 has had to battle various injuries.
Relievers
The closer situation is a problem. The Angels will try Blake Parker (2.54 ERA, 8 SVs, 11.5 K/9) in this role in which he has limited experience. Cam Bedrosian (6-5 W/L, 4.43 ERA, 10.7 K/9) was considered as their potential closer, but his numbers and performance don't warrant him being entrusted with that role.
Everyday Players
When you consider the lineup, which had some quality hitters, last season's offensive stats are unimpressive. The team was close to last in the AL in just about every major offensive category except stolen bases, where they were ranked first with 136, and LOB, where they were third with 1033. The Angels were 28th in batting average, tied for 24th in homers, and 27th in total basses, slugging percentage, and OPS. In the field, the team was 23rd in DPs and seventh in fielding percentage at .986.
Hitting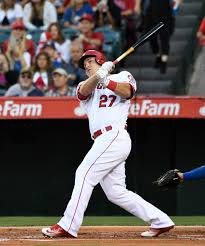 Second baseman Ian Kinsler (.236 BA, 52 RBI, 22 HRs) comes to LA from the Tigers. Kinsler's average dipped last season as his home run total shot up to 22. He's set to lead off. In the second spot, Mike Trout (.306 BA, 72 RBI, 33 HRs) can be an imposing slugger, while number three hitter Justin Upton (.273 BA, 109 RBI, 35 HRs), who joined the club last August, will look to be more consistent at the plate. DH Albert Pujols (.241 BA, 101 RBI, 23 HRs), a 17-year vet who saw his numbers plummet in 2017, needs to get back on course.
In the fifth spot, Kal Calhoun (.244 BA, 71 RBI, 19 HRs) needs to be more selective at the plate, while Zack Cozart (. BA, RBI, HRs) will try to continue to exploit the homerun chops he discovered last season. Three questionable hitters occupy the seven through nine spots, Andrelton Simmons (.278 BA, 69 RBI, 14 HRs), Luis Valbuena (.199 BA, 65 RBI, 22 HRs), and Martin Maldonado (. BA, RBI, HRs).
Defense
The team welcomes back two Gold Glove winners, catcher Martin Maldonado and shortstop Andrelton Simmons. They proved to be two of the best last season. To Simmons' right at third is Cozart, who's got good hands and decent range. Valbuena could see a lot of action at first, while Kinsler offers solid play at second. The outfield looks sound, as Trout roams center and Upton secures left. Calhoun is dependable in right. All-in-all, this is a fine group of fielders.
Management and Front Office
Manager Mike Scioscia, now in his 18th season at the helm for LA, did a fine job manufacturing 80 wins with the personnel that he had. He'll have a similar challenge this season. GM Billy Eppler also did a very fine job. He came to the Angels in 2015, which then had major problems in its player development system. He's worked hard to get it back on track. Scioscia and Eppler do work well together.
Los Angeles Angels 2018 Preview: Final Word
With the addition of starter Ohtani and veteran batsman and fielder Kinsler, the Angels have made some improvements. Still, they have a big question when it comes to the closing role, and an aging Pujols causes concern. This is a good team that should be competitive. Our Los Angeles Angels 2018 preview sees this club as finishing second in the West and having a shot at the second wild card slot.
Projected Finish: 2nd AL West, Record: 86-76