NHL Previews
Nashville Predators Preview 2019 – 2020
Predators Are Solid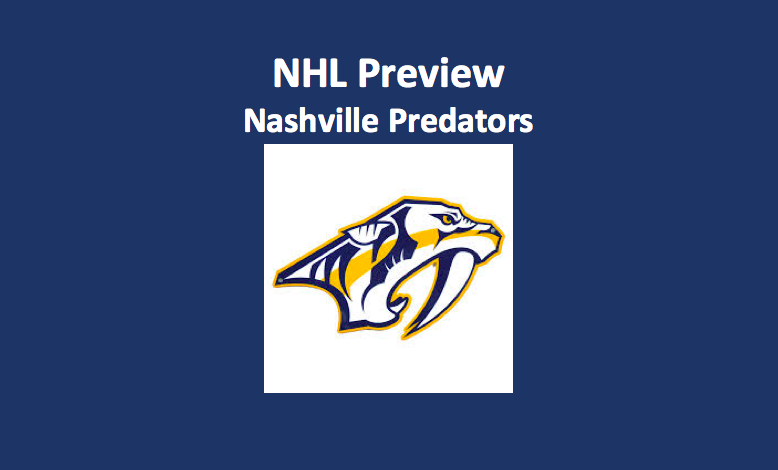 Our Nashville Predators Preview 2019 – 2020 notes that this team made the playoffs for the fifth straight season last year. Also, this Nashville Predators Preview 2019-2020 observes that they finished atop the Central Division with a 47-29-6 record. In the playoffs, the Predators were bounced in the first round by the Dallas Stars, who came in as the second Western Conference wildcard. The Predators made some big moves over the offseason. Our 2019-2020 Nashville Predators season preview looks at how these changes will affect their position in the Central Division this year. They could very well make a difference in both the regular season as well as the playoffs.
Nashville Predators Preview 2019 – 2020: Goaltending
The Predators have a couple options when it comes to their goaltending situation. Pekka Rinne and Juuse Saros have both been solid thus far in their respective careers. Rinne had a .918 save percentage and a 2.42 goals against average last season. He started 55 games and held a 30-19-4 record. Saros, on the other hand, started 27 games. He had a .915 save percentage and a 2.62 GAA. While Rinne is the more talented netminder, Saros is a good enough backup that he could warrant more playing time. In general, the league looks to be trending towards goaltenders splitting the workload more evenly. Nashville appears to have both this option in play, as well as allowing Rinne to start the bulk of games. Either way, our Nashville Predators Preview 2019 – 2020 finds that the Predators will be very solid in net. Especially while Rinne and Saros play behind such a solid D-corps.
Nashville Forwards
The Predators were one of the teams to make a big free agent signing over the summer. They signed center Matt Duchene to a 56-million-dollar contract. Duchene split his time last season between Ottawa and Columbus, racking up a total of 31 goals and 39 assists. He will form a very formidable second line center behind Ryan Johansen. Johansen had 64 points during the 2018 – 2019 season to lead the Preds in scoring. Nashville also has some wingers who can be lethal to other teams. Viktor Arvidsson had 34 goals last year. He has scored 29 or more goals in each of the last three seasons.
Along with Arvidsson, Filip Forberg and Mikail Granlund will be counted on to generate offense. Forseberg was limited to 64 games last season but manage to pot 28 goals. He added 22 assists to this total as well. Granlund was acquired at the trade deadline for Kevin Fiala. Our Nashville Predators Preview 2019 – 2020 observes that overall Granlund had a solid season but saw his production diminish after being traded. The Finn posted 54 points on the season. As a Predator, he recorded only five in 16 games. Granlund should see his production increase back to around 50 to 60 points while playing with either Duchene or Johansen.
Along with their top forwards, Nashville will rely on Craig Smith and Nick Bonino to provide supplemental offense. Smith had 21 goals last year along with 17 assists. Bonino posted 35 points. Bonino also had a +27 rating. He will be instrumental to the Predators' penalty kill. Overall, the Predators should see a boost in total offense with the acquisition of Duchene and should be pretty solid. They also have enough secondary scoring that they look to be fine if their stars go cold.
Predators Preview – Defense
The other major move Nashville made over the offseason happened on the second day of the draft. PK Subban was dealt to the New Jersey Devils for Stefve Santini and picks. Subban was hurt for much of last season and was expendable based on the quality of the Predators' other defensemen. Roman Josi, Mattias Ekholm, and Ryan Ellis come into the 2019-2020 season as top blueliners. Josi finished second on the team in scoring with 56 points. He also played a team-leading 25:10 minutes per game. Mattias Ekholm finished with 44 points and a +27 plus-minus rating. He has developed into a very good, all-around defensemen. Ekholm can line up against other teams' top players and mitigate them. This Nashville Predators Preview 2019 – 2020 finds that Ellis, like Ekholm, plays a very sound all-around game. He had 41 points and a +21-rating last season. Ellis saw the second-most ice time on the team, playing an average of 24:01 minutes per game. He will likely eat similar minutes this year.
Nashville Predators Preview 2019 – 2020: Outlook
The Predators return a very solid team. They upgraded at forward and still have top-notch defenders and goaltenders. The one thing they will look to improve upon from last season is their powerplay, which was last in the NHL. With the talent the Predators possess, there is no reason to be near the bottom of the league in efficiency with the man advantage. Our Nashville Predators Preview 2019 – 2020 finds that overall you should look for Nashville to be among the top teams in both the Central Division and the Western Conference.
Nashville Predators Preview 2019 – 2020: Prediction
Record:49-31-4,102 points
Finish: 2nd in the Central Division
NHL LINKS
Division Link
NHL 2019 Preview Link