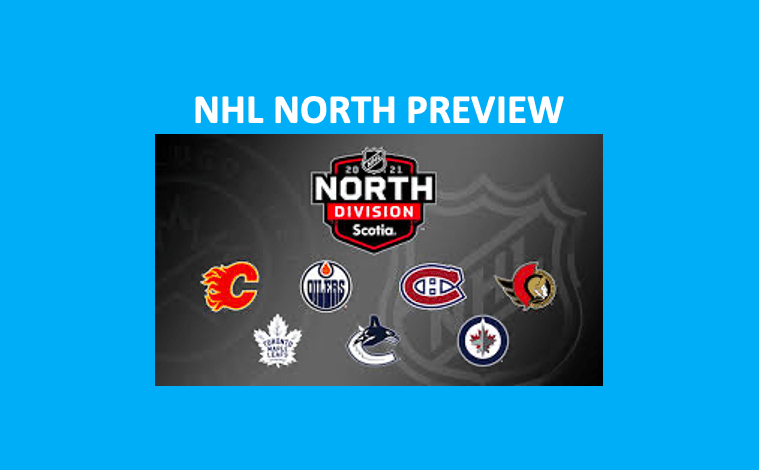 Our NHL North Preview 2021 notes that there are only seven teams in this division. All of the other divisions have eight teams. Despite this, the NHL North will seed the top four teams in the playoffs. Up front, as far as the playoffs are concerned, we like the Calgary Flames, Edmonton Oilers, Vancouver Canucks, and Montreal Canadiens. That leaves the Toronto Maple Leafs, Winnipeg Jets, and Ottawa Senators out of the mix. Of those three teams, we think that the Leafs do have a chance of capturing the fourth and final spot, replacing the Canadiens.
NHL North Preview – Teams
Here are our thumbnail assessments of each team in the division. To get to our detailed previews, please click on the team links.
Calgary Flames – Flames Top Team in NHL North
Calgary forward Matthew Tkachuk is a premium player who's a major difference-maker. Plus, forward Andrew Mangiapane looks to have a breakout season. This offense underperformed last season. We expect they will excel 2021. Although this team lost premium defenseman TJ Brodie,, they've replaced him with the very talented Chris Tanev. Plus, this team got a major upgrade in net with the signing of former Canuck goalie Jacob Markstom. Markstom is a major talent and really puts this team over the top. With depth on offense and defense, our NHL North Preview finds that this Calgary team should top the division.
The always dangerous Connor McDavid leads a group of forwards that can score, score, and score some more. The defense includes a mix of aggressive guys and fine two-way players. Defender Darnell Nurse can shut down offenses, while Tyson Barrie can put the puck in the net and defend. The Edmonton goaltending duo of Mikko Koskinen and Mike Smith is good enough to win more games than they'll lose. However, neither is what you'd call top-notch. Still, there's enough depth on offense and defense for this Oilers team to have a real shot at the playoffs.
Montreal Canadiens – NHL North Preview Sees Improvement
The Canadiens have made some improvements, which could help them find their way to the playoffs. The addition of former Columbus center Josh Anderson will add some attack potential. While the aggressive play of Ben Chiarot and Shea Weber will be important on the blueline. Netminder Carey Price has not been as effective as one would like. Former St. Louis goalie Jake Allen joins the team. He'll be a solid backup and can certainly start. This team won't dominate the division, but they could find a route to the postseason.
Ottawa Senators – NHL North Preview Finds Sens Weak
Even with various upgrades, including former Panther Evgenii Dadonov on offense and the return of top point producer Brady Tkachuk, we expect that the Sens will still have a tough time scoring. The defense has also seen some upgrades. However, despite having some new talent, it's really not enough to be a difference-maker. Thus, unit is still thin. Finally, Ottawa sees a major uptick at goaltending as they sign two-time Stanley Cup Champion Matt Murray from the Pittsburgh Penguins. Last year with the 'Guins, Murray struggled, but we expect he'll find his old form with this new team. However, a great season by Murray will not be enough to get this team to the playoffs. They are the weakest team in this division.
The first line, which includes the highly-productive Auston Matthews and Mitch Marner, is dynamic. In fact, this Maple Leafs team is loaded with scorers. The D is good too. However, they get thin pretty quickly. On top of that, the goalie combo of Jack Campbell and Frederik Andersen is good but not spectacular. If the defense gives up a lot of shots, then this team will struggle. We expect they will struggle and miss the postseason.
Vancouver Canucks – NHL Preview Sees Canucks in Postseason
Although Vancouver starting goalie Jacob Markstrom has gone to Calgary, the Canucks still look good in that area. Caps goaltender Braden Holtby joins the team after posting the worst numbers in his 10-year career. He'll be looking to have a rebound year. If he crashes and burns, backup Thatcher Demko is a solid alternative. The D includes numerous two-way players. Alexander Edler, Tyler Myers, and Quinn Hughes are prime blueliners. The frontline welcomes Swedish Elite League player rookie Nils Hoglander, who could add some pop. The first line on this team is solid. We expect the Canucks to be playoff bound.
Winnipeg Jets – Lacking What They Need to Succeed
The Jets core of forwards returns to a group that really needed to add some quality players. They are thin in front. Additionally, they lack depth on D. However, first line defenseman Josh Morrissey is a high-quality contributor. Goalie Connor Hellebuyck is a quality performer. He posted six shutouts last season, which topped the NHL. If he has another sound season, that will help this Jets team. However, even with fine, quality netminding this team essentially lacks the offense and depth it needs to be competitive.
NHL North – Final Order of Finish
Here's how our NHL North Preview 2021 projects the possible finish of each team:
Calgary Flames
Edmonton Oilers
Vancouver Canucks
Montreal Canadiens
Toronto Maple Leafs
Winnipeg Jets
Ottawa Senators
NHL North Preview – Final Word
Our NHL North Preview 2021 envisions the Senators and Jets struggling. We don't think either will make the playoffs. The Maple Leafs will also be taxed in their attempt to get to the second season. The Canadiens have improved enough to vault to the fourth spot. The Flames appear to be the best team in this division. That leaves the Oiler and Canucks in position to earn an NHL 2021 postseason berth.