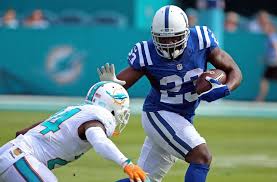 In our Indianapolis Colts 2017 NFL preview, you'll find that the Colts have a tough time with the rush on either side of the ball. The same is not true of passing where the offense performs well, but, like the team's run defense, the pass D is weak. This is a club that must improve at stopping other teams from scoring. It's that simple, but it's not that easy. They struggled last season on defense and for the second year in a row did not make the playoffs. In 2015 and 2016, Indianapolis was 8-8. There is hope that this season, even with an under-average defense, that the team's D will stay healthy and give the Colts enough wins to get back to the postseason.
Offense: 8.0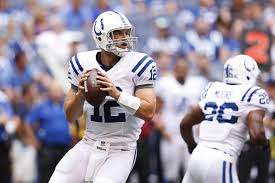 The Indianapolis Colt offense is pretty good. They were 10th overall and tied for fifth in passing. When it comes to scoring they averaged 25.7 PPG (8th) and on third down conversions their success rate was 43.1% (7th). The Colt ground attack, which was ranked 23rd, was the weak point. When healthy QB Andrew Luck can be tough to stop. In 2016, he passed for 4,240 yards notching 31 touchdown-passes while tossing 13 interceptions. But Luck has had health issues and there are concerns that he will not be fully recovered from January surgery to repair his partially torn labrum. If he can get to 100 percent and stay there, then this team will be playoff bound.
The Colt receiving corps includes wideouts Ty Hilton and Jack Doyle. In 2016, Hilton had 91 catches for 1,448 yards and six TDs in 2016. He averaged an impressive 15.9 YPC. Jack Doyle caught 59 passes, averaging 9.9 YPC and scoring five TDs. Productive TE Dwayne Allen, who came into his own last season with 35 catches and six touchdowns, is now a New England Patriot. That loss will be felt. Dual threat Frank Gore grabbed 38 passes and averaged 7.3 YPC while catching four for TDs. Gore led the team on the ground with 1,025 yards, averaging 3.9 YPA and scoring four more TDs. In 2016, the O-line gave up 44 sacks (28th). They are expected to do better this season at protecting Luck and opening holes for Gore. The group is young, but near the end of last season they did start to gel.
Defense: 7.0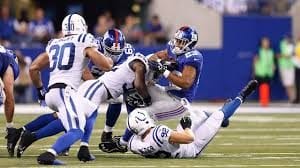 The first three picks the Colts took in the 2017 NFL Draft were defensive players. Plus, they added a premium nose tackle, Johnathan Hankins, through the draft. Formerly of the New York Giants, Hankins is big and powerful. Also new are former Bengal DE Margus Hunt and DT Grover Stewart (Albany State) who was a fourth-round pick in 2017. There's solid veteran leadership on the line in the presence of DT T.Y. McGill and DE Kendall Langford. In the offseason, Indy added three free-agent linebackers, plus they drafted LB Tarell Basham (Ohio) in the third round. His burst of speed should benefit the team's pass rush. Also, ISLB Anthony Walker Jr. (Northwestern), a fifth-round draft-pick, should also see action. Important returnees include Antonio Morrison and Edwin Jackson.
In 2016, the Colts were tied for 29th in interceptions with eight. Safety Malik Hooker (Ohio State), their first-round, 2017 draft-pick, may help with that stat. Hooker, who had offseason hip/groin surgery, should be ready to start. He's fast, athletic and has great instincts. Hooker grabbed seven INTs in his senior season. CB Vontae Davis is the vet of this group with six years in the NFL. He'll be joined by second-round pick, rookie Quincy Wilson (Florida). Wilson is aggressive and focused and should also help improve this unit. Davis, a two-time Pro Bowl pick, was slowed down by injuries last season. If he gets back to form, the corners will be in fine shape. Clayton Geathers will likely start as the other safety.
Special Teams: 7.0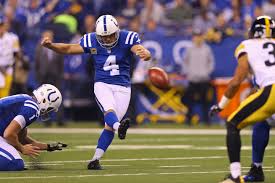 It seems like every season for about the past 20 years the name Adam Vinatieri comes up. He is now 44 years old, and he is still one of the top clutch kickers in the NFL. There's a major question mark when it comes to Pat McAfee's replacement. McAfee, who retired after the 2016 season, was an extremely dependable punter/holder/kickoff specialist. The capable Jeff Locke, formerly of the Minnesota Vikings, will attempt to replace McAfee. As a quick comparison, in 2016 McAfee led the NFL in gross average with a mark of 49.3 while Locke came in at 43.2. The Colts tied for fourth on kick returns, but they were tied for 17th when bringing back punts.
Coaching and Management: 8.0
Head coach Chuck Pagano (52-34 Overall) starts his sixth season with Indy. Pagano has a full slate of talented coordinators and assistant coaches. Ted Monachino is back for his second season as defensive coordinator. The Colts want to see result in 2017 from a group that has been weak for quite some time. GM Chris Ballard did a good job during the offseason of upgrading the D with draftees and NFL vets.
Indianapolis Colts 2017 NFL Preview: Last Word
The Indianapolis Colts come to the 2017 season with a lot of promise on offense and an improved defense. Luck must prove to be durable for this team to be in the playoffs, and that means his offensive line has to do a better job of protecting him. Our Indianapolis Colts 2017 NFL preview finds that Indy has a good shot at extending their season for the first time since 2014.
Indianapolis Colts 2017 NFL Preview Prediction: 2nd AFC South; Record: 10-6
GO BACK TO: