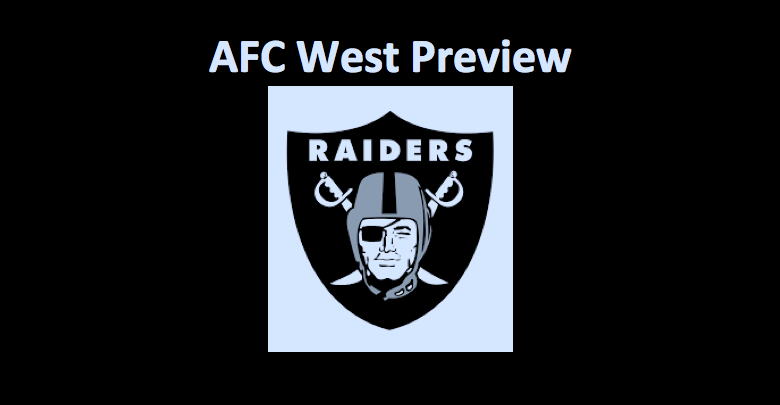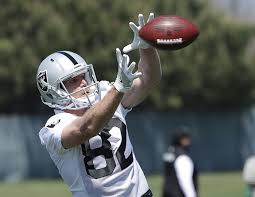 This AFC West Oakland Raiders Preview 2019 projects another last-place finish for this team. Our Oakland Raiders Preview 2019 notes that the last time they made the playoffs was 2016 when they scored a wildcard berth. In 2018, Jon Gruden (44-40 & 2-2 Postseason Oakland & 104-97 & 5-4 Postseason Overall) returned to the coaching ranks after a nine-year hiatus. Last year was his first season back with the Raiders, a team he had coached from 1998-2001. It was a rocky start for Gruden, as the league has changed since he last coached in the NFL. The uphill climb continues this season after the Raiders went 4-12 last season and 1-5 in the division.
Oakland Raiders Preview 2019 – Team
Our Oakland Raiders Preview 2019 notes that Gruden has had his hands full with the Antonio Brown helmet controversy and then with the veteran wideout's moods. Now that it's over as Brown was released one day before the Raiders were to play their first regular season game of 2019. Now, maybe this team can focus on playing football. The team has upgraded on both sides of the ball. This is a major transition year for the team, which next season moves to Las Vegas.
Oakland – Offense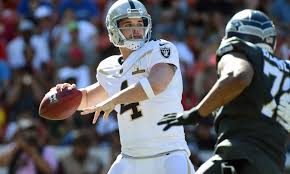 The Raiders averaged just 18.1 PPG (28th) while the line allowed 52 sacks (T-26th). The team's third-down success rate of 39% tied them for 19th. They averaged 336.2 YPG in total offense, which ranked 23rd with the passing game being ranked 18th and ground attack 25th.
Derek Carr (553 ATT, 381 COMP, 4049 YDs, 19 TDs, 10 INTs) is back. He starts his sixth year with the Raiders. It took Carr some time to adapt to Gruden's requirements. By the end of the season, he had connected on 68.9% of his passes. More is expected this year. He has a deep group of receiving talent that includes former Charger WR Tyrell Williams (41 REC, 653 YDs, 15.9 AVG, 5 TDs) and rookie Hunter Renfrow (Clemson). TE Jared Cook, the team's top pass catcher, is gone. Another rookie who gets to start is RB Josh Jacobs (Alabama). The offensive line certainly has potential. Included is Trent Brown at tackle, the line's anchor.
Raiders – Defense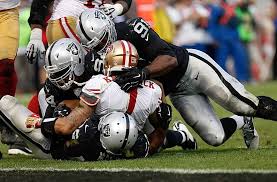 Our Oakland Raiders Preview 2019 notes that the D allowed opponents 29.2 PPG (32nd). They also rated 32nd in sacks (13) and 26th in turnover differential (-7). The team's passing defense ranked 19th (240.8 YPG), while their rushing D ranked 30th (140.6 YPG). Oakland allowed 381.4 YPG in overall defense (26th).
Rookie end Clelin Ferrell (Clemson), the overall fourth draft pick, starts. He's expected to be a major edge rusher. Maurice Hurst, a fifth-round pick, topped the team in sacks in his rookie season. Unfortunately, the total was only four. With the addition of Ferrell, this line should be better. The linebacking unit and secondary are both questionable. SLB Tahir Whitehead (126 TKLs) returns after leading the team in tackles last season. Corner Gareon Conley (3 INTs) proved to be the Raiders' best pass defender. He starts his third season.
Special Teams
Dwayne Harris will bring back punts and kickoffs again. Second-year PK Daniel Carlson (24-24 XP, 17-21 FG) proved to be effective as a rookie. Rookie A.J. Cole III replaces Johnny Townsend who struggled last season. Our Oakland Raiders Preview 2019 notes that Trent Sieg is back as long snapper after coming in last season as an emergency sub.
Oakland Raiders Preview 2019 – Prediction
This Oakland Raiders Preview 2019 notes that this team has a long way to go in order to start putting up winning stats. In the first five weeks of the season, they play Kansas City, Minnesota, and Chicago (London). Plus, the Raiders Green Bay after their bye-week. With the Antonio Brown saga dragging on, the reliance on a number of rookies, and the addition of Flacco, this team will be in flux.
Our Ratings
Quarterbacks – 7.4
Running Backs – 7.2
Receivers – 8.2
Offensive Linemen – 7.0
Defensive Linemen – 5.3
Linebackers – 5.9
Secondary – 7.3
Special Teams – 6.1
Coaching – 7.2
AFC West Oakland Raiders Preview 2019 – Projection
Oakland Raiders Fourth in AFC West
LINKS