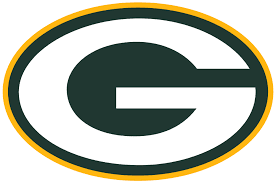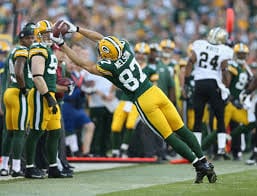 In 2016, the Green Bay Packers (10-6) did not always look like a team that was going to make it to the playoffs. In their first 10 games, they went 4-6, which included a four-game losing streak during which Tennessee and Washington soundly beat them. Prior to that streak, Dallas annihilated the Pack 30-16. But the Pack came back, winning six straight and then beating the Giants and Cowboys in the playoffs before the Falcons took them down 44-21. Our Green Bay Packers 2017 NFL preview projects that this season will be a little less uneven for this team.
Offense: 9.5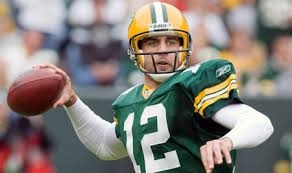 First things first, there are probably two super-elite quarterbacks in the NFL today and Aaron Rodgers is one of them. When the Packers were 4-6 last season, Rodgers promised that the team would win every game left in the season, and that's what they did. In a very uneven season, Rodgers performed well, throwing 40 TD passes for 4,428 yards and putting up just seven picks. Rodgers will have a healthier Jordy Nelson to throw to this season. Although Nelson, coming back from ACL surgery, did earn the NFL's Comeback Player of the Year honors, catching a NFL-high 14 touchdown passes while making a total of 97 catches for 1,257 yards. Davante Adams was right behind him with 75 catches, 997 yards and 12 TDs. Randall Cobb averaged 10.2 YPC and scored four times. The Packers are brimming with receiving talent.
The running game, which was ranked 20th in the league, was a problem. However, there was some hope as dual-threat Ty Montgomery, who caught 44 passes averaging 7.9 YPC, also averaged 5.9 YPA on 77 carries while scoring three rushing TDs. This season, Montgomery becomes a fulltime running back, replacing Eddie Lacy who bowed out last season due to injury and has since signed with the Seahawks. Montgomery has some bulk, he's 6-0, 215 pounds, and he's got speed, power, and patience. The Packers took three running backs in the draft, including BYU's Jamal Williams, who possesses a good daylight burst as well as much needed toughness.
The O-line is good but Green Bay does have to replace Pro Bowl guard T.J. Lang who went to the Lions. Jahri Evans, who was with the Saints in 2016, looks like he'll do the job. The team did retain Pro Bowl left tackle David Bakhtiari and right tackle Bryan Bulaga; both of which are top-notch blockers. The offensive line is solid.
Defense: 7.5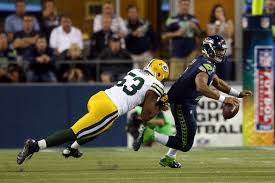 Overall, the Green Bay defense played well last season. They held teams to an average of 94.7 YPG in rushing (8th), made 40 sacks (Tied 6th) and grabbed 17 picks (Tied 4th). But the team's pass defense was ranked 31st as they allowed 269.2 YPG, while their total defense was 22nd and point allowed had them at 21st. Those three stats need major improvement in 2017.
On the line, two players stand out, Mike Daniels who had four sacks, eight TFL and 11 hurries, and rookie NT Kenny Clark, who showed remarkable improvement throughout the season. There are some holes on this line and it's hoped that free-agent pickup Ricky Jean-Francois can help fill the gap. Nick Perry (11 Sacks) leads the linebacking unit. Perry, a big, string and quick defender who can play the run and the pass, had a breakout season last year, which earned him a big multi-year contract. The aging Clay Matthews (5 Sacks, 2 TFL) had a good year. The question here is age and durability. Julius Peppers (7.5 Sacks) has moved on, leaving a question mark concerning who will serve as an adequate replacement.
In the secondary, safety Ha Ha Clinton-Dix (83 Tackles, 5 INT) found his way, becoming a solid and durable defender. Morgan Burnett (92 Tackles, 2 INT) , also a safety, proved to be a smart and efficient player and leader. The safeties are solid on this team, however the cornerbacks are thin. At corner Damaroius Randall (3 INT) made some good plays, but needs to find consistency. It's hoped that Kevin King, the 33rd pick in this year's draft, can bolster this area, replacing Sam Shields who's career ended last year due to concussion. King is tall, fast, and athletic.
Special Teams: 7.5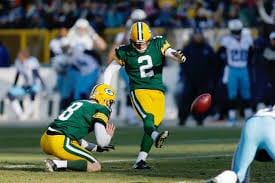 The return game was weak with the Pack being ranked 24th in kick returns and 14th in punt bring backs. Punter Jacob Shum was average at best. Placekicker Mason Crosby proved to be a genuine asset, hitting a big 51-yard kick in the divisional game and posting an 86.7 percent conversion rate.
Coaching and Management: 8.0
The Packers lost some important players, signed some solid free agents, and did well with the draft. The question is do they have all of the parts that they need? And if they do, can coach Mike McCarthy (124-69-1), who's coached a dozen years now, put it all together? When everything seemed to be falling apart last season, he was steady, sure, and focused, bringing the team back from the edge. If anyone can get the job done, he can.
Green Bay Packers 2017 NFL Preview: Last Word
In 2016, the Packers were fourth in points for at 27.0 and 21st in points allowed at 24.2. If they can reduce that second number, they'll have a more consistent season and probably earn about 14 wins. That remains to be seen. One thing is for sure, our Green Bay Packers 2017 NFL preview is picking the Pack to win the NFC Central.
Green Bay Packers 2017 NFL Preview Prediction: 1st NFC North; Record: 12-4
GO BACK TO: