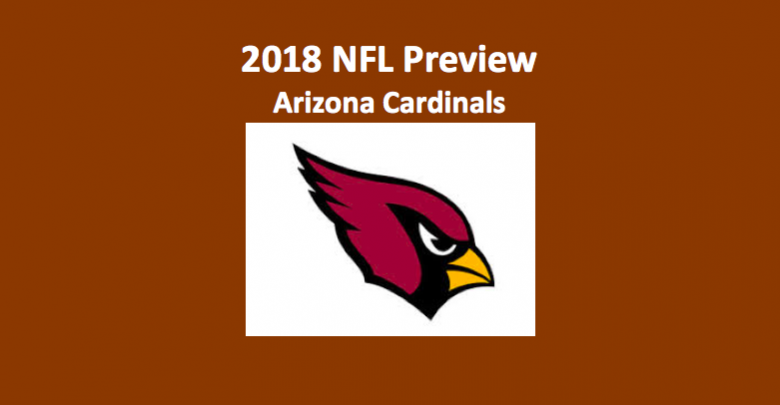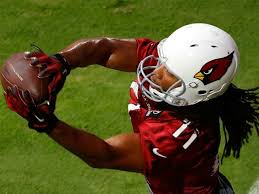 The Arizona Cardinals (8-8) finished third in the NFC West last year. They struggled on offense and defense, but were especially ineffective on the offensive side of the ball. This is a team that made the playoffs in 2014 and 2015. In that latter season, they won 14 regular-season games. But in the last two years, the Arizona Cardinals have been good for a total of just 15 wins. First-time NFL head coach Steve Wilks has a lot of work to do. Our 2018 Arizona Cardinals NFL betting preview envisions this team notching only about five wins. They'll be going through some tough growing pains.
Offense
The stats on this side of the ball were just about all substandard. The team's best performance was in passing yards, as they were good for 221.3 YPG (15th NFL). The Cards ranked 22nd in total yards with 314.1 YPG and 30th in rushing with 86.6 YPG. The team scored on average 18.4 PPG (25th NFL), while allowing 52 sacks (T-29th NFL). Arizona tied for 24th in third-down conversions at 35%.
Quarterbacks and Running Backs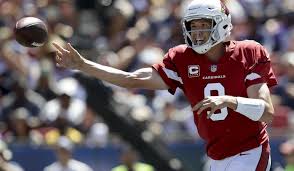 Our 2018 Arizona Cardinals NFL betting preview finds that it's a new era in Arizona, sort of. Carson Palmer retired after 15 seasons. Sam Bradford, who has eight years of experience, becomes the number one signal caller. Bradford is an accurate and productive passer, but the QB does have durability issues. Rookie Josh Rosen, who played for UCLA, comes in ready to back up and play.
RB David Johnson missed last season due to a broken wrist. He's back, and it's hoped that he can be the engine for the rush attack. Rookie Chase Edmonds, who has fine field vision and good moves, is designated as the second-man in rushing.
Receivers and Tight Ends
WR Larry Fitzgerald (109 REC, 1,156 YDs, 10.6 YPC, 6 TDs) continues to be an amazingly productive slot receiver. This is his 15th NFL season. Rookie WR Christian Kirk should see action in 2018. TE Ricky Seals-Jones played well last season. As a consequence, look for him to continue in his role at tight end.
Offensive Line
The last two seasons, Cardinal QBs have been hit 150 times. Last year, they were sacked 52 times. The ground attack is just about nonexistent. RG Justin Pugh, a free agent, was signed to a five-year, $45 million deal. He should certainly help to improve this group. Center A.Q. Shipley may be undersized but he has proven to be durable and tough. The rest of this frontline is questionable due to past injuries, ineffective past play, or lack of experience. Rookie Mason Cole could win one of the guard spots.
Defense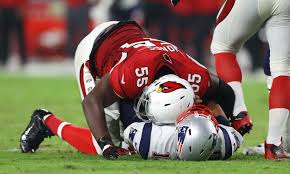 The Cardinals were sixth in overall defensive yards (310.9 YPG) and rushing defense (89.6 YPG). They struggled a bit against the passing, giving up 221.3 YPG (14th NFL). The 22.4 PPG (19th NFL) they allowed resulted in a PF/PA differential of -4.0. Arizona had modest success in some areas, as they notched 37 sacks (T-17th NFL) and 15 interceptions (12th NFL). When push came to shove, Arizona's overall average defensive numbers could not make up for their lack of offensive output.
Defensive Line
New head coach Wilks, a defensive specialist, is switching to a 4-3 scheme. That means that Chandler Jones (17 SCKs) and Markus Golden will both be defensive ends. Markus would like to recreate his 2016 output where he had 12.5 sacks. The DT spots will be manned by Robert Nkemdiche and Corey Peters. A lot is expected from Nkemdiche, who certainly has talent but has not reached the level of play expected. This line is the best part of the D.
Linebackers
Our 2018 Arizona Cardinals NFL betting preview sees the LB unit as having some fine starting talent but lacking depth. OLB Haasan Reddick proved to be talented and driven, offering exceptional sideline-to-sideline movement. OLB Deone Bucannon (90 TKLs) played the final 12 games after having ankle surgery and was exceptionally diligent in hunting and bringing down opponents. MLB Josh Bynes has proven to be a valuable contributor.
Secondary
CB Patrick Peterson, who has been selected to six Pro Bowls, is a skilled defender and premium athlete. He's one of the top corners in the NFL. In his third NFL season, Brandon Williams will be opposite Peterson in the other corner spot. He offers versatility. Last season, rookie safety Budda Baker certainly proved himself. He was a Pro Bowl selection. Antoine Bethea, who occupies the other safety spot, was an exceptional defender and fine leader off the field. With so much talent in the D-back spots, this should be an effective group.
Special Teams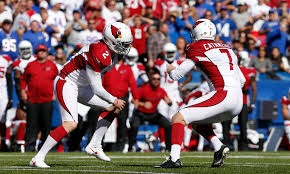 Placekicker Phil Dawson, now in his 20th year, got off to a slow start last season, but came around in the second half. If he had been more consistent last season, the Cardinals may have won a few more games. Punter Andy Lee was one of the best in the league. He averaged 47.3 YPP and placed 29 within the 20-yard line. The return games have been mediocre, but may see improvement with T.J. Logan bringing back kicks and Christian Kirk punts.
Coaching
Wilks (0-0) comes to Arizona via the Carolina Panthers. He was with Carolina from 2012-2017. In 2017, he was promoted to defensive coordinator. Wilks has no NFL head coaching experience and one season as a D-C and one year coaching a college football team (Div II Savanah State 1999). Consequently, some have doubts regarding his readiness. He's brought in the very experienced Mike McCoy as his O-C, while defensive coordinator Al Holcomb comes in with plenty of D-C experience. For the most part, Wilks has surrounded himself with experienced and successful coordinators and assistants. Time will tell here.
2018 Arizona Cardinals NFL Betting Preview: Final Word
This team is liable to have more low than high points this season. With an inexperienced coach, new QB, different D-scheme, new coordinators, it will take time for them to get their game together. Bradford is a solid QB and good leader, but his health could be a major issue. Defense is improved, but has enough been done? Our 2018 Arizona Cardinals NFL betting preview thinks this team will perform better from the mid-point of the season to the end. Consequently, we don't see them posting many wins.
2018 Arizona Cardinals NFL Betting Preview Projection: 5-11 Record, 4th NFC West
Unit Ratings
Offense:
QB: 8.1, RB: 8.0, OL: 7.5, WR: 7.9,TE: 8.2
Defense
DL: 8.4, LB: 7.4, DB: 8.0
Special Teams
PK: 7.9, PT: 9.0, RT: 8.2
Other
Coaching: 7.5
Intangibles: With so many adjustments to make, we expect this to be a confusing and frustrating season.
Overall Rating = 7.4
Links