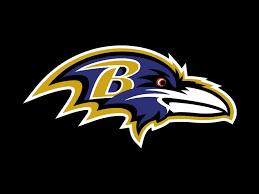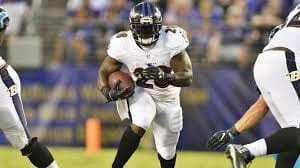 The Baltimore Ravens (8-8) have missed the playoffs for the past three of four seasons. It was five seasons ago, in 2012, that they went 10-6 and won it all. Since 2012, it has been a frustrating and inconsistent road. Our Baltimore Ravens 2017 NFL preview sees that this team brings a good defense but an inadequate offense to the field. Can they expect QB Joe Flacco to get them back to the big game? Perhaps the Ravens are building their hopes in their D. If the draft is any indication of their intentions, then they must be going with the idea that defense will save the day, as their first four picks for 2017 were all on the D side of the ball. The team does has a shot at making it into the postseason. That is if they can get an optimum performance from a completely healthy Flacco.
Offense: 7.0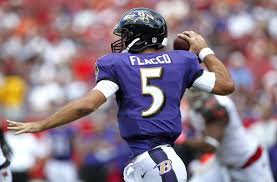 Although Flacco passed for 4,300-plus yards in 2017, he tossed only 20 TDs while putting up 15 picks. He led an offense that was 21st in scoring with 21.4 PPG, 12th in passing, and 28th in rushing. One problem for Flacco in 2016 was the fact that he was playing while still dealing with issues related to his 2015 ACL and MCL injuries and surgeries. He is now fully recovered and in better shape than ever. It is expected that he fully healthy and will play much better in 2017. In addition, this season, unlike last, Baltimore is dedicated to upgrading its running game, which was almost nonexistent in 2016. Although the O-line lost tackle Rick Wagner to the Lions, they are still a fine unit, and should do a good job protecting Flacco and opening up holes for the rush.
The Ravens upgraded running back by signing free-agent Danny Woodhead. But the 32-year-old Woodhead must prove that he's fully recovered from a torn ACL, which caused him to miss most of 2016. Terrance West, who averaged 4.0 YPA, and Kenneth Dixon, who was good for 4.3 YPA, will be the primary ground-gainers once again. West had 774 yards and five TDs, while Dixon totaled 382 yards, scoring two times. The Ravens wanted to draft a quality receiver this year, but all of their picks were gone by the time their turn came. Dixon is suspended for the first four games. The running game does not look promising.
Defense: 8.5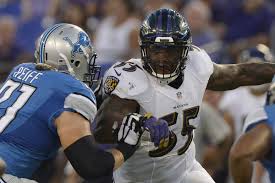 The Ravens have long been known for their stubborn defense. Last season Baltimore's total defense was ranked seventh with it's rush D being fifth and passing defense ninth. They were ninth in points allowed and fifth in the AFC at 20.1 per game. Their 18 picks (Tied 1st) helped them keep the score down, but the team would like to improve on their 31 sacks (Tied 24th). NT Brandon Williams, who signed a five-year deal this year, is the anchor upfront. DE Chris Wormley (Michigan), this year's third-round pick, is expected to start and second-year end Michael Pierce, who showed good speed on the pass rush last season, will also move into a starting role.
OLB Terrell Suggs, the all-time sack leader for the Ravens, will be 35 years old in October and back for another season. Suggs led the team with eight sacks last season, while ILB C.J. Mosely had four as well as 92 tackles. Top tackler Zachary Orr, who led the team with 130 tackles, had to retire at the end of the season at the age of 24 because of a congenital neck and spine issue. There are several young players who may be able to move up or draft-picks Tyus Bowser (Houston) or Tim Williams (Alabama) may get a chance. Bowser will most likely sub for Suggs, while Williams seems suited to be a force when it comes to the pass rush.
The secondary is sound and includes corner Brandon Carr and safety Tony Jefferson. Both are free-agent signings with Carr being especially reliable and Jefferson an upgrade on the safety spot. Four-time Pro Bowler Eric Weedle (4 INTs, 89 Tackles) is a key player in the secondary. Alabama's Marlon Humphrey, the Raven's first-round pick this year, could be the shutdown corner the team has wanted. There's plenty of depth in this group with various other young players looking to fill roles.
Special Teams: 9.0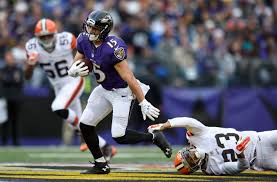 On returns, the team ranked 21st on punts and was tied for 12th on kicks. There's no huge game-breaking runback specialist on the team, however Michael Campanaro is as sure-handed as a player can be. Jerry Rosenburg's coverage units are top-notch and the Raven kicking game may be the best in the league. Sam Koch is one of the best directional punters around, placing 37 within the 20-yard line. Placekicker Justin Tucker has been good on 89.8% of his field goal attempts, making him the most accurate kicker in NFL history.
Coaching and Management: 8.0
John Harbaugh (95-64 Overall) starts his tenth season as a NFL and as the Raven's coach. He has a sound playoff mark of 10-5 and although in the past four seasons Baltimore has missed the postseason more than they have made it, he still seems to have the confidence of owner Steve Bisciotti. Ozzie Newsome, GM/Executive VP, has done a good job in getting the needed free agents and utilizing the draft. Offensive Coordinator and QB Coah Marty Mornhinweg and Harbaugh need to develop an offense that offers consistent play and scores more than 21.4 PPG. That's a major challenge for 2017.
Baltimore Ravens 2017 NFL Preview: Last Word
The Ravens have massively upgraded their secondary and drafted numerous defensive playmakers. The running game is still a problem, but a healthy Flacco would be a major asset. Our Baltimore Ravens 2017 NFL preview sees this team as having a solid shot at the postseason.
Baltimore Ravens 2017 NFL Preview Prediction: 2nd AFC North; Record: 9-7
GO BACK TO: