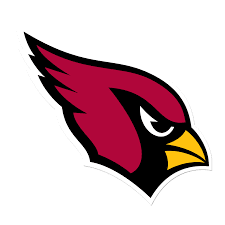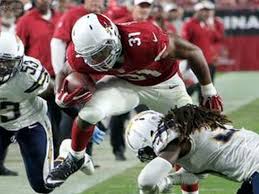 The big question in our Arizona Cardinals 2017 NFL preview is was last season's performance by the Cards indicative of where they are at or was it an anomaly and are they really the team that made it to the playoffs in 2014 and 2015? Last season, the Arizona Cardinals (7-8-1) sputtered their way to a second place finish in the NFC West three games behind the first place Seattle Seahawks. This season the Cardinals are focused on winning and winning big. They bring a very good running game to the mix and a defense that punished quarterbacks. Here's how 2017 looks for this team.
Offense: 8.5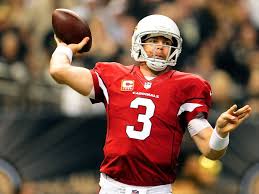 Last season, Carson Palmer threw for over 4,200 yards completing 364 of 597 attempts. He tossed 26 TD passes with WR Larry Fitzgerald catching six of them. Palmer also threw 14 interceptions. Still, it was an off-season for the signal caller who in 2015 was considered to be the NFL's best quarterback. But 2016 was tough on the aging veteran, as he took a total of 41 sacks. His QB rating from the season before dipped by 17 points and in 2016 he threw nine fewer TD passes and three more INTs than he did in 2015. First things first, for the Cards to have a chance at pursing the championship, Palmer must perform better. That may be difficult as the O-line designed to protect him has some real issues. A.Q. Shipley returns to center with a new contract, as he was the most consistent player in front. In 2016, most of the frontline was injured at one point or another, making for a patchwork of protection. Nothing has really been done to upgrade this area.
The most powerful offensive weapon this team possesses is dual threat David Johnson. He led the team in rushing and was second in receiving, scoring a total of 20 TDs with 16 of them being on the ground. Johnson ran for 1,239 yards, averaging 4.2 YPA. He also caught 80 passes, averaging 11.0 YPC. Fitzgerald caught 107 passes, averaging 9.6 YPC. On the receiving end two other important players are John Brown (39 REC, 13.3 AVG, 2 TD) and Jermaine Gresham (37 REC, 10.6 AVG, 2 TD).
Defense: 8.5
The Cardinals held teams to 22.6 PPG while making 48 sacks (1st) and grabbing 14 picks (Tied 12th). They had the second rated overall defense, fourth rated passing defense, and ninth rated rushing defense. The defense lost five starters to free agency, and that is a big concern. Although the D-line is good, they still need some of their young guys to step up while some of their aging players step aside. This is especially the case since they lost Calais Campbell (8 Sacks) to free agency this past summer. What they need is for 2016 first-round pick DE Robert Nkemdiche to get in the mix and be effective.
The linebacking unit is intact, and it includes two of the team's most impressive pass rushers, OLBs Chandler Jones (11 Sacks) and Marcus Golden (12.5 Sacks). Haason Riddick (Temple), 2017 first-round LB/DE, was impressive in his final college season notching 10.5 sacks and 22.5 TFL. He also performed well in the Senior Bowl and the combine. Reddick is really an important addition to the defense for 2017. SILB Karlos Dansby, a 13-year free agent from the Bengals, had 114 tackles for Cincinnati last year. Deone Bucannon is back after leading the Cards in tackles last season with 100. In the secondary, FS Tyrann Mathieu and LCB Patrick Peterson (3 INTs) are considered to be two of the best in the NFL. A 2017 second-round pick, corner Budda Baker will team up with free-agent Antoine Baker to man the other safety spot. There are three guys up for the other corner position.
Special Teams: 8.0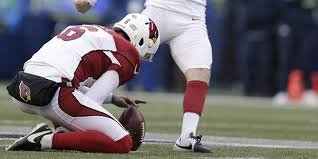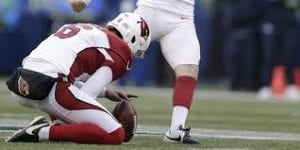 Phil Dawson, a free agent placekicker who has a career conversion rate of 84,5%, comes over from San Francisco to replace Chandler Catanzaro. Punter Matt Wile replaced Drew Butler late in the 2016 season and played well enough to be asked back for the 2017 season. T.J. Logan and Rudy Ford are rookies who will have the opportunity to bring back kicks and punts.
Coaching and Management: 8.5
Bruce Arians (42-24-1 Overall) starts his fifth season as the Cardinal head coach. In his career, Arians in fourth amongst active coaches for wins in the last 76 games with 50. He's a smart coach who has a lot of experience that uses well. Arians ably manages players and has also done a fine job of choosing his other coaches and coordinators, finding guys who bring a lot to the table.
Arizona Cardinals 2017 NFL Preview: Last Word
Arizona's season can go one of three ways, first place and the playoffs, second place and the playoffs or second place and no playoffs. This is a close call and if they were in any of the other NFC conferences, I'd say there's no way for this team to get into the postseason. But this is the NFC West with the primary competition being Seattle. Our Arizona Cardinals 2017 NFL preview sees this team getting into the playoffs.
Arizona Cardinals 2017 NFL Preview Prediction: 2nd NFC West; Record: 10-6
GO BACK TO: