NCAA Previews
2018-2019 Arkansas Razorbacks Basketball Analysis
A Season Filled with Question Marks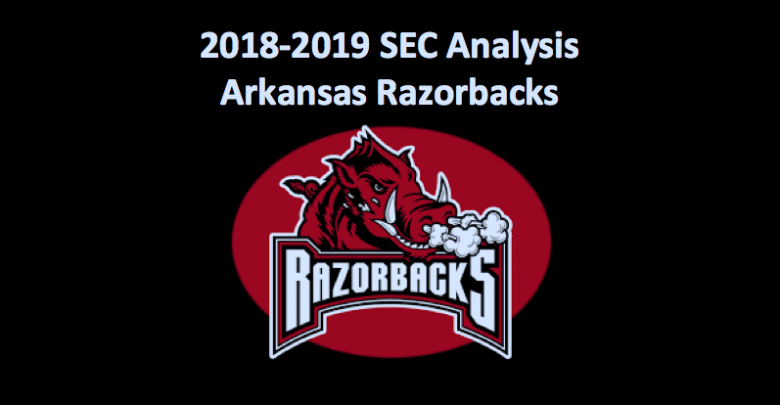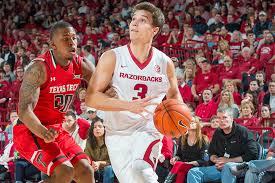 In the past three-of-four seasons, the Arkansas Razorbacks (23-12 Overall, 10-8 SEC) have been to the NCAA Tournament. The deepest they've gone is the second round. Last year, Butler beat Arkansas 79-62 in round one. Our 2018 Arkansas Razorbacks basketball preview notes that this team has lost six key players from last season and come to the court with very little experience. We expect this to be a year of growth and adjustment for the Razorbacks. This 2018 Arkansas Razorbacks basketball preview sees a lot of intriguing question marks for this team.
Frontcourt
There is talent and experience in front, as sophomore forward Daniel Gafford ((11.8 PPG, 6.2 RPG, 60.5 FG%) decided to return for a second season. The projected NBA first-round draft-pick is an awesome force in the paint on both offense and defense. In his freshman season, Gafford accumulated 400 points, 200 rebounds, and 70 blocks. Plus, he made 78 dunks. To be even more effective, the 6'11" forward will need to cut back on his fouls and expand his shot repertoire. Forwards Adrio Bailey (4.1 PPG, 2.5 RPG, 54.1 FG%), a junior, and Gabe Osabuohien (1.1 PPG, 1.4 RPG, 40.0 FG%), a sophomore, are the only other two players who return with real SEC experience.
Backcourt
The entire experienced backcourt is gone. It's all up to the new guys to handle the ball, set up plays, and score. Two years ago New Mexico transfer Jalen Harries averaged 4.5 PPG and 2.3 APG for the Lobos. He's the only guy in the backcourt with significant college experience. Freshmen Keyshawn Embery and Isaiah Joe will be given the opportunity to have an impact immediately. Embery, a combo guard, will be looked to for offense and defense. Joe comes to the team with the reputation for being a reliable and prolific scorer. Frosh Desi Stills is noted for his D skills.
2018-19 Arkansas Razorbacks Basketball Preview – Final Word
The last time the Hogs made it to the Sweet 16 was 1996. Since then, they have made 11 appearances at the Big Dance. Each time, they have made an early exit. Our 2018-19 Arkansas Razorbacks basketball preview doubts that will happen this season. Primarily because we expect this club to be bound for the NIT after finishing 11th in the SEC. There is talent here, but much of it is undeveloped. In essence, coach Andersen is working with a team that is 70% new and 65% untested.
SEC News and Updates