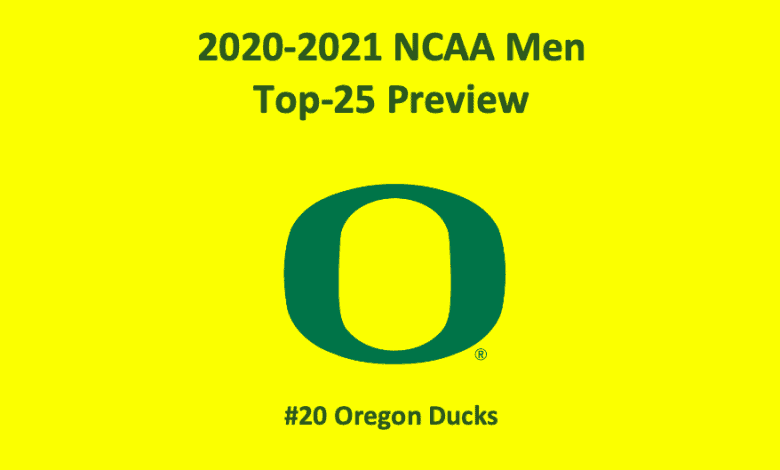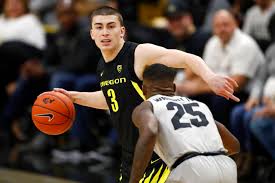 Our Oregon basketball preview 2020 – 2021 notes that last season the Ducks won the Pac-12 with a record of 13-5, beating out the second-place UCLA Bruins by one game. Throughout the season, Oregon, which finished with an overall record of 24-7, never lost more than two games in a row. Against nationally-ranked teams, coach Dana Altman's Ducks were 6-2, losing to #8 Gonzaga and #6 UNC. Despite those losses, Oregon beat #13 Memphis, #13 Seton Hall, #5 Michigan, #16 Colorado, and #24 Arizona twice. The Ducks were literally unbeatable at home as they posted a 17-0 record when playing in front of their fans. It was a stellar season.
Stats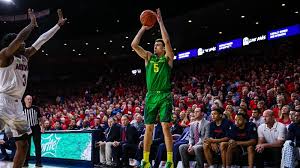 The Ducks put an overwhelming offense on the court. Oregon averaged 75.9 PPG (54th Nationally, 2nd Pac-12). Consequently, their shooting percentage was one of the best in the nation as they completed 47.0% of their field goals (29th Nationally, 1st Pac-12). In terms of three-point shots, they hit 8.7 per game (46th Nationally, 1st Pac-12) at a rate of 39.6% (5th Nationally, 1st Pac-12). Overall, Oregon was accurate from the free-throw line, hitting 70.0% of their attempts (210th Nationally, 10th Pac-12).
The Ducks were also solid when it came to ball control, recording 14.4 APG (75th Nationally, 3rd Pac-12) and turnovers per game, making 11.9 (63rd Nationally, 2nd Pac-12). Although, they could not be considered weak in any major category, the team was weakest when it came to rebounding and scoring defense. With a rebound margin of 2.0, Oregon ranked 119th in the nation and sixth in the Pac-12. They were 104th and sixth in scoring defense (66.7 PPG) and 57th and 5th in field-goal defense (40.7%).
Oregon Basketball Preview 2020 – 2021 – Players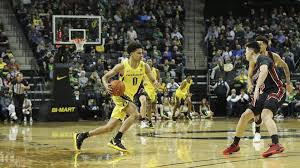 All-American, star guard Payton Pritchard is gone. Pritchard was not just a huge part of this team due to his stats, which last season included 20.5 PPG, 5.5 APG, and 1.5 SPG, but, also, because of his amazing leadership. How do you replace someone like Pritchard who hit 46.8% of his field goals, 82.1% of his frees, and 41.5% of his threes? The basic answer is, you don't. At least, Oregon hasn't. But there is good news, as two of the team's top scorers from last year return. At the same time, coach Altman has managed to snag some solid transfers, bringing in four.
Senior guard Chris Duarte is the only full-time starter who returns. Junior Will Richardson moves into the starting position as the point guard. It's very likely that returning sophomore Addison Patterson will see more action and that Altman will utilize UNLV graduate transfer Amauri Hardy. Four-star recruit Jalen Terry, the only freshman on the team, will most likely be a redshirt this season.
The frontcourt appears to be stacked. It's expected that Altman will use swing guard/forward Eric Williams, a junior transfer from Duquesne, and forward Eugene Omoruyi, a senior transfer from Rutgers. Sophomore center N'Faly Dante rounds out the starting unit. Other players who will see action in front include returning sophomore forward Chandler Lawson and St. John's transfer, senior forward LJ Figueroa. However, Figueroa's participation is still pending a waiver. Note, Williams and Omoruyi both sat out last season with the Ducks.
Frontcourt
Williams and Omoruyi are versatile players. Both are lefties. Williams is one of those players who can come off the wing, drive, and score or step back and hit a three. He'll swing from guard to forward, utilizing his smooth moves and accurate shot whenever and wherever he can. In his second and last season with Duquesne, Williams was good on 42.4% of his shots and 37.1% of his threes. Playing 30.8 MPG, he averaged 14.0 PPG, 7.6 RPG, and 1.1 SPG. Solid-framed Omoruyi uses his physical strength and bulk to close out opponents and bring down rebounds. In 2018 – 2019 with Rutgers, he averaged 7.2 RPG and 13.8 PPG while hitting 46.7% of his shots. At 6-11, center Dante, who appeared in 12 games averaging 13.6 MPG, connected on 62.7% of his shots while averaging 5.8 APG and 2.8 RPG.
Backcourt
As noted, Richardson takes the point. Last season, he averaged 11.0 PPG, 2.3 APG, and 3.7 RPG. He has a keen shot, as he hit 47.9% of his field goals and 46.9% of his threes. Richardson, a solid defender, averaged 1.4 SPG. Duarte, the top-returning scorer, posted a 41.2% field-goal rate. Averaging 12.9 PPG and 5.6 RPG, he's got the potential this season to become this team's go-to scorer. Along with being a sound offensive force, Duarte can play defense. Last season, he averaged 1.7 SPG.
Our Oregon basketball preview 2020 – 2021 finds that Patterson, who averaged 11.0 MPG in his freshman season, will certainly be in the mix this year. Last year, he connected on 56.3% of his field-goal attempts while averaging 4.6 PPG. Transfer Hardy averaged 14.5 PPG, 3.3 APG, and 3.3 RPG with UNLV. He'll be an important part of the backcourt. Last season, he connected on 40.9% of his field goals. In terms of three-point shots, Duarte, Patterson, and Hardy each succeeded in hitting approximately 34% of their attempts.
Ducks – Make or Break for 2020-2021
Our Oregon basketball preview 2020 – 2021 finds that coach Altman has put together a fine squad of starters. The transfers will help this team a lot, and the returning players come with experience and skill. We anticipate that they will perform at an even a higher level this season than they did last. The good news is that most of the team has played and/or practiced together for some time. They know what Altman wants and can anticipate how one another will perform. Of course, the Ducks will still be without Pritchard who was the glue of this team. If Oregon is going to be successful, Richardson and Duarte will both need to step up. That certainly a possibility. But they must make it a reality.
Oregon Basketball Preview 2020 – 2021- Final Word
The Pac-12 is not the most dominant conference in men's college basketball. However, when it comes to the top-five, they are right in the middle of the pack with the Big East and Big 12 rated one and two and the SEC and Big Ten four and five. Consequently, our Oregon basketball preview 2020 – 2021 does anticipate that this team will have some fairly tough in-conference competition from the likes of Arizona State University, UCLA, USC, and Stanford. However, we think that the Ducks will survive and take down the conference.
Oregon Ducks – 2020-2021 NCAA Projection
Pac-12 Finish – First
NCAA Tournament Result – Second Round