NCAA Previews
#10 Texas Longhorns Preview 2019
Longhorns will be Competitive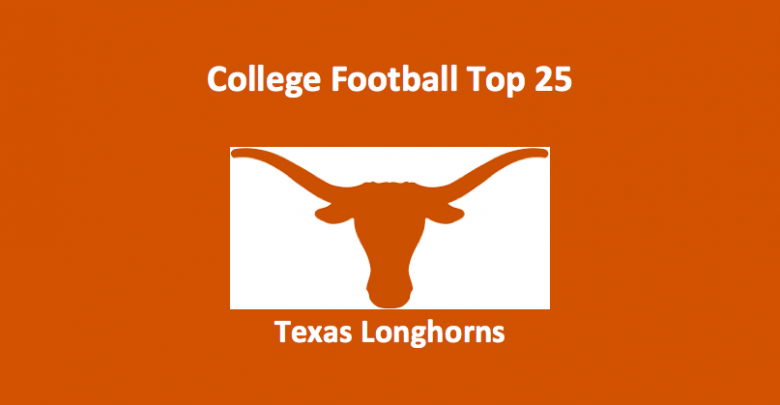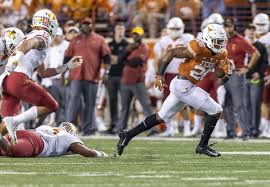 Our 2019 Texas Longhorns Preview 2019 notes that this team is solid on offense. This Texas Longhorns football preview also acknowledges that the team will be challenged a bit on both lines. Last season, the Longhorns were 9-3 overall in the regular season and 7-2 in the Big 12. Texas finished second in the conference, which earned them a spot in the Big 12 Championship game. In that contest, the Longhorns lost to Oklahoma 27-39. Texas went on to play Georgia, beating them 28-21.
The Longhorn passing game averaged 258.2 YPG (34th) and rush attack was at 153.1 YPG (90th). Texas was 57th in overall offensive yards, averaging 411.3 YPG. They team put 31.1 PPG on the scoreboard (46th). The defense ranked 57th in points allowed per game, giving up 25.9 PPG. The team did a fine job versus the rush, allowing 131.4 YPG (28th). However, Texas was deficient in stopping the bass, as they allowed opponents 261.4 YPG (110th). The 392.8 total YPG ranked them 67th nationally.
Texas Longhorns Preview 2019 – Offense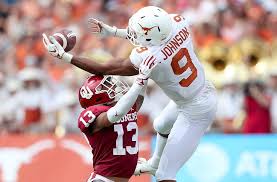 Junior QB Sam Ehlinger (64.7 COMP%, 25 TDs, 5 INTs), who tossed for 3,292 yards and ran for 482 scoring 16 rushing TDs, has a sound group of pass catchers. It's true that top receiver Lil' Jordan Humphrey, who had 86 catches for 1,176 yards and nine scores, is gone. But the Longhorns see three receivers return who last season each had a minimum of 27 catches. Senior WR Collin Johnson (68 REC, 14.5 AVG, 7 TDs) is the Longhorn's top returning pass catcher.
The running back situation is questionable, as Texas loses their top rusher Tre Watson (786 YDs, 4.2 AVG, 3 TDs). However, bulked up sophomore Keaontay Ingram (708 YDs, 5.0 AVG, 3 TDs) is back stronger than ever and ready to play. We project Ingram to rush for one-thousand-plus yards in 2019. LG Parker Braun, a grad transfer from Georgia, should help keep the O-line stable. This unit had a tough time opening up running routes and may have the same issue this season.
Defense and Special Teams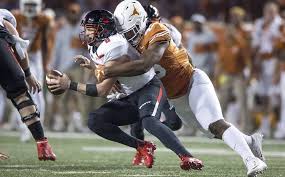 Someone will need to step up and help the D-line, as DE Charles Omenihu, who recorded 9.5 sacks and 8.5 TFL, gone. Our Texas Longhorns Preview 2019 notes that there is hope, as this season red-shirted freshman NT Keondre Coburn is expected to be a major force. The linebackers look sound and include sophomore B.J. Foster (46 TKLs, 2.5 SCKs, and 6.5 TFL). In his freshman season last year, Foster, along with the stats already noted, broke up five passes, grabbed one pick, and posted two QBHs. The secondary is also sound. Safeties Caden Sterns (62 TKLs, 4 PBU, 4 INTs) and Brandon Jones (70 TKLs, 1 PBU, 2 INTs) are both skilled. Together they posted 12 TFL and three QBHs. Jones is the team's top returning tackler.
Longhorn special teams include D'Shawn Jamison returning kickoffs and punts. Jamison averaged 13.1 YP punt return and 20.2 on kick bring backs. He ran one punt back 90 yards for a score. Texas punting and kicking units struggled last season. Punter Ryan Bujcevski (63 Punts, 40.3 AVG, 18 In20) netted just 36.7 YPP and had two blocked. Placekicker Cameron Dicker (51-52 XP, 18-25 FG) missed seven field goals, but he did connect on one-of-three from 50-plus yards.
Coaching and Recruitment
Before coming to Texas, Tom Herman (17-10 Texas, 39-14 Overall) served as Houston's head coach for two seasons. Herman, who is 3-0 in bowl games, starts his third season as HC of the Longhorns. Herb Hand, who has 27 years of coaching experience, and Tim Beck, who's in his third year with Texas, serve as Co-offensive coordinators. Prior to coming to Texas, defensive coordinator Todd Orlando served two seasons as the Houston DC. Although Texas has the best group of recruits in the Big 12, with two five-star, 15 four-star, and eight three-star, they did lose five-star, top recruit Bru McCoy. McCoy, a wideout, was originally at USC and then transferred to Texas. He's now gone back to USC. It's a huge loss for the Longhorns.
Our Texas Longhorns Preview 2019 – Final Word
Along with playing Coaches Top 25 teams Iowa State and Oklahoma as well as TCU, the Longhorns must play Louisiana Tech and number six LSU. The Longhorns will be at home for both the Bulldogs, who are scheduled for August 31, and the Tigers, who they'll meet on September 7. Our Texas Longhorns Preview 2019 finds that the Longhorns have a shot at the conference title. That is as long as their O-line can step up and their passing defense can perform well.
Click here to go back to Big 12
Click here to go back to NCAAF Hub