NCAA Previews
2018 Independent College Football Preview
Notre Dame Leads the Way in a Growing Number of Indies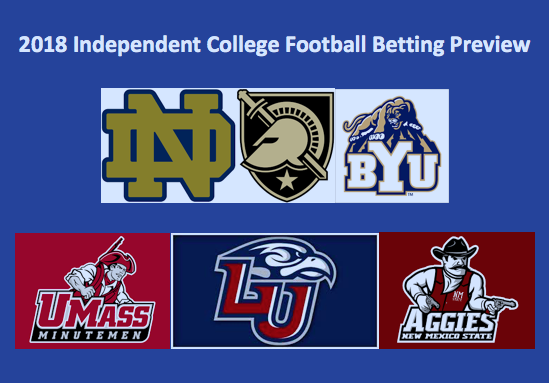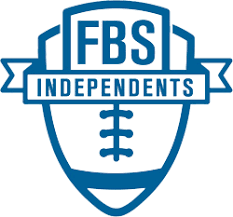 Our 2018 Independent college football betting preview includes six teams, as the Liberty Flames leave the FCS Big South Conference and join the ranks of FBS teams and the New Mexico State Aggies leave the Sun Belt Conference. In terms of which teams appear to be the most competitive, we're putting the Notre Dame Fighting Irish at the top of our list. Of those schools unaffiliated with a conference, the Irish rise above the rest. The Army West Point Black Knights, the only service-oriented team not in a conference, are close on the heels of Notre Dame.
After that, it's the BYU Cougars, who come to this season with solid squads on both sides of the ball. There's a drop off with the New Mexico Aggies, who certainly have a sound D, but will have challenges on offense. The Massachusetts Minutemen should put an aggressive attack team on the field, but will have a tough time controlling opponent offenses. Finally, it's the Liberty Flames, a team making a major adjustment as they move from FCS to FBS play. For information on any FBS conference, division, or team, please go to our football betting hub. Our in-depth analysis through our 2018 Independent college football betting preview follows below.
2018 Independent College Football Betting Preview
The FBS Independents can be a challenge to assess due to the diversity of their schedules and the fact that they do not have a "home" that consists of teams they play each season. Most of the Independents play two other such teams. However, this season, Notre Dame has no Independents on their schedule, while Liberty will play three. The other four indies play two other FBS teams that are unaffiliated. Thus, trying to project accurately is a challenge when creating our 2018 Independent college football betting preview. Here is our take on this eclectic group of teams.
1. Notre Dame Fighting Irish
Offense
The Irish are coming off a very successful season, as they were 10-3 in 2017 and went to the Citrus Bowl where the beat LSU 21-17. In 2016, Notre Dame was a 4-8 team, and the quick turnaround from that dismal season was welcomed by the Irish faithful. The offense was good for 34.2 PPG (24th Nationally). One of the primary generators of that offensive push was QB Brandon Wimbush (49.5 COMP%, 16 TDs, 6 INTs). Wimbush, now a junior, was an adequate passer and a solid rusher who carried the ball over the goal line 14 times, while averaging a healthy 5.7 YPA and covering a total of 803 yards. As a result, the Irish offense was productive.
Although the Irish lost two of their three top receivers, junior wideout Chase Claypool (29 REC, 13.9 YPC, 2 TDs) is back. Plus, junior WR Myles Boykin (12 REC, 21.1 YPC, 2 TDs) and junior TE Alize Mack (19 REC, 8.7 YPC, 1 TD) showed great potential last season. The O-line loses some fine players, but they should still be effective.
Defense & Special Teams
Nine starters return to a defense that held teams to 21.5 PPG (31st Nationally) and 369.2 YPG (46th Nationally). Of the Independents, the Fighting Irish put the best defense on the field. Senior MLB Te'von Coney (116 TKLs, 3 SCKs, 10 TFL) is in constant motion, while the veteran frontline, which includes highly productive senior DT Jerry Tillery (56 TKLs, 4.5 SCKs, 4.5 TFL), is exceptionally tough. Tillery harassed quarterbacks last season, leading the team with 11 QBHs. The deep backs are also a top-notch group with junior corner Julian Love (68 TKLs, 20 PBU, 3 INTs) being the lynchpin. In developing our 2018 Independent college football betting preview, we found that this side of the ball had a lot to offer.
On special teams, the Irish will be looking for some guys who can return punts and kicks. They can look forward to solid punting from senior Tyler Newsome (43.6 YPP, 19 w/in20) and accurate placekicking from senior Justin Yoon (55-55 XP, 14-18 FG). By the way, the Irish never take the easy way out. Amongst all FBS schools, they have one of toughest schedules. No other Independent plays the conglomeration of talented teams that the Irish do. See our extended preview of this top 25 team.
2. Army West Point Black Knights
Offense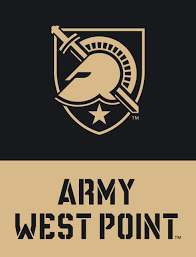 As usual, we expect the Army West Point Black Knights to focus on their rush attack. Last year, as they averaged 30.7 PPG (46th Nationally), they led the nation in running yards per game, accumulating 362.3. Conversely, they were 130th, that is dead last, in passing yards, averaging just 27.8 per game. QB and premium rusher Ahmad Bradshaw is gone. We expect junior Kevin Hopkins, who is more of a passer, to take over that spot.
In creating our 2018 Independent college football betting preview, we found that Army does have a solid stable of rushers, including seniors Darnell Woolfolk (812 YDs, 5.2 YPA, 14 TDs) and Jordan Asberry (115 YDs, 6.4 YPA, 0 TDs) and junior Kell Walker (629 YDs, 7.3 YPA, 6 TDs). Although the Black Knights passed minimally, Asberry and Walker were the top receivers, as together they combined for eight catches, one touchdown, and a total of 189 yards. The O-line will be good, but they won't be quite as sound as the standout squad from last season.
Defense & Special Teams
The Army defense last year was tough versus the pass, as they held teams to 176.8 YPG (14th Nationally) in the air. Overall, they were 32nd in the nation in points allowed (22.0 PPG) and total yards allowed (349.7 YPG). Both the D-line and LB unit bring back a wealth of talent. The linebacking group is especially strong. It includes leading tackler James Nachtigal (103 TKLS, 5 SCKs, 3 TFL). He also led the team in sacks while also notching three each of QBHs and PBU. Junior LB Cole Christiansen (84 TKLs, 5 TFL, 1 INT) is relentless in his stalking of running backs, while senior LB Kenneth Brinson (38 TKLs, 4 SCKs, 4 PBU) excels at putting pressure on QBs. In the secondary, we expect senior Max Regan (33 TKLs, 3 PBU, 2 INTs) to be a major factor.
In developing our 2018 Independent college football betting preview of Army, we determined that on special teams the Black Knights will need to find sound return men. Sophomore Landon Salyers will be the PK, while senior Nick Schrage (42.9 YPP, 6 w/in20) returns after putting 40% of his punts within the 20.
3. New Mexico State Aggies
Offense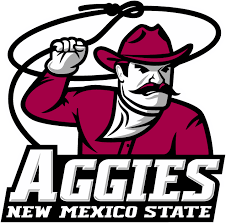 With New Mexico State, which went 7-6 in 2017, a plus-four improvement from 2016 on wins, it's less a matter of scoring points, and more a matter of not giving up so many to their opponents. The team averaged 29.3 PPG on offense, but allowed opponents 29.7 PPG. The Aggies lose a lot of their offense this season. They have to replace their starting QB, primary RB, and two top receivers. The biggest question is will junior college transfer Matthew Romero start at QB or will it be senior Nick Jeanty (66.7 COMP%, 1 TD, 4 INTs)?
After that, there's the running back issue. It's expected that junior Jason Huntley (420 YDs, 6.0 YPA, 1 TD) will get the call. The receiving ranks include seniors O.J. Clark (47 REC, 10.6 YPC, 3 TDs) and Jonathan Boone (31 REC, 12.9 YPC, 1 TD). The offensive line looks solid.
Defense & Special Teams
Although the team's PF/PA differential was slightly on the negative side, the Aggies actually made a lot of progress last season on defense. Partly, that was due to the work of second-year defensive coordinator Frank Spaziani. Under Spaziani, the D went from posting 11 sacks in 2016 to 43 in 2017, which was second in the NCAA. They also did a good job on limiting big plays. With nine starters returning, we expect this side of the ball to be especially productive. Despite their losing LB Dalton Herrington, who last season led the team with 134 tackles, they still have a sound D. Herrington also had 6.5 sacks, 9.5 TFL, and 6 QBHs.
Three starters, including junior DE Cedric Wilcots II (29 TKLs, 8.5 SCKs, 3.5 TFL, 3 PBU, 6 QBHs), are on the D-line. The LB unit includes Terrill Hanks (111 TKLs, 7 SCKs, 8 TFL 6 PBU, 2 INTs, 4 QBHs) and senior Malik Demby (47 TKLs, 6.5 SCKs, 4.5 TFL, 6 QBHs). The Aggies also have two of the best safeties around in senior Ron LaForce (104 TKLs, 5 PBU, 3 INTs) and junior Shamad Lomax (72 TKLs, 7 PBU, 4 INTs).
Jason Huntley is a top run back talent on special teams. He brought two kicks back for scores while averaging 29.6 YPR. Junior PK Dylan Brown (39-42 XP, 13-17 FG) has trouble with accuracy and distance. Punter Payton Theisler (41.5 YPP, 18 w/in20), a junior, is effective.
4. BYU Cougars
Offense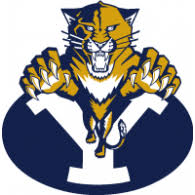 It could be a good year for BYU, which last season finished a disappointing 4-9, which led to the breaking of their 12-year string of bowl appearances. This season, they could be back on track. The Cougar offense was downright lethargic, averaging merely 17.1 PPG (124th Nationally) and 325.2 YPG (119th Nationally). The biggest question, after last season's debacle, is who will start at quarterback? There are three or four prime candidates with senior Tanner Mangum (57.2 COMP%, 8 TDs, 9 INTs) and sophomore Joe Critchlow (54.5 COMP%, 3 TDs, 4 INTs) leading the way.
The top three receivers and every running back return. Despite having a large group of veteran rushers, we expect red-shirted freshman Zachary Katoa to be the go-to ball carrier. Senior RB Squally Canada (710 YDs, 5.9 YPA, 6 TDs) will also see the ball a lot. Sophomore TE Matt Bushman (49 REC, 10.6 YPC, 3 TDs) and junior WR Avela Hifo (37 REC, 11.8 YPC, 2 TDs) are the team's most prolific pass catchers. The offensive line is top-notch.
Defense & Special Teams
If the offense can find its grove, our 2018 Independent college football betting preview believes the defense should be able to do its part. In 2017, they allowed 24.7 PPG (46th Nationally). They return top-sacker and senior DE Corbin Kaufusi (67 TKLs, 6 SCKs, 1.5 TFL). He will be the anchor of the D-line. Three starters, all seniors, occupy the linebacking positions. Sione Takitaki (79 TKLs, 5 SCKs 7.5 TFL) is the leader of this group. Junior strong safety Dayan Ghanwoloku (58 TKLs, 6 PBU, 2 INTs) anchors the secondary. Overall, this defense looks to be very strong.
Special teams certainly have their challenges. Australian punter Danny Jones, a freshman, will try to replace the powerful Jonny Linehan. The Cougars need help on run backs. And their placekicking game has not been as good as it should be. Freshman PK Sklyer Southam may get the start over senior Rhett Almond.
5. Massachusetts Minutemen
Offense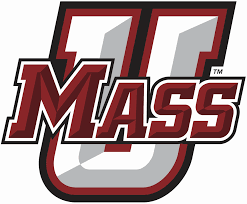 The Massachusetts Minutemen can score. In 2017, they averaged 30.6 PPG (47th Nationally). They return nine starters on offense, including their QB, two top rushers, and most prolific pass catcher. Senior QB Andrew Ford (63.2 COMP%, 22 TDS, 4 INTs) is an exceptionally accurate pocket passer. He has plenty of fine receivers to toss to, including senior wideout Andy Isabella (65 REC, 15.7 YPC, 10 TDs). Senior running back Marquis Young (982 YDs, 5.4 YPA, 9 TDs) will be helped by Syracuse transfer Jordan Fredericks. As a freshman, Fredericks, a junior, led the Orange with 607 rushing yards. The offensive line looks strong and deep.
Defense & Special Teams
The Minutemen, who allowed opponents 31.8 PPG (94th) are not noted for their defense. If they can tighten this group up, this team, with its loaded offense, could be a contender and not a 4-8 team. However, our 2018 Independent college football betting preview does not see this side of the ball as improving very much. Consequently, our 2018 Independent college football betting preview doesn't expect much of an uptick in the win column.
The corners are solid, as starters Lee Moses (40 TKLs, 6 PBU, 4 INTs) and Isaiah Rodgers (50 TKLs, 14 PBU, 3 INTs) return. MLB Bryton Barr (105 TKLs, 5 SCKs, 4 TFL), a senior, leads the linebacking unit. The frontline is inexperienced. However, senior DT Joe Previte (25 TKLs, 3 TFL) offers experience and solid play. Special teams include Young running back kicks, He averaged a healthy 24.1 YPR in 2017. Logan Laurent, who was dependable on punts and kicks, has to be replaced.
6. Liberty Flames
Offense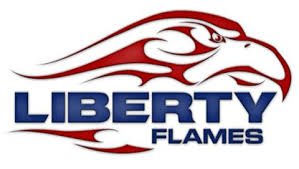 The Flames move up to the FBS this season, which means this team will have to make some major adjustments. Liberty posted 32.5 PPG and accumulated on average 449.2 YPG. Three-quarters of those yards were in the air. Junior QB Steven Calvert (58.7 COMP%, 29 TDs, 6 INTs) is a steady pocket passer. His top four receivers are back. Antonio Gandy-Golden and B.J. Farrow each caught 10 TD passes in 2017. Gandy-Golden had over 1,000 yards in catches and averaged 15.4 YPC. Liberty loses its top rusher from the past two seasons, and that will put a dent in the ground attack. Junior RB Frankie Hickson (375 YDs, 3.8 YPA, 2 TDs) will try to get the job done. The offensive line is expected have to make major adjustments this season.
Defense & Special Teams
In FCS play our 2018 Independent college football betting preview finds that the Liberty defense was certainly challenged, as they allowed opponents 32.5 PPG and gave up 448.5 YPG. Seven starters return, including the team's three leading tacklers. The frontline will be led by senior DE Juwan Wells (74 TKLs, 4.5 SCKs, 6.5 TFL, 11 QBHs). Junior Brandon Tillman (60 TKLs, 1 PBU, 2 INTs) will be an essential part of the LB unit. In the secondary, senior corner Jeremy Peters (36 TKLs, 8 PBU, 3 INTs) and senior safety Corbin Jackson (32 TKLs, 3 PBU, 1 INTs) will lead the way.
There are some fine players on this side of the ball, but not much depth. As a result of that lack of depth, the Flames could find life in the FBS challenging. Special teams include freshman punter Alden Alves, while junior Alex Probert (38-43 XP, 14-20 FG) comes back to kick. More consistency from Probert would be helpful. Frankie Hickson and D.J. Stubbs return kicks and punts respectively.
2018 Independent Preview
Bowl Projections
Rose Bowl: Wisconsin vs Notre Dame
Hawai'i Bowl: San Diego State vs BYU
Armed Forces Bowl: Army West Point vs Houston
2018 Independent College Football Betting Preview
Projected Best Bets
Aug 25: Duquesne @ Massachusetts – Take the Minutemen in their home opener.
Sep 8: Ball State @ Notre Dame – The Irish win by about 20 points. Ball State will struggle.
Sep 15: Norfolk State @ Liberty – Flames at -7 or fewer.
Sep 22: McNeese State @ BYU – Cougars win by about 20 points.
Oct 13: Hawai'i @ BYU – Bet the Cougars at around -14 or fewer.
Oct 27: New Mexico State @ Texas State – Aggies by approximately 15 points.
Nov 3: Liberty @ Massachusetts – It is the Minutemen by 10. Their offense will be tough to stop.
Nov 3: Alcorn State @ New Mexico State – Going with the Aggies in this one
Nov 17: Colgate @ Army West Point – Black Knights at -18.0 or fewer. They should power over Colgate.
Nov 17: Syracuse @ Notre Dame – Fighting Irish by 20 points.
We hope you enjoyed our 2018 Independent College Football Betting Preview. See our NCAA Football conference hub page now.