NCAA Previews
2018-2019 Syracuse Orange Basketball Analysis
Orange Look Ready to Compete Again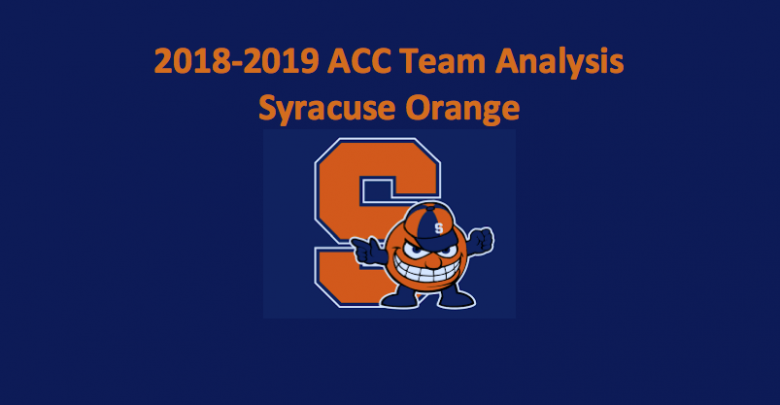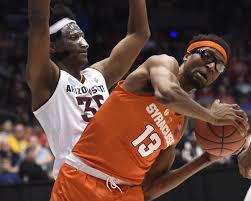 This season, there is good news for the Syracuse Orange (23-14 Overall, 8-10 ACC). Head coach Jim Boeheim will see all five starters return. Our 2018-19 Syracuse Orange preview notes that this team has not done that since 2000. Last year, the Orange made it to the Sweet 16. But then the Big Dance was all over, as the Duke Blue Devils beat Syracuse 69-65.
Those returning starters we referred to are comprised of some quite experienced and very skilled sophomores, juniors, and seniors. We expect this team to be in the upper echelon of the ACC and to go deep into the NCAA Tournament. This is how we see them performing in 2018-19.
Frontcourt
The guys in the paint are tall and can play both ends of the court. At 7-2, senior center Paschal Chukwu (5.4 PPG, 6.8 RPG, 65.5 FG%) was force on defense, as he blocked 91 shots. Two sophomore forwards, Oshae Brisett (14.9 PPG, 8.8 RPG, 35.4 FG%) and Marek Dolezaj (5.8 PPG, 4.8 RPG, 53.7 FG%) fill out the frontcourt. The six-foot, eight-inch Brisett offers exemplary rebounding skills and can certainly put points on the board. Dolezaj is a dead-on shooter who contributes in various ways. Sophomore Elijah Hughes sat out last season after transferring from East Carolina. He brings a fine outside shot with him. Robert Braswell is a 6-7 freshman who can leap.
Backcourt
Junior guard Tyus Battle (19.2 PPG, 2.1 APG, 39.9 FG%) is the player in the backcourt who holds everything on this team together. He's known for being Syracuse's go-to guy. Although Battle handles the pressure well, it might help if he didn't quite average 39.0 MPG. Senior Frank Howard (14.4 PPG, 4.7 APG, 37.6 FG%) averaged a healthy 3.5 RPG. Freshman Jalen Carey is a highly regarded combo threat, while Buddy Boeheim, the coach's son, is noted for his on-target three-point shots.
2018-19 Syracuse Orange Preview – Final Word
Battle is the man-in-charge on this team. He makes the offense run and holds the entire club together. In developing our 2018-19 Syracuse Orange preview, we discovered that this is a team that includes an experienced and dependable core. They bring a solid defense to the game, and, also, an improved offense. Watch out, this team could be trouble.
ACC News and Updates