NCAA Previews
#19 Kansas State Wildcats Preview
Coach Snyder's Health Is a Major Concern for All Cats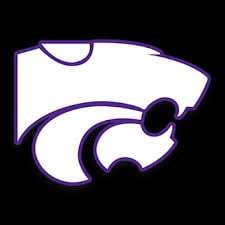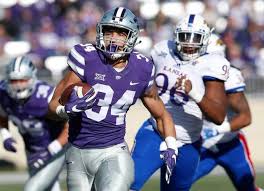 The Kansas State Wildcats (9-4) finished fourth in the Big 12 last season with a 6-3 record. Although their record may be the same this year, it may not be good enough for fourth due to increased competition. They will be helped by a schedule that has a difficulty level that falls somewhere in the middle of all FBS teams. However, our 2017 Kansas State Wildcats college football preview has determined that this team has to deal with key losses on defense.
Offense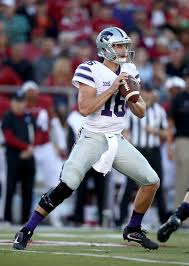 Senior QB Jesse Ertz can score points through the air and on the ground. Last season, he rushed for over 1,000 yards and threw for another 1,755. Ertz ran for 12 touchdowns while averaging 5.5 YPA. In the air, he hit for nine scores while giving up four picks and completing 57.6% of his passes. His two top receivers, Bryon Pringle and Dominique Heath, who together made 84 catches for 1,000-plus yards, are ready to go again. Pringle, who came to the Wildcats as a junior college transfer last year, proved to have big-play, game changing chops.
There's a lot of depth at running back, with three players whose output totaled over 1,000 yards, returning. Sophomore running back Alex Barnes, who last year averaged 7.9 YPA and scored six touchdowns, will most likely start. The frontline should be able to open up running lanes, which means most of Kansas State's offense, as it was last year, will be based on the ground game.
Defense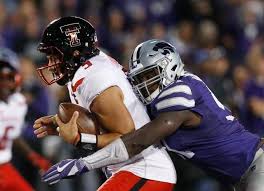 While the offense averaged 32,2 PPG last season the Wildcat D was limiting team's to a Big-12 best of 22.3 PPG. They were tough on the run, earning a national ranking of 11th, but weak versus the pass where they were ranked 114th. The secondary sees some talent return and the corners look to be sound with juniors D.J. Reed and Duke Shelley both coming back with three picks each in 2016. Reed broke up 16 passes, while Shelley was good for four. The safeties have potential but will need some testing.
The top three linebackers are gone and that means some new guys will start. Whoever takes those three spots will have to make up for the contributions of Elijah Lee (110 TCKLs, 1.5 SCKs, 5 TFL, 3 PD, 2 INTs, 2 QBH) and Charmeachealle Moore (75 TCKLS, 0.5 SCKs, 3.5 TFL, 2 PD, 2 QBH). Plus, on the line DE Jordan Willis, who had 11.5 sacks six TFL, four QBH, and 52 tackles, has to be replaced. It won't be easy to fill in for any of these players. The frontline and the linebacking unit could be problematic.
Special Teams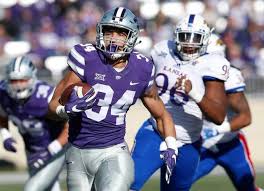 Special teams are a plus for Kansas State, which includes Heath running back punts and Pringle taking kickoffs. Both had returns for touchdowns last season. Reliable is a good way to describe placekicker Matthew McCrane and punter Nick Walsh. McCrane was 11 of 14 on field goals and perfect in extra points. Walsh saw 16 of 49 punts land inside the 20-yard line as he netted 39.7 YPP.
2017 Kansas State Wildcats College Football Preview: Final Word
Bill Snyder, who coached this team from 1989 to 2005 and then retired, only to return in 2209, has an overall record of 202-105-1 and a bowl mark of 8-10. In February 2017, Snyder was diagnosed with throat cancer. He reported in July that he was doing fine, and he's been active in coaching the team. How his disease will affect the team and his coaching is a major question mark. But at this point, Snyder is focused and dedicated to guiding his team to a winning season.
This 2017 Kansas State Wildcats college football preview see Kansas State as having to meet a big test on Oct 7 when they travel to Texas to play the Longhorns. If Texas is for real, they're going to have to prove it against the Wildcats. The same is true for Kansas State in terms of how they play Texas. Oklahoma visits Kansas State on Oct 21 for a game that can have major implications regarding in what place each team will finish. Kansas State needs to beat both Texas and Oklahoma.
Top Three Takeaways
On offense, Kansas State will run, run, and run some more
The D must make up for the loss of DE Jordan Willis
Snyder's health and age (he's 77 and turns 78 in Oct) may be factors
2017 Kansas State Wildcats College Football Preview Projection: Record: 9-4 Overall/6-3 Big 12; Finish: 6th Big 12