NCAA Previews
#23 Texas Longhorns Preview
Will Coach Herman Bring His Winning Ways to the Longhorns?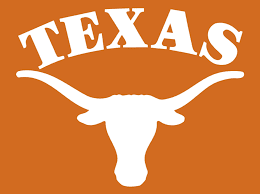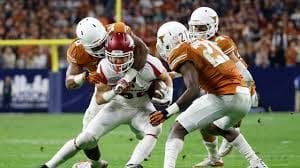 Our 2017 Texas Longhorns college football preview sees this team as entering a new era with coach Tom Herman (22-4 Overall; 1-0 Bowl Record) taking the reigns for the first time in Texas after coaching Houston for two successful seasons. Herman brings a pro-style spread offense, which should fit well with this team. One place that the Longhorns need to see major improvement is on defense, as they were ranked 94th overall and 85th in turnover differential at -3. In 2016, they allowed 13.8 yards per completion in their seven losses, while they only gave up 10.5 in their five wins. First-year defensive coordinator Todd Orlando has to be happy with the fact that the frontline came back in the spring in much better condition than they did last year.
Offense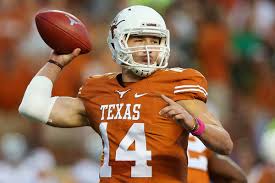 In his freshman season, QB Shane Buechele hit 60.4% of his passes for 2,958 yards, as he completed 21 TD passes, while giving up 11 picks. Now a sophomore with a new offense that should greatly utilize his talents and skills, Buechele should be a powerful force. The Longhorns are deep with receivers, including Armanti Foreman, Devin Duvernay, and Dorian Leonard, who each caught three TD passes last year. RB Chris Warren III returns having averaged 5.9 YPA and scored three rushing TDs.
The offensive line welcomes back four starters, including All-American left tackle Connor Williams. Tim Beck is the team's six offensive coordinator in six years. He has a lot of talent with which to work. The one dilemma is the lack of depth at quarterback. Buechele needs to stay healthy for the Longhorns to succeed.
Defense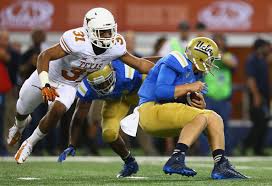 There are 10 starters returning on defense, which will use a flexible 3-4 scheme. Malcolm Roach returns to the line bigger and stronger than he was last season when he notched three sacks and five TFL. NT Poona Ford, who had 54 tackles, 5.5 TFL and 4 QBH, is tough as nails. The linebacking unit is talented and includes, Malik Jefferson, who moves to the outside after a solid season in the middle where he garnered 62 tackles, 5.5 sacks, 3 TFL, 3 PBU and 3 QBH.
The safeties offer depth with senior Jason Hall (53 TKL, 3 Sacks, 1.5 TFL, 3 PBU) taking the lead and tough-hitting junior DeShone Elliot (30 TKL, 1 Sack, 2 TFL, 4 PBU, 1 INT) and sophomore Brandon Jones, a former five-star prospect, ready to take the field and excel. Nickel back P.J. Locke (33 TKL, 1 Sack, 1 TFL, 6 PBU, 2 INT, 1 QBH) offers versatility and flexibility. Kris Boyd (51 TCKL, 0 Sacks, 1.5 TFL, 5 PBU, 1 INT) is a solid presence at corner. However, there are plenty of questions when it comes to the other corner. Davante Davis and Holton Hill had fine frosh seasons in 2015 but fell into sophomore slumps in 2016. Can either perform at an acceptable level in 2017?
Special Teams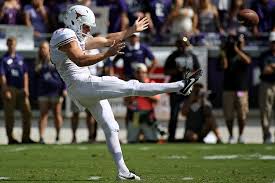 Texas had a tough time when it came to field goals and extra points last season. Joshua Rowland, a junior college transfer, will try to improve those areas. Punting is solid, as Ray Guy Award finalist Michael Dickson returns after averaging 47.4 YPP and netting 42.8 while placing 28 of 65 punts within the 20-yard line. Texas is looking to improve in runbacks, as they have not returned a punt or kick for a TD in four years and ranked next-to-last in the Big 12 last season.
2017 Texas Longhorns College Football Preview: Final Word
Our 2017 Texas Longhorns college football preview envisions an improved team. Herman brings a winning record and attitude with him and his coordinators are both solid. With 37 of 44 players returning, sound depth in most areas, and enjoying the benefits of having two straight top-10 recruiting classes, the new coach has unlimited potential on-hand.
Big games include the Longhorn's first at home versus Maryland (Sep 2) and Texas at USC (Sep 16). Both should be proving grounds. The Kansas State at Texas matchup may be a good indication of just how good either team is, while both Oklahoma and Oklahoma State at Texas on Oct 14 and Oct 21 will challenge Herman and company.
Top Three Takeaways
Herman, a winner at Houston, has many talented and experienced players
QB Buechele will find Herman's offensive schemes to be very friendly.
The defense must step up in 2017
2017 Texas Longhorns College Football Preview Projection: Record: 9-4 Overall/7-2 Big 12; Finish: 3rd Big 12