NCAA Previews
2018-2019 Wisconsin Badgers Basketball Analysis
Badgers Can Go Either Way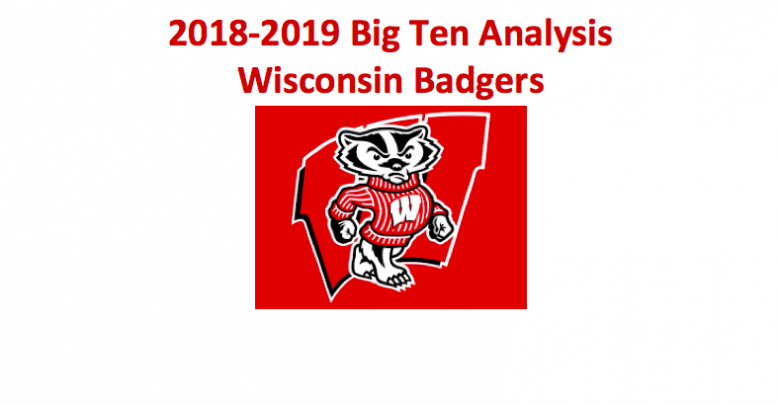 The Wisconsin Badgers' (15-18 Overall, 7-11 Big Ten) string of 19-straight NCAA Tournaments was broken last year. In that time, Wisconsin made it to the Sweet 16 a total of 10 times, the Elite Eight six times, the Final Four a total of four times, and the Finals once. What happened to this NCAA Tournament and top-four Big Ten basketball perennial? Injuries took them out of the mix, as did their reliance on young, untested players. Now head coach Greg Gard, who starts his third season with the Badgers, must prove that last year was an aberration and not a harbinger. Here's how our 2018-19 Wisconsin Badgers basketball preview sees this team performing.
Frontcourt
Senior Ethan Happ (17.9 PPG, 8.0 RPG, 52.8 FG%) declared for the NBA Draft and then decided to withdraw and return for his senior year. Happ, who has double-double potential, led Wisconsin in scoring, rebounding, assists, blocks, and steals. He's dedicated to pushing his game to a higher level. Sophomore forward Nathan Reuvers (5.3 PPG, 2.0 RPG, 38.2 FG%), who was to be red-shirted last season, did see action. The question is can he push himself to become a major contributor? Senior forward Khalil Iverson (8.6 PPG, 5.1 RPG, 54.6 FG%) offers top-notch defensive chops.
Backcourt
Last season, D'Mitrik Trice and Kobe King played 10 games each before being granted medical redshirts. Their injuries allowed freshman Brad Davison (12.1 PPG, 2.5 APG, 40.5 FG%) to gain experience and excel. Add in Green Bay sophomore transfer Trevor Anderson, who started as a true freshman, and the athletic Tai Strickland, and a picture emerges of a deep and experienced unit.
2018-19 Wisconsin Badgers Basketball Preview – Final Word
This is a team that has a lot to prove. The Badgers must come out of the gate playing solid basketball and be consistent throughout the season. Our 2018-19 Wisconsin Badgers basketball preview projects this team to be somewhere in the middle of the Big Ten 14-team pack. The fact is, this team played competitively in the final few weeks of the season. They showed that they could run the court and stay with some of the better teams in the conference. The question is can they carry those last weeks over to the 2018-19 season?
Big Ten News and Updates