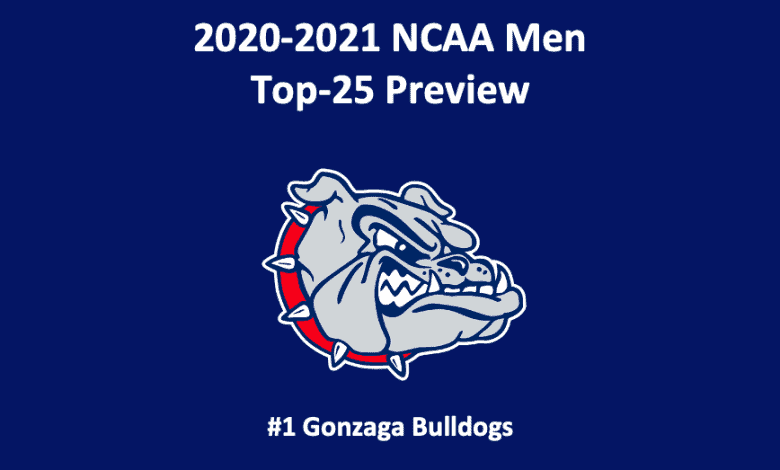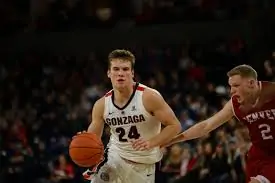 Our Gonzaga basketball preview 2020 – 2021 notes that this team has come into its own recently. After years as being one of the most promising college basketball teams in the nation, the Bulldogs seemed to have gelled last season. But COVID-19 redefined the meaning of March Madness, and the National Tournament was cancelled. In 2017, Gonzaga made it to the finals, losing to North Carolina 65-71. Last year, with their season cut short, the Dogs were 15-1.
Stats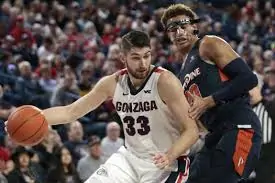 The big news for this season is the decision of Gonzaga power forward Filip Petrusev, the WCC Player of the Year, to go pro in the Serbian league. Consequently, the Bulldogs will have to do without his 17.5 PPG and 7.9 RPG. However, there's good news upfront for the top team in the West Coast Conference. The arrival of five-star recruit Jalen Suggs. He's the highest-ranked player that coach Mark Few has ever recruited.
Last year, the Zags were first in the nation and in the conference in scoring offense with 87.4 PPG. Plus, they had the second-highest field-goal percentage in the nation, hitting 51.5% of their shots. Plus, allowing 67.8 PPG, earned them fourth in the conference and 134th nationally. Their field-goal defense came in at 42.2%, which was second in the WCC and 131st in the nation. Gonzaga's rebound margin of 9.4 ranked first in the conference and fourth nationally. Additionally, the Bulldogs had 16.7 APG (7th Nationally, 2nd WCC) and 11.2 TPG (26th Nationally, 3rd WCC). This team was solid.
Gonzaga Basketball Preview 2020 – 2021 – Players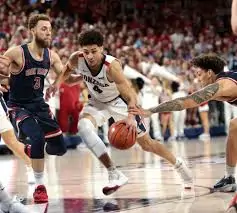 The Bulldogs have some prime talents returning, including guard Joel Ayayi and guard/forward Corey Kispert. Also, center Drew Timme, who looked solid in limited action last season, is back. Plus, forward Anton Watson returns. Red-shirted freshman Oumar Ballo will offer minutes in the frontcourt. Look for Ballo to be a substantial presence in the paint, He topped the FIBA U19 event in blocks per game. Sophomore Martynas Arlauskas and top 100 freshman, Julian Strawther, will vie for time on the wing. When Few wants to go with three guards. expect to see guard Aaron Cook, a red-shirted senior, to get minutes with Harris, Suggs, and Ayayi.
The Bulldogs have a very tough schedule. Consequently, they will need to be ready to play from the start. On Nov. 26, they open against Kansas at the Fort Myers Tip-Off. In that tournament, they will also meet Auburn. Plus, In Dec, Gonzaga will battle Tennessee and Baylor in Indianapolis and Iowa in Sioux Falls, South Dakota.
Frontcourt
A special note, along with losing Petrusev to professional basketball, Killian Tillie finished his string of four seasons with the Bulldogs. The forward/center averaged 13.6 PPG and 5.0 RPG. Tillie was also a sound communicator on both ends of the court. He helped to keep the Dogs on task. Gonzaga will need to work hard to make up for those two losses. There is good news as there's solid experience in the frontcourt.
Senior swing Corey Kispert, who averaged 13.9 PPG and 4.0 RPG, is big bodied and can use his frame to dominate smaller guards. Last season, his three-point mark was a solid 43.8%. At the same time, our 2020 Gonzaga basketball preview 2020 – 2021 observes that Kispert offers efficiency and fine inside-out play. Forwards Watson and Timme, who hit for 4.9 and 9.8 points per game respectively, will start. Last season, Timme grabbed 5.4 RPG, while Watson, who is an able defender, took down 3.1.
Backcourt
As noted, the flexible Kispert is a fine backcourt player too. He's a talented defender, as well as a fine shooter. Suggs is expected to be a major contributor immediately. He's an elite athlete who, along with playing basketball in high school, was a top-notch quarterback. Suggs has confidence, leadership skills, and excellent energy. The big worry is his decision-making skills, which will need to be sharpened. Few will need to mentor him, and Suggs will need to mature quickly.
Ayayi, who averaged 10.6 PPG, dished off 3.2 APG, was a 34.5% shooter last season. Plus, he proved to be fine around the basket, averaging 6.3 rebounds per game. In the first nine games last season, he was a sub. His fine play got him a starting spot, which he never relinquished. Cook, who missed most of the 2019-2020 season due to injury, is expected to be an important contributor. Last year, he was good for 15.0 PPG, 3.3 APG, and 3.0 RPG. On defense, he was exceptional, as Cook averaged 3.2 SPG.
This is an athletic backcourt that can keep up with any team. The major challenge will be getting these guys to work together efficiently and effectively. That can take time and these they don't have much of that.
Bulldogs- Make or Break for 2020 -2021
Our 2020 Gonzaga basketball preview 2020 – 2021 notes that this team saw a drop off on defense last season. It's true that they were fine in the paint defending and rebounding. But the team's two-point defense was lacking. Last season, they were ranked 91st in that area. To be successful, the Bulldogs need to underpin and upgrade that area.
Plus, this club has to replace Tillie's contributions in terms of points and leadership and Petrusev's on-court contributions as a point-maker. However, although Petrusev could score, he was weak in rebounding and and on D. Timme and Ballo could be much better than Petrusev was in the paint. The good news is that Few has made some fantastic recruiting moves. The Zags are by far the best team in the WCC.
Gonzaga Basketball Preview 2020 – 2021 – Final Word
Our Gonzaga basketball preview 2020 – 2021 notes that this team still has one major goal to achieve. That is a National Championship. Last year, this team was number one for four weeks. When all was said and done, they ended the season ranked second with the Kansas Jayhawks first. For the start of the 2020-2021 season, they're number one. Might that call by the AP top 25 be prophetic?
Gonzaga Bulldogs – 2020-2021 NCAA Projection
WCC Finish – First
NCAA Tournament Result – Elite Eight