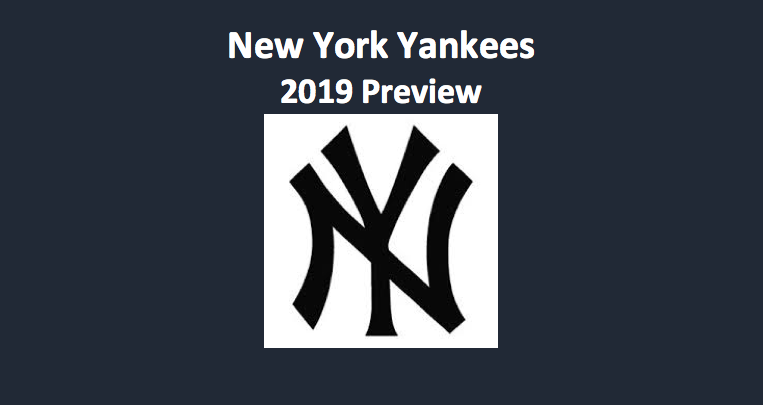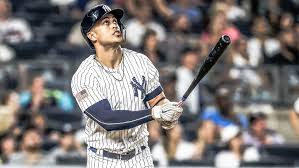 It may be hard to comprehend, but the New York Yankees (100-62) no longer have the top payroll in baseball. That honor goes to the Boston Red Sox. In fact, the team from NY, NY is not even second, third, fourth or fifth in payroll. Our 2019 New York Yankees preview finds that they are sixth amongst all MLB teams at $192.980, 833. (The Red Sox payroll is a good $47 million higher.) Last season, the Yanks won 100 games, something they have not done since 2009 when they captured 103 wins. In 2009, New York took first in the East, while last season, they finished second. They were eliminated in the playoffs in five games by the Boston Red Sox. For New York, 2018 was not a good year. It never is when you expect to win it all and fall short. This season, our New York Yankees preview finds that, not surprisingly, the Pinstripes will be in the mix again.
Pitching
The Yankees had one of the top pitching staffs in MLB. With an overall ERA of 3.74 (6th) and a relief ERA of 3.38, New York proved to be a formidable foe for any team. They ranked third in opponent batting average (.230) and second in saves (52). Opponent batting average against relievers was a slim .221. The staff tied for 10th in wins with 90.
Starters
Our New York Yankees preview observes that this team has a full rotation, which starts with righty Luis Severino (19-8 W/L, 3.39 ERA, 1.14 WHIP). In the last two seasons the Yankee ace has accumulated a record of 33-14 with an average of 10.5 K/9. Last season, he may have been on the way to a Cy Young performance when fatigue set in and his stats crumbled. He's expected to return rested and should rebound. Lefty James Paxton (11-6 W/L, 3.76 ERA, 1.10 WHIP) gets the nods as the second starter. He effectively mixes curves, fastballs, and cutters to disarm hitters. Although righty Mashiro Tanaka (12-6 W/L, 3.75 ERA, 1.13 WHIP) has performed well over five seasons with the Bronx Bombers, he has never won more than 14 games.
The fourth and fifth starters are both lefties. J.A. Happ (17-6 W/L, 3.65 ERA, 1.13 WHIP) may be in his mid-30s, but he's still effective. He struck out 193 batters last season, a career high. He's put in five-straight double-digit win seasons. Finally, there's the old man C.C. Sabathia (9-7 W/L, 3.65 ERA, 1.31 WHIP). At 38, you can't expect him to put in more than 150 innings. Still, his sinker was unexpectedly effective last season.
Relievers
In relief, Chad Green (8-3 W/L, 2.50 ERA, 1.04 WHIP) features a four-seamer that can be effective. When it's not, it tends to be launched over the fence. Setup man Dellin Betances (4-6 W/L, 2.70 ERA, 1.05 WHIP) averaged 15.5 K/9 last year. On another team, he'd be the closer. He's not only a great eighth-inning pitcher, but a solid backup for the almost impossible to hit closer Aroldis Chapman (3-0 W/L, 2.45 ERA, 32 SVs). Chapman has lost a tad off his 100.4 mph fastball, while he has refined his slider. He may be the best closer in MLB.
Everyday Players
Were the Bronx Bombers really the Bronx Bombers last season? They hit 267 homeruns, which was the most in the majors. So, they really were who they claimed to be. Although the Yankees were 16th in batting average (.249), they excelled in just about every other offensive statistical category. Our New York Yankees preview finds that they were second in total bases (2490), slugging percentage (.451), OPS (.781), runs (851), and RBI (821). However, they were not nimble on the base paths, as their 83 steals ranked them 25th in the bigs.
Hitting
The Yankee batting order will offer either Brett Gardner (.236 BA, 45 RBI, 12 HRs) or Clint Frazier (.265 BA, 1 RBI, 0 HRs) leading off. Homerun hitter and right fielder Aaron Judge (.278 BA, 67 RBI, 27 HRs) bats second, while switch-hitting center fielder Aaron Hicks (.248 BA, 79 RBI, 27 HRs) comes to the plate third. The DH is Giancarlo Stanton (.266 BA, 100 RBI, 38 HRs) who came to NY last season and led the team with 38 four-baggers. Catcher Gary Sanchez (.186 BA, 53 RBI, 18 HRs) bats fifth, giving hurlers no relief from the possibility that their next pitch may leave the park.
Third baseman Miguel Andujar (.297 BA, 92 RBI, 27 HRs) is up sixth. Last year in his rookie season, he had 47 doubles. That's the most by any Yankee rookie ever. Second baseman Gleyber Torres (.271 77 BA, 24 RBI, HRs) tore it up in May. The rookie smacked nine homers and drove in 24 runs. He bats seventh. The final two hitters are Luke Voit (.322 BA, 36 RBI, 15 HRs) and Troy Tulowitzki. Voit led the league by hitting one homer for every 9.4 at-bats. Our New York Yankees preview notes that the veteran Tulowitzki will play short and hit until Didi Gregorius comes back from surgery.
Defense
The Yanks were uneven on defense. NY's fielding percentage was .984 (tied 17th) and their 95 double plays ranked 30th. The middle infield includes Torres, who is a natural at shortstop and can also ably play second base. Tulowitzki is a solid veteran who should effectively sub in the middle until Gregorius is healthy. At this point, third baseman Andujar's glove is a liability and needs to vastly improve. At first, Voit has proven to be able. Behind the plate, Sanchez can be a wreck. Although he caught just 76 games, he led MLB with 18 passed balls.
The outfield is patrolled by Judge in right, Hicks in center, and Gardner in left. Hicks has solid speed and tracks balls with aplomb. Judge is a top player in the league and ably patrols right. Gardner is a long-time veteran who is reliable.
Management and Front Office
GM Brian Cashman is a major dealmaker and also an able developer of talent. Cashman communicates closely with evaluators and assistants and works hard to make informed decisions. Manager Aaron Boone's first season with the Yankees was a success. Boone, who is more of an old-time coach, got on the analytics bandwagon with the rest of the staff. Our New York Yankees preview notes that he was criticized sharply after sticking with his rotation and losing the ALDS series to Boston's first-year manager Alex Cora. Cora ably handled his pitching staff through to a World Series Championship. Many thought Boone erred in his attempts at roster management.
2019 New York Yankees Preview: Final Word
Our New York Yankees preview notes that this team has an amazing array of hitters and a solid pitching staff. Fielding, speed, and batting average could be better. But in MLB no team has everything. The Yankees have a good shot at finishing first. But we're going to pick them to end up in second place. By the way, third is a possibility. But we think they have enough gas to stay ahead of the Rays. Our 2019 New York Yankees preview does project the Bronx Bomber to win 95 games.
Projected Finish: 2nd AL West, Record: 95-67
LINKS