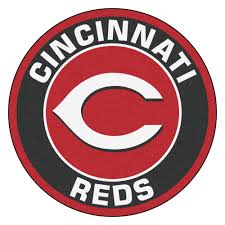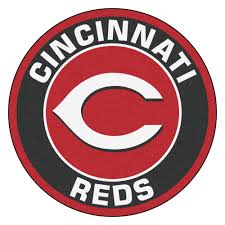 In 2012 the Reds finished first in the NL Central and in 2013 they were third. Both times, the Cincinnati Reds (68-94) made it into the postseason. But they have not done so in the past three seasons, finishing at the bottom of the NL Central for the last two years. Although the team is said to be rebuilding, our 2017 Cincinnati Reds preview sees them as being far away from attaining any real results. We believe this team will limp along in 2017 and they may also do the same in 2018, as the Reds don't appear to be focused and serious enough about changing the state of the team.
Starting Pitching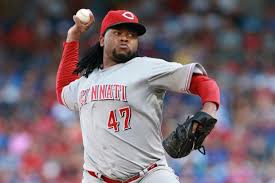 In 2016, the pitching staff was 28th in ERA (4.91), 29th in saves (28) and 23rd in OBA (.263). It's hard to say if they'll be much better this season. One thing we do know is that the first three starting spots in the rotation are set with Homer Bailey (R, 2-3 W/L, 6.65 ERA), Anthony DeScalfani (R, 9-5 W/L, 3.28 ERA), and Brandon Finnegan (L, 10-11 W/L, 3.98 ERA) being one, two, and three.
The fourth spot will likely go to Steve Selsky. Baily is questionable due to elbow problems. He's seen very few starts over the past two seasons. However, he did engage in a normal offseason pitching program. Finnegan had a fine 2016 season, while DeScalfani posted solid numbers after coming off an oblique strain. Amir Garrett (R, 2-5 W/L, 3.96 ERA), a former college basketball player, may earn the fifth spot.
Bullpen
The Reds' bullpen led MLB in homeruns allowed (103), walks (297) and runs allowed (356). The thought is they have to get better, don't they? Two pitchers who struggled through injuries last season, Raisel Iglesias (R, 3-2 W/L, 2.53 ERA, 6 SV) and Micheal Lorenzen (R, 2-1 W/L, 2.88 ERA, 0 SV) will try to setup and close. These guys were good last season when they were healthy. Blake Wood (R, 6-5 W/L, 3.99 ERA) and Tony Cingrani (L, 2-5 W/L, 4.14 ERA) will also be in the mix somewhere.
Hitting and Fielding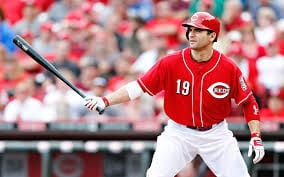 Two young talents, Jose Peraza (.324 BA, 3 HR, 25 RBI) and Zack Cozart (.252 BA, 16 HR, 50 RBI), should be in the middle. But the Reds have been unable to move veteran Brandon Phillips (.292 BA, 11 HR, 64 RBI) who can nullify any trade deal. Cozart will play short and either Phillips or Peraza second. At the plate, first baseman Joey Votto (.326 BA, 29 HR, 97 RBI) had a solid second half of the season last year but a terrible first half. He needs to be more consistent and he also has to work on his D.
Third baseman Eugene Suarez (.248 BA, 21 HR, 70 RBI) put up good power numbers, but the Reds would like to also see him lift his average. Catcher Devin Mesoraco (.140 BA, 0 HR, 1 RBI) has had numerous surgeries over the past two years. Cincinnati really needs him to be healthy enough to catch the majority of this year's games. Whether or not he can be effective is unknown.
In left field, Adam Duvall (.241 BA, 33 HR, 103 RBI) was good enough to be a Gold Glove finalist in 2016. He was also extremely effective at the plate. In right, Scott Schebler (.265 BA, 9 HR, 40 RBI), formerly of the Dodgers, played better than expected, while leadoff batter Billy Hamilton, (.260 BA, 3 HR, 17 RBI), another Gold Glove finalist in center, put up good first half numbers.
Coaching and Management
Manager Bryan Price got a one-year extension. He'll get a fourth year if the Reds show some progress and post winning numbers. GM and President of Baseball Operations Dick Williams inherited this team, and he has yet to make his mark. At this point, he's dealing with some bargain basement moves that were made to cut salaries.
2017 Cincinnati Reds Preview Final Word
If this team can move into fourth place in the NL Central this year, that will be progress. However, with so much up in the air, especially regarding key player health issues, our 2017 Cincinnati Reds preview does not see much progress being made. We expect that manager Price will be gone and that Williams will try to make Cincinnati into a viable competitor.
2017 Cincinnati Reds Preview Projected Finish: 5th NL Central