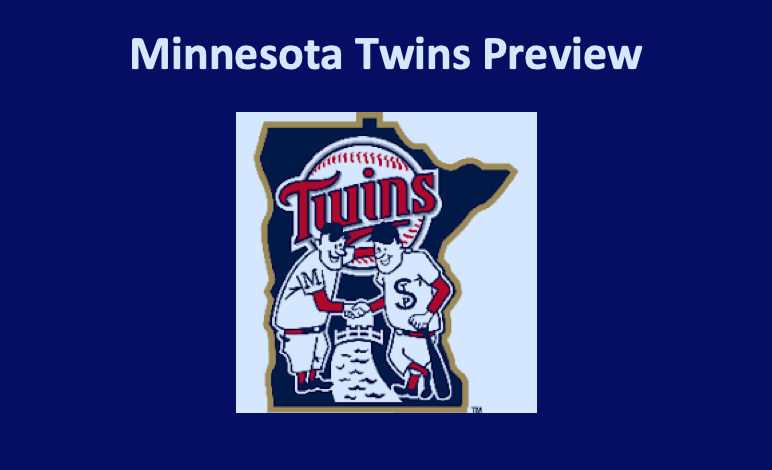 Our 2020 Minnesota Twins preview finds that in the last three years this team has been competitive. In 2017, they won 85 games, finished second, and made it into the playoffs as a wildcard. The next year a 78-win season and a second-place finish in the AL Central left them out of the postseason. In 2019, Minnesota recorded 101 wins and 61 losses. That record earned them first in the division. However, the Twins never made it to the ALCS. This 2020 Minnesota Twins preview finds that this season the Twin City franchise will have some competition from both the beefed-up Chicago White Sox and the exceptionally managed Cleveland Indians.
Minnesota Twins Preview – Pitchers
Minnesota pitching was on the up and up last season. The staff posted a 4.18 ERA (5th), 10 shutouts (5th), and 50 saves (1st). Blown saves totaled 22, which placed them seventh while their 69.44 save-percentage placed fifth. Opponents hit .257 against them, which ranked them eighth. They gave up just 452 BB. That was the third-fewest in the AL.
Starters
Jose Berrios (14 W – 8 L, 3.68 ERA, 1.22 WHIP) is the ace of this crew. Berrios uses a 94-mph tailing fastball that produces first strikes and soft contact outs. He effectively mixes that premium pitch with a curve and changeup. Jake Odorizzi (15 W – 7 L, 3.51 ERA, 1.21 WHIP) is second in line, while Kenta Maeda (10 W – 8 L, 4.04 ERA, 1.07 WHIP) is the third man on the mound. Last season, Odorizzi's 15 wins were a career-high. He did so with an improved change and fastball. Maeda, who comes to the Twins after pitching four-seasons for the Dodgers, uses a mid-speed fastball, curve, and changeup. In three of his four MLB season, he's recorded winning numbers.
Michael Pineda (11 W – 5 L, 4.01 ERA, 1.16 WHIP) had a solid first season with the Twins. The former Yankee used his 93-mph fastball and mixed it with his 12 to 6 slider and a firm changeup. Fifth starter Homer Bailey (13 W – 9 L, 4.57 ERA, 1.32 WHIP) offers an improved splitter, which made him a bit of a commodity in the postseason. The Twins signed the free agent who last season threw for the A's.
Relievers
Despite heading towards his 37th birthday, Sergio Romo (2 W – 1 L, 3.43 ERA, 1.11 WHIP) is still effective. His 77-mph slider is tough on hitters. Last season, he recorded 20 saves. Trevor May (5 W – 3 L, 2.94 ERA, 1.07 WHIP) offers a 96-mph fastball, mixing it with his curve, slider, and change. Lefty Taylor Rogers (30 Saves, 2 W – 4 L, 2.61 ERA, 1.00 WHIP) closes. He utilizes a sweeping slider and 95-mph sinker. Last season, his first as Minnesota's closer, he secured a dozen saves while securing four or more outs.
Twins – Everyday Players
Our Minnesota Twins preview observes that this team could hit. Twins batters smacked the ball at a .270 clip. That was second in the league. Minnesota was tops in homeruns (307), second in OBP (.494), and second in OPS (.832). Their .338 OBP ranked fourth. Minnesota was first in RBI with 906. In the field, Minnesota ranked 12th (.981). Their 11 errors placed 14th.
Minnesota – Top of the Order
Right fielder Max Kepler (.252 BA, 90 RBI, 36 HR) leads off while Jorge Polanco (.295 BA, 79 RBI, 22 HR) hits second. Kepler is a hard-contact hitter and a fine fielder. Switch-hitter Polanco, who plays short, is best from the left-side of the plate and improving from the right. DH Nelson Cruz (.311 BA, 108 RBI, 41 HR) is third at the plate. He may be turning 40, but Cruz is still one of the better batters in the majors. Left fielder Eddie Rosario (.276 BA, 109 RBI, 32 HR) is the cleanup man. Last season he led the team with 107 RBI. That was 30 more than he had the year prior.
Twins – Middle and Bottom of the Order
Catcher Mitch Garver (.273 BA, 67 RBI, 31 HR) improved from his 2018 homerun total of seven to 31 in 2019. However, late in the season his batting average took a nosedive. Behind the plate, Garver is average. Sixth, Luis Arraez (.334 BA, 28 RBI, 4 HR), who plays second, is a solid contact hitter who walks more than he strikes out. His defensive skills are passable. Miguel Sano (.247 BA, 79 RBI, 34 HR), who moves from third to first this season, hits seventh. Sano, who has MLB's best hard-contact rate, does strike out a lot. Plus, he can't run.
The final two spots go to third baseman Josh Donaldson (.259 BA, 94 RBI, 37 HR) and center fielder Byron Buxton (.262 BA, 46 RBI, 10 HR). Donaldson, in his 11th year in the majors, comes to Minnesota from Atlanta. He's aggressive at the plate and strikes out a lot. But he does have power. Buxton, who's in his seventh season with the Twins, has struggled with injuries the last two seasons. He's one of the best outfielders in the game, has speed, and possesses the potential to be a 30/30 player.
Minnesota – Coaching and Management
Rocco Baldelli replaced the revered and fired Paul Molitor as Twins' manager last year. It was a huge move by GM Thad Levine, but it paid off. Minnesota recorded 23 more wins than they did the season before. Baldelli is a laid-back manager overall bit is quick to go to the bullpen. Another major change by the Twins is a new reliance on analytics.
Minnesota Twins Preview – Our Prediction
Our 2020 Minnesota Twins preview observes that this is a team that once again comes to the season with a small payroll and a lot of potential. Baldelli has created an environment that's relaxed and convivial, yet, also focused on winning. Look for the Twins to battle mightily this season. They will need to in order to win the division.
Minnesota Twins Summary
Minnesota Twins – 1st AL Central (100 Wins – 62 Losses)