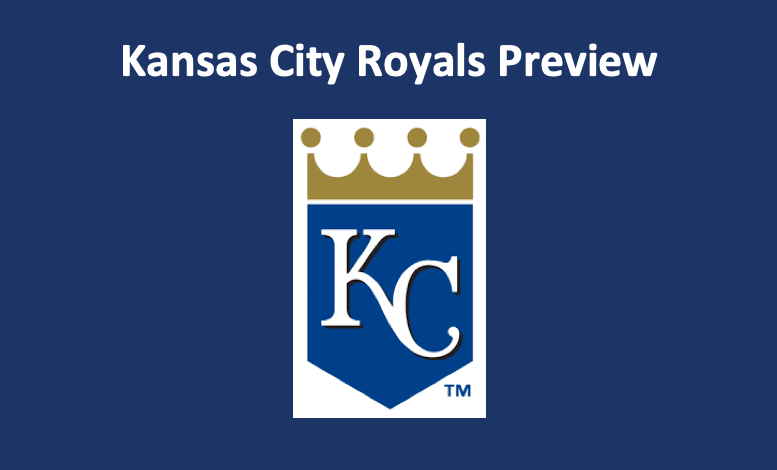 In creating this 2020 Kansas City Royals preview, it's apparent that this team is on the decline. Our Kansas City Royals preview notes that the last time this team finished with a winning mark was 2015. In that season, they won the AL Central, the ALCS, and the World Series. It was quite a sweep! But in 2016, the Royals were 81-81 and the next season 80-82. In 2019, the Kansas City Royals finished in fourth place with a 59-103 record. They were 42 games away from the first-place Minnesota Twins. In 2020, it's expected that K.C. will show some improvement. But how much can be expected?
Kansas City Royals Preview – Pitchers
Batters teed off on K.C. pitchers at a .273 rate. The Tigers were the only AL team to post a higher number. The staff ERA was 5.20. Only Baltimore and Detroit had worse numbers. The Royals ranked seventh in saves with 37 and 10th in shutouts with seven. They were 12th in base-on-balls (582). The Royals finished eighth in blown saves with 23. The AL average was 22. Overall, the bullpen is sound while the starting rotation is rickety.
Starters
Lefty Danny Duffy (7 W – 6 L, 4.34 ERA, 1.31 WHIP) is losing something on his fastball. If he's going to be successful, Duffy has to utilize his changeup more. Very few MLB teams would consider the aging vet a number one starter. Young Brad Keller (7 W – 14 L, 4.19 ERA, 1.35 WHIP) offers a 93-mph fastball and a wickedly falling slider. But he needs to develop a third pitch. Mike Montgomery (3 W – 9 L, 4.95 ERA, 1.62 WHIP), like Duffy a lefty, has gone recently from the Royals to the Cubs and back. In the part of the 2019 season he spent with K.C., Montgomery started 13 games. The Cubs put him in the bullpen. He has five pitches. His changeup is his best pitch, while his low-speed fastball is his least successful offering.
Righty Jorge Lopez (4 W – 9 L, 6.33 ERA, 1.47 WHIP) uses his curveball effectively. However, like so many K.C. pitchers, he has issues with his fastball. For Lopez, it's a matter of control rather than speed. Jakob Junis (9 W – 14 L, 5.24 ERA, 1.43 WHIP) can offer innings, but his fastball is murdered by hitters. This rotation has a lot of issues and is especially problematic from the third spot down.
Relievers
Last season, rookie righty Scott Barlow (3 W – 3 L, 4.22 ERA, 1.44 WHIP) proved to be an asset. In the second-half of the season, he posted a 2.12 ERA and held batters to a .205 average. Josh Staumont (0 W – 0nL, 3.72 ERA, 1.60 WHIP), who was also a rookie, won a job in the pen. Staumont mixes his 96-mph four-seam fastball with an 82-mph curve. The fastball offers some natural sinking action and the curve comes with a sharp downward pitch. Ian Kennedy (30 Saves, 3 W – 2 L, 3.41 ERA, 1.28 WHIP) was supposed to be a starter, but he proved to be much more valuable in the closer spot. He brings a mid-90s fastball, a 92-mph cutter, an 81-mph curve, and an 88-mph change. Hitters have a tough time catching up to his four-seamer and the action on his cutter comes in low. His curve has solid downward movement.
Royals – Everyday Players
Our 2020 Kansas City Royals preview notes that like its pitching staff, the K.C. hitters need help. The Royals were 11th in batting average (.247), two removed from last in OBP (.309), and 14th in slugging percentage (.401). Their .710 OPS, 162 homeruns, and 655 RBI ranked 14th. The team's fielding was exceptional as the Royals were second in the league with a .987 mark. Their 71 errors were the fewest amongst all AL clubs.
Kansas City – Top of the Order
Centerfielder Whit Merrifield (.302 BA,74 RBI, 16 HR) is a versatile fielder and perhaps the best hitter in MLB. For two straight seasons, Merrifield has led the majors in hits. The only other right-handed hitter in the AL to do so was Kirby Puckett. Plus, Merrifield is a fine baserunner with excellent speed, and he has power. Second up is shortstop Adalberto Mondesi (.263 BA, 62 RBI, 9 HR). The switch-hitter is smart with the bat, and he's good for 40-plus steals a season. Defensively, he possesses fine fielding skills, but his range is less than desirable.
DH Jorge Soler (.265 BA, 117 RBI, 48 HR) hits third while Hunter Dozier (.279 BA, 84 RBI, 26 HR) is in the cleanup spot. Last season, Soler led the AL in homers and strikeouts. Dozier, who moves from third to right, is not the best fielder. However, at the plate he does well in high-leverage situations, and he's a solid extra-base hitter.
Royals – Middle and Bottom of the Order
Fifth, catcher Salvador Perez brings an active bat to the plate. Perez, a six-time All-Star, returns after undergoing Tommy John surgery. After missing all of last season, his arm will be tested. Ryan O'Hearn (.195 BA, 38 RBI, 14 HR), who plays first base, hits sixth while third baseman Maikel Franco (.234 BA, 56 RBI, 17 HR) is in the seventh spot. O'Hearn has struggled at the plate especially against lefties. Formerly with the Phillies, Franco comes to the Royals as a free agent. This could be a rebound season for him. At third, he's an upgrade over Dozier who moves to right field.
The bottom of the order includes second baseman Nicky Lopez (.240 BA, 30 RBI, 2 HR) and left fielder Alex Gordon (.266 BA, 76 RBI, 13 HR). Lopez is a solid fielder but struggles against MLB pitching. Gordon starts his 14th MLB season, all of which have been with the Royals. Brett Phillips (.138 BA, 6 RBI, 2 HR), who's spent the last three years between the majors and minors, could be given time over Gordon.
Kansas City – Coaching and Management
Last year, the Royals were bought by businessman John Sherman for $1 billion. The question now is what approach will Sherman take? Former owner David Glass was quite conservative. If Sherman continues on that route, our 2020 Kansas City Royals preview notes that it will be some time before the Royals are once again competitive. As manager, Mike Methany replaces Ned Yost who retired last season. Methany, who skippered St. Louis from 2012-2018 until he was fired, is a small ball guy who works in an efficient manner. He yanks pitchers quickly and likes to move players along the base paths. He's not a player's manager. GM Dayton Moore utilizes both analytics and scouts at every level.
Kansas City Royals Preview – Our Prediction
One thing we're fairly sure of is that this season, K.C. will have a tough time posting a winning record. Our Kansas City Royals preview notes that this team will be in transition as their new manager makes adjustments and the front office defines itself. The Royals have speed in the base paths, a solid defense, and good bullpen. However, they lack power at the plate, and their rotation is weak. In terms of pitching, not one starter last season surpassed nine wins and Duffy is the only starter with a winning record (7-6).
Kansas City Royals Summary
Kansas City Royals – 4th AL Central (68 Wins – 94 Losses)