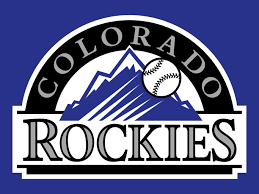 Since reaching the World Series, the Colorado Rockies (87-75) have put up losing numbers in seven of their last 10 seasons. In 2017, they won a dozen more games than they did the season before, and that was good enough for them to make the playoffs. The Rockies have an impressive rotation, and over the offseason, they added some amazing talent to their bullpen. Plus, they have a solid group of hitters. Our Colorado Rockies 2018 preview considers this ball club to be a contender in 2018. They have a good shot at finishing strong in the NL West and of making  the playoffs.
Pitching
The Rockies finished fourth in the majors in saves with 47. In Wade Davis, they have one of the best closers in the NL. But their other numbers were less impressive, as they ranked 23rd in opponent on-base percentage at .264. Their ERA was a tad better, as they ranked 17th at 4.51.
Starters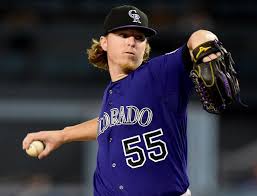 Two righties top the rotation with Jon Gray (10-4 W/L, 3.67 ERA, 9.1 K/9) being number one and Chad Bettis number two (2-4 W/L, 5.05 ERA, 5.8 K/9). Gray has a fastball/slider that consistently fools batters. Bettis missed most of last season battling cancer. He's got a low-90s fastball and tough-to-hit slider. Lefty Tyler Anderson (6-6 W/L, 4.81 ERA, 8.5 K/9), who came off the 60-day DL after September 30 last season to notch a 3-1 record and 1.19 ERA, could be a prime force on this team. He's got a delivery that includes a deceptive pause. He uses a changeup that features a lot of spin and a fastball in the low 90s.
Right-handed hurler German Marquez (11-7 W/L, 4.39 ERA, 8.2 K/9) led all rookies last season with 14 quality starts, which included six straight outings from early July to early August. The final sport amongst the starters goes to Kyle Freeland (11-11 W/L, 4.10 ERA, 6.2 K/9). Amongst 2017 rookies, he tied Marquez for most wins with 11 and was third in innings pitched with 156. Freeland came close to tossing a no-hitter last season.
Relievers
Righty Wade Davis (2.30 ERA, 32 SVs, 12.1 K/9) is amazingly consistent. He notched 32 straight saves last season for the Cubs and converted 59 of 63 chances over the past two seasons. Bryan Shaw (4-6 W/L, 3.52 ERA, 8.6 K/9) comes to the Rockies from the Indians where he led the AL in appearances for four straight seasons. Jake McGee (0-2 W/L, 3.61 ERA, 9.1 K/9), a lefty, is a tough competitor who can hold leads and save games.
Everyday Players
Although Colorado finished 21st in homeruns with 192, they were second in batting, posting a .273 BA. The Rockies were third in runs (824), fourth in RBI (793), and fourth on OB% (.338). Their slugging percentage of .444 ranked the team sixth in MLB and their OPS of .781 put them fifth in that category. However, in terms of stolen bases, their total of 59 tied them for 25th. This is a team that can field. They turned 168 double plays (4th) and posted a .987 fielding percentage (2nd).
Hitting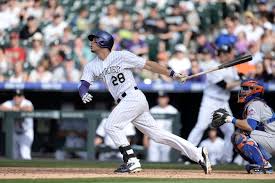 The leadoff spot is occupied by the current NL batting champ, centerfielder Charles Blackmon (.331 BA, 104 RBI, 37 HRs). He hit 115 points higher at home than he did away. Second in the batting order is second baseman D.J. LeMahieu (.310 BA, 64 RBI, 8 HRs). He ripped left-handed pitchers last season. Nolan Arenado (.309 BA, 130 RBI, 37 HRs) was a threat at home and away, as he slugged 19 round trippers at Coors Field and 18 on the road. Fourth in the order is right fielder Gerardo Parra (.309 BA, 71 RBI, 10 HRs), who caught fire in July.
Shortstop Trevor Story (.239 BA, 82 RBI, 24 HRs) smacked 24 homers but also struck out a franchise-record and NL-leading 191 times. Left fielder Raimel Tapia (.288 BA, 16 RBI, 2 HRs) gets a shot at the majors after hitting .305 or better in each of his half-dozen minor league seasons. He bats sixth. The seventh spot is occupied by homerun hitter Ian Desmond (.274 BA, 40 RBI, 7 HRs), and the final position goes to catcher Chris Iannetta (.254 BA, 43 RBI, 17 HRs), who became a slugging threat last season.
Defense
Third baseman Arenado has a stellar glove and is a future MVP candidate. At first, Desmond is solid when healthy. At second, LeMahieu brings refined defensive skills, while Story is a sound stopgap measure until top prospect Brendan Rodgers is ready. Catcher Iannetta is a veteran who knows how to work young pitchers; his experience can be invaluable. The outfield features Blackmon, who is a top defender. In right, Parra offers Gold Glove skills while Tapia looks to bring some sound skills to left.
Management and Front Office
Manager Bud Black is one of the best in the majors. He's an excellent game strategist, does a fine job in working with young and veteran talent, and understands players' needs. GM Jeff Bridich is a Harvard grad and an analytics guru who knows how to get the job done. Ownership is dedicated to winning and have put their money towards achieving that goal.
Colorado Rockies 2018 Preview: Final Word
Our Colorado Rockies 2018 preview notes that this team has just about everything it needs to succeed. They will have to compete with two very tough teams, Los Angeles and Arizona. The Rockies have a good range of experience in their rotation, from reliable vets to explosive young guns, and they have some of the best bullpen guys in the NL. Plus, their offense is deep.
Projected Finish: 3rd NL West, Record: 93-69