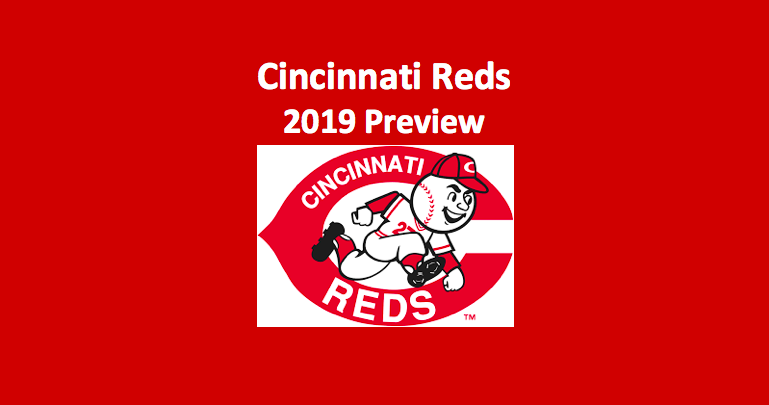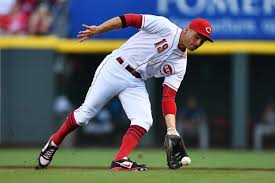 Last season was the fifth straight where the Cincinnati Reds (67-95) recorded a losing mark. The Reds had a lot of pitching woes, were average in the field, and inconsistent at the plate. The last time this team won more games than it lost was in 2013 when they went 90-72 and finished third. The year before, Cincinnati took first in the NL Central with a mark of 97-65. Both of those years, the Reds were in the postseason. In each of those playoff appearances, they did not make it to the NLDS. The last time Cincinnati won a World Series was 1990. Needless to say, our 2019 Cincinnati Reds preview does not anticipate this team getting back to any semblance of that type of success soon.
Pitching
When you're ranked 21st to 27th in the majors in the four major pitching categories it's apparent there are issues. Then, when you're performing substantially below average in the league, you know you've really got troubles. Cincinnati pitchers were 24th in ERA (4.63), 21st in saves (38), and 27th in opponent batting average (.266). Consequently, the Reds won just 67 games, which tied them for 23rd in that category. The ERA for Cincy starters, which was 5.02, was a full run above the league average. The pitching staff allowed a total of 228 homers. The NL average was 177. The pitching staff's overall batting average against was a full 20 points higher than that of the league average.
Starters
The Cincinnati Reds rotation has one double-digit winner on it, and one starter with a winning record. They are not the same player. Ace Luis Castillo (10-12 W/L, 4.30 ERA, 1.22 WHIP) is the righty with double-digit wins. Castillo, who's 2.44 second-half ERA ranked ninth in the majors, offers a mid-90s four-seamer that he uses to setup his best pitch, a changeup. Second in the rotation is new guy on the block, another righty, Tanner Roark (9-15 W/L, 4.34 ERA, 1.28 WHIP). Roark, who comes from the Nationals where he was in the back of the rotation due to their stellar staff, moves to the front half of this one. Roark, another righty, can really mix up his pitches. He offers a low-90s fastball and a slow curve that he offsets with three off-speed pitches.
Alex Wood (9-7 W/L, 3.68 ERA, 1.21 WHIP), the only lefty in the rotation and the hurler with the winning record, comes from the Dodgers. He had an ERA of 3.48 over four seasons, but posted a record of just 39-35. Wood is a solid strike thrower with three to four pitches he attempts to command. He's projected to start in the middle of the rotation. Two righties, Anthony DeSciafani (7-8 W/L, 4.93 ERA, 1.29 WHIP) and Tyler Mahle (7-9 W/L, 4.98 ERA, 1.59 WHIP), are fourth and fifth. With improved health in 2018, DeSciafani participated in 21 starts. He got stronger and pitched better deeper into the season. Last year, his rookie season, Mahle was inconsistent. He did end the season with a 12-strikeout victory over the Brewers.
Relievers
The pen includes the dependable Michael Lorenzen (4-2 W/L, 3.11 ERA, 1.38 WHIP), who looks to be this team's setup man, or, if needed, a starter. Both his fastball and cutter are highly effective. Plus, Lorenzen can hit. His career OPS is .776 and he has hit six homers. Jared Hughes (4-3 W/L, 1.94 ERA, 1.02 WHIP) is another solid setup guy. His 93-mph fastball offers a lot of movement and his slider is especially effective. Finally, closer Raisel Iglesias (2-5 W/L, 2.38 ERA, 1.07 WHIP) has proven to be efficient, effective, and durable. He has 24 career saves of more than one inning, and last season, on a 67-win team, he successfully closed 30 games. His changeup darts, and his slider baffles hitters.
Everyday Players
Our Cincinnati Reds preview finds it's interesting to note that despite their record last season this team was not the worst hitting team in the majors. In fact, in some areas, such as batting average, in which they ranked 10th with a grade of .254, they were better than average. Along with posting a good batting average, the Reds' OBP, which was .328 (9th), was strong. But they were average or under-average in just about every other area. The Reds were 15th in stolen bases (77) and OPS (.729) and 18th in runs (696) and total bases (2,221). Finally, Cincinnati tied for 17th in RBI (665), while they were 20th in homers (172) and 21st in slugging percentage (.401).
Hitting
The top three in the batting order are shortstop Jose Peraza (.288 BA, 58 RBI, 14 HRs), second baseman Scooter Gennett (.310 BA, 92 RBI, 23 HRs), and first baseman Joey Votto (.284 BA, 67 RBI, 12 HRs). Batting cleanup is third baseman Eugenio Suarez (.283 BA, 104 RBI, 34 HRs). Peraza offers a good combination of speed and power and is solid batting first or second. Over the past two seasons, Gennett has been productive, accumulating 189 RBI and 50 dingers. Votto has led the league on OBP seven times and could do so again this season. Our Cincinnati Reds preview found that Suarez is a premium hitter who can crush the ball.
Matt Kemp (.290 BA, 85 RBI, 21 HRs), who patrols left, is one of two hitters from the Dodgers joining the Reds. Kemp is a slugger. Center fielder Scott Schebler (.255 BA, 49 RBI, 17 HRs) bats sixth, while Yasiel Puig (.267 BA, 63 RBI, 23 HRs), the other hitter from LA, looks to hit seventh. Along with being able to smack gopher balls, Puig is an adroit base-stealer. Catcher Tucker Barnhart (.248 BA, 46 RBI, 10 HRs), eighth in the order, had a terrible 2018.
Defense
The Cincinnati defense was 15th in the majors in fielding with a mark of .984. They turned 144 double plays, which was 10th-most in MLB. Barnhart, a former Gold Glove catcher in 2017, didn't just struggle at the plate, he also struggled behind the plate last year. His framing metrics, ability to throw our runners, and DRS all plummeted. In the middle of the field, shortstop Peraza provides the kinds of thrills you don't want to see. His fielding needs polishing. Second baseman Gennett is a decent fielder. At third, Suarez is a good but not great defender, while Votto handles first adequately.
In right, Puig is a skilled and talented fielder. He has good speed and sound tracking skills. Last season Puig had a +6 DRS score. Kemp certainly knows the ins and outs of playing left. Schebler, who will start in center, is a versatile and proficient fielder.
Management and Front Office
Our Cincinnati Reds preview observes that fans have to be realistic when it comes to this team. GM Nick Krall with president of baseball operations Dick Williams are working with the fifth-smallest payroll in MLB. Let's face it $111 million-and-change just doesn't go that far. New manager Dave Bell, who is the third to come into the skipper role for Cincy in two years, spent last season in SF's front office. How much Bell can do with what he has is a big question? No one should expect him or anyone else in this organization to be a miracle worker.
2019 Cincinnati Reds Preview: Final Word
Our 2019 Cincinnati Reds preview notes that this team has made some attempts to upgrade on offense and in the pitching ranks. But is it enough to give Chicago, St. Louis, and Milwaukee a run for their money? The Pirates are better suited to do so, and we don't see them as having a any chance of moving past fourth place. Our 2019 Cincinnati Reds preview notes that this baseball club has a long way to go before it can sustain a substantial campaign in the NL Central.
Projected Finish: 5th NL Central, Record: 72-90
LINKS