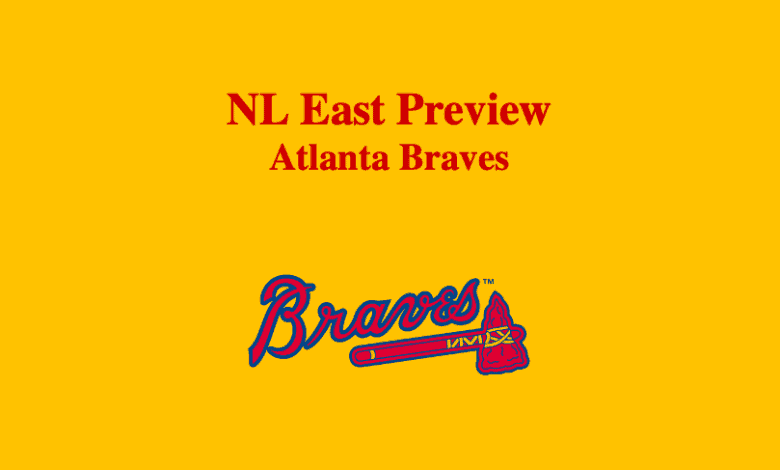 Our NL Atlanta Braves preview 2021 expects the club to be a contender for a World Series. The Braves finished with a 35-25 record, which over a full 162 game season would have given them a 95-67 record. This was good enough to finish atop the NL East. With the bulk of their roster returning in 2021 they are expected to be a strong ballclub this season. The reigning NL East leader has plenty of power at the plate as well as a solid group on the mound.
NL Atlanta Braves Preview 2021 – Pitching
Atlanta's performance on the mound in 2020 was average. They finished with the 15th ranked ERA (4.41) and 17th in WHIP (1.36) among all MLB clubs. Their 13 saves were tied for 6th in the National League. Opponents hit .247 against the Braves as well.
Atlanta Rotation
The Braves' ace is Mike Soroka who missed all but three of his starts in 2020 due to injury. He had a 3.95 ERA and a 1.32 WHIP in the limited action he saw. Atlanta will be thrilled to get him healthy in 2021 as he compiled a sub 3.00 ERA in his last full season (2019). Max Fried is slated to be the second man in the ballclub's rotation. He was the most impressive pitcher for the team in 2020 posting a 2.25 ERA in 11 starts. Fried didn't lose in 2020 going 7-0 on the year.
Three Through Five
The third man for Atlanta will be Charlie Morton, who was signed this offseason to a one-year contract. The right-handed hurler was limited to just 38 innings due to injury. He compiled a 4.74 ERA while allowing opposing batters to hit at a .279 clip. The Braves hope that a healthy Morton can rebound in 2021.
Rounding Out
Rounding out rotation will be Ian Anderson and Drew Smyly. Anderson played his first Major league season in 2020 and was impressive in his six outings. The third overall pick from the 2016 draft held an impressive 2.95 ERA with opponents hitting just .172 against him. He will use his 95mph fastball along with his changeup and curveball to keep batters on their toes. Smyly spent 2020 with the San Francisco Giants. He started five games with his only decision coming in a loss. Despite this, the southpaw was effective overall. Batters hit below .200 against him while he maintained a 3.42 ERA.
Relief
Will Smith is slated to be the club's closer after Mark Melancon signed with San Diego this offseason. In 2020 Melancon finished tied for seventh among all MLB pitchers with 11 saves. Smith enters his tenth Major league season after compiling a 4.50 ERA and 0.94 WHIP last year. Chris Martin will fall into the setup role. The right hander was very impressive in the shortened 2020 season. Over his 18 innings pitched he surrendered just two earned runs while finishing with a 0.61 WHIP. The 6'8'' pitcher relies primarily on his 95mph fastball and 83mph slider to keep batters on their toes. AJ Minter and Tyler Matzek will also be key members of the Braves' Bullpen in 2021. Minter threw a total of 21 and two thirds innings over 22 appearances last season. The southpaw utilized his 96mph fastball and his 88mph slider to allow just two earned runs. Minter also finished 2020 with a 1.11 WHIP. Matzek had a very solid first season as a Brave. He set a career low 2.79 ERA and 1.14 WHIP over 29 innings.
Atlanta Braves Preview 2021 – Everyday Players
The Braves have one of the most potent lineups in baseball. In 2020 they finished second in Runs scored (344), team batting average (.268), and home runs (103). Their OPS as a team also led all of the Majors at .832.
According to our research for this Atlanta Braves preview, the club has good speed and power throughout their lineup starting with leadoff hitter Ronald Acuna. Behind Acuna, Ozzie Albies, Freddie Freeman, Marcell Ozuna, and Dansby Swanson make up the heart of the batting order. A combination of Travis d"Arnaud, Austin Riley, and Cristian Pache round out the order.
Atlanta – Infield
First Baseman Freddie Freeman finished with the second highest batting average in the National League in 2020. The left-handed hitter had a .341 batting average and a 1.067 OPS. He also continued to be a unique blend between contact and power. Freeman had the second highest slugging percentage in the MLB at .640. Dansby Swanson and Ozzie Albies will play at Shortstop and second base respectively. Swanson drove in 35 runs while finishing with a .809 OPS. Albies hit .271 in 2020 while maintaining a respectable .773 OPS.
Outfield
The Braves' outfield is among the best in the majors. Marcel Ozuna, Cristian Pache, and Ronald Acuna Jr. will play from left to right. Ozuna led Atalanta in home runs (18), RBI (56), and hits (77) last season. His .338 average and 1.067 OPS were second on the team behind just Freeman. Pache is considered one of the top prospects in the majors this season. Pache has built a reputation as the top defensive player. He could contend for a Gold Glove in 2021. Despite this, Pache will need to improve his hitting at the MLB level. The 22-year-old had 25 plate appearances in the playoffs last year and batted just .182. Acuna is a top young player and possesses a rare combination of power and speed. The Braves' right-fielder finished 2020 with a .987 OPS while leading the team with eight stolen bases.
NL Atlanta Braves Preview 2021 – Final Word
Our NL Atlanta Braves preview 2021 views the ball club as a favorite top the East Division. They have one of the top batting orders in the Majors from top to bottom. They have a good combination of contact and power throughout their lineup and will be a powerhouse at the plate this season. Once healthy, the Braves have a pretty solid rotation. The bigger question is in the bullpen and how their young pitchers will contribute later in games. Overall, we expect another solid season from the Braves.
Summary – Atlanta Braves Preview
Record: 94-58 (First-place NL East)