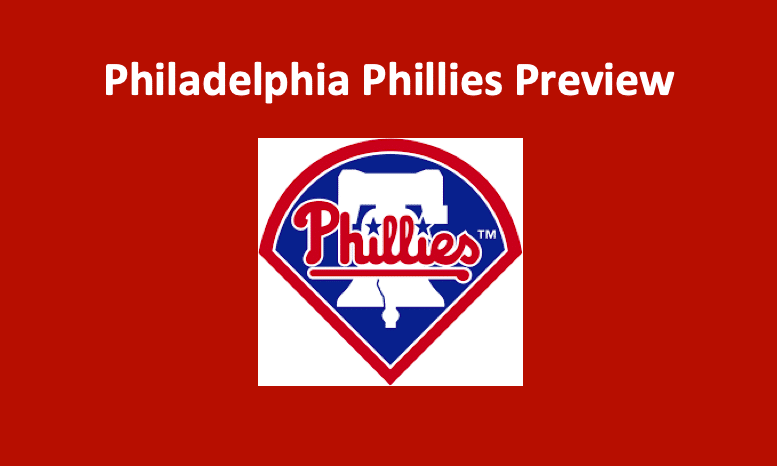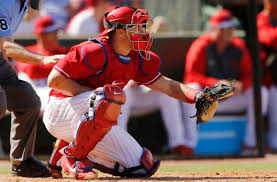 Our Philadelphia Phillies Preview 2020 examines exactly how competitive this ball club will be this season. Last year, Philadelphia had a disappointing season. In 2019, they finished fourth in the National League East with an 81-81 record. And although that was 15 games better than they finished in 2017, it was just one game better than their 2018 record. As a result of their disappointing season, Philadelphia GM Matt Klentak jettisoned Gabe Kapler, who had guided the Phils for two seasons, and brought in Joe Girardi. The former Yankee skipper is well-respected and should provide the organization with a solid decision-maker. In our Philadelphia Phillies Preview 2020, we consider if this team's offseason additions will be enough to steal a playoff spot.
Philadelphia Phillies Preview 2020 – Starters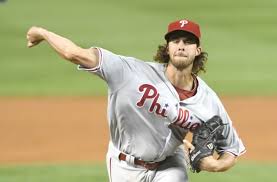 The Phillies enter 2020 with a decent rotation. Aaron Nola is the ball club's top hurler. Last season, Nola led Philly starters with a 12-7 record and a 3.87 ERA, the lowest of any pitcher in the team's rotation. Despite leading the Phillies, Nola regressed from 2018 where he finished third in Cy Young voting after putting together a 2.37 ERA and 0.97 WHIP. As the 26-year-old approaches his prime, he has the potential to be one of the top pitchers in the National League.
Nola will be followed in the rotation by the newly acquired Zack Wheeler, along with Jake Arrieta and Zach Eflin. Wheeler has spent his entire career with the Mets before signing a five-year contract with Philadelphia this past offseason. Despite missing two years of his career due to needing Tommy John surgery, Wheeler has been solid the past few seasons. Last year, he had a 3.96 ERA with an 11-8 record. Wheeler will be a solid addition to the Club's rotation.
Arrieta has regressed significantly since he won the Cy Young Award with the Cubs in 2015. Last season, the 34-year-old finished with a 4.64 ERA; that's his highest since 2013. Some of his struggles were due to injuries. He had both surgery on his left meniscus, as well as a season-ending procedure to remove a bone spur in his pitching arm. Arrieta is one of the best candidates to see positive results from the extended offseason. He is likely to slot into the middle of Philadelphia's rotation.
Bottom of the Rotation
26-year-old Zach Eflin could have a very solid season ahead of him. A former first round pick, Eflin has the potential to improve upon his 4.13 ERA and 1.347 WHIP form in 2019. He started 28 games last season, which put him second to Nola. With the addition of Wheeler, Eflin could move back a spot, but is likely to be one of Philadelphia's most used pitchers again. At this point, the fifth spot belongs to rookie Spencer Howard. Our Philadelphia Phillies Preview 2020 finds that Howard is a top MLB prospect. He has a fastball that, at times, tops 100 mph plus a slider and a developing change.
Philadelphia Phillies Preview 2020 – Bullpen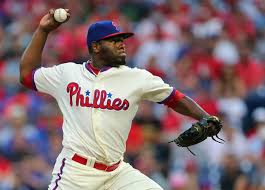 Closer Hector Neris finished 13th in saves with 28 in 2019. He had a career year in his fifth MLB season. In his 67.2 innings pitched, Neris had a 2.93 ERA and a 1.020 WHIP. He also stuck out 89 batters on the year. Once again, Neris will be the club's closer in 2020. He is a solid option to close out games.
Along with Neris, Jose Alvarez and Ranger Suarez will likely see large workloads from the bullpen. The two southpaws respectively pitched 59.0 and 48.2 innings in 2019. Alvarez managed a 3.36 ERA while Suarez finished at 3.14.
Philadelphia will also rely on Seranthony Dominguez (4.01 ERA, 1.459 WHIP). Despite having a down season in 2019, the 25-year-old showed in his first season that he could be a solid late-inning option for the Phillies. In his rookie year, he had a 2.95 ERA over 58 innings pitched. Dominguez is expected to maintain that level of play in 2020.
Phillies – Everyday Players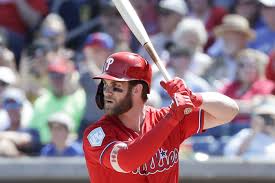 The Phillies biggest offseason addition was at shortstop. They signed Didi Gregorius to a one-year contract worth $14 million. Gregorius spent the past five seasons with the Yankees and has developed into one of the better shortstops in baseball. Although he saw a dip in production in 2019, partially due to injuries, Gregorius had a decent season. He finished with a .238 batting average and a .718 OPS through 82 games played. Entering 2020 in good health, he could see his stat-line return to 2018 levels when he scored 89 runs and had a .829 OPS.
Gregorius will join star outfielder Bryce Harper in the Phillies lineup. In developing our Philadelphia Phillies Preview 2020, we find that Harper has consistently been one of the best players in baseball since entering the league in 2012. After spending the first seven seasons of his career with Washington, he ventured to Philadelphia last offseason via free agency. Harper put together another solid season batting .260 with 35 home runs. He set a career high with 114 RBI as well. Along with this, Harper led all Phillies with a .882 OPS. He will once again be the most vital player for his team's success. There is no indication that he will have a down season in 2020 as he has shown consistency throughout his career.
Philadelphia also has arguably the best hitting catcher in baseball with JT Realmuto. In 2019, he led the Phillies with a 4.5 wins above replacement stat. Realmuto drove in 83 runs while batting .275 and hitting 25 home runs. He provides a very solid bat and fine offensive power in a position for which much of the league is lacking any type of productivity.
Philadelphia – Rounding out the Order
This Philadelphia Phillies Preview 2020 notes that Rhys Hoskins and Andrew McCutchen will be key pieces for the Phillies in 2020. Hoskins and McCutchen both finished 2019 with an OPS above .800. In his third MLB season, Hoskins hit .226 with a .454 slugging percentage. The first baseman hit 29 home runs while totaling 85 RBI. McCutchen continued his stellar career. In his 11th season, the five-time All-Star had an .834 OPS. He's shown no signs of decline despite entering his age-33 season.
Philadelphia Phillies Preview 2020 – Prediction
The Phillies have a very solid batting order which was bolstered by the addition of Didi Gregorius at shortstop. They have a true ace in Aaron Nola as well as some solid depth in their rotation. However, our Philadelphia Phillies Preview 2020 notes that while the Phillies look solid on paper, they will have to beat out a strong Braves club, a greatly improved Mets team, and the defending World Series Champion Nationals to have a chance at the playoffs. They could be in the running for a wildcard spot at the end of 2020, although that is far from a sure bet.
Philadelphia Phillies – 4th in the NL Central (84-78)