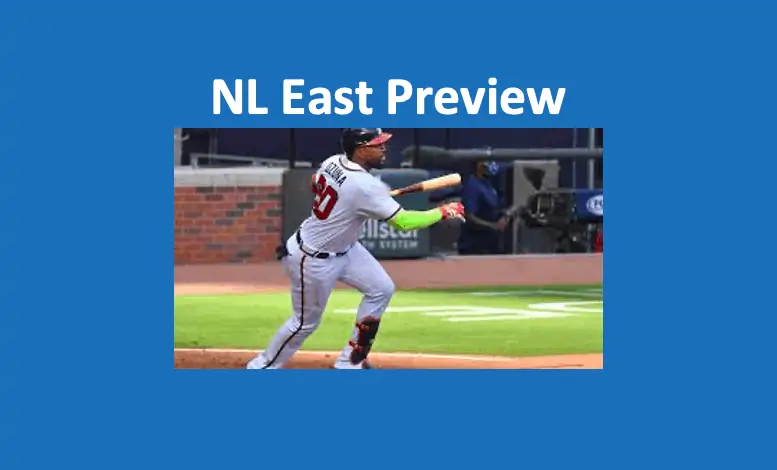 In researching our NL East preview 2021, we find that four teams have the potential to contend. However, we further find that two, the Atlanta Braves and Washington Nationals, actually possess the strength and depth to make a full 162-game season run for the playoffs. Unlike last season, when the Miami Marlins (31-29) finished second to the Atlanta Braves (35-25), winning a wildcard spot. As noted, we do like the Washington Nationals (26-34), despite their last-place finish in 2020. They've got enough talent and made plenty of improvements and should get back on track. The Philadelphia Phillies (28-32) may have the stuff to get into this year's playoffs. Additionally, the New York Mets (26-34) have made some improvements that could pay off this season
NL East Preview 2021 – Teams
Atlanta Braves – The Braves possess one of the best lineups in the league. Their outfield is one of the most productive in the majors. Additionally, when healthy, their rotation is solid, and, at times, it can be overpowering. However, there are concerns about the bullpen's depth and experience. They could be the undoing of this team.
Miami Marlins – Last season, manager Don Mattingly certainly delivered, guiding the team to a second-place finish and a playoff berth. However, the shortened season certainly favored this team. Plus, Miami has done virtually nothing to improve. In a competitive NL East, they have lessened their chance of getting back into the postseason.
New York Mets – This team has one of the best starting three in their rotation. However, this season, unlike last, they need their bullpen to come through. In 2020, closer Edwin Diaz had a bit of a comeback. However, he has to cut down on his walks and blown saves. Ownership is dedicated to winning and spending cash to do so. The lineup is solid.
Philadelphia Phillies – New president of baseball operations Dave Dombrowski and manager Joe Girardi, who joined the team last season, know how to win World Series. This team needs fixing in just about all areas. If anyone can do it, they can. It helps that owner John Middleton is willing to spend cash. Quality starters Aaron Nola and Zack Wheeler are one and two in the rotation. The bullpen must cone through this season.
Washington Nationals – Lefty Brad Hand, formerly with Cleveland, is a huge upgrade in the closer role. He alone will increase the team's chances of winning. First baseman Josh Bell is also a big addition. He brings a fine bat to the plate. Both Max Scherzer and Stephen Strasburg are premium one/two starters.
Projected Order of Finish – National League East
NL East Preview 2021 – Final Thoughts
Our NL East preview 2021 sees the Braves as being the team to beat. Also, it finds that the team most likely to beat them are the Nats. On the other hand, we can't discount the New York Mets or the Philadelphia Phillies. They are both dangerous teams and likely dark-horse candidates. However, both have issues of depth. Finally, the Miami Marlins are coming off of a successful 2020 season. Can they be successful in 2021? We believe there's not enough offense or pitching to allow them to contend with the likes of Atlanta and Washington.