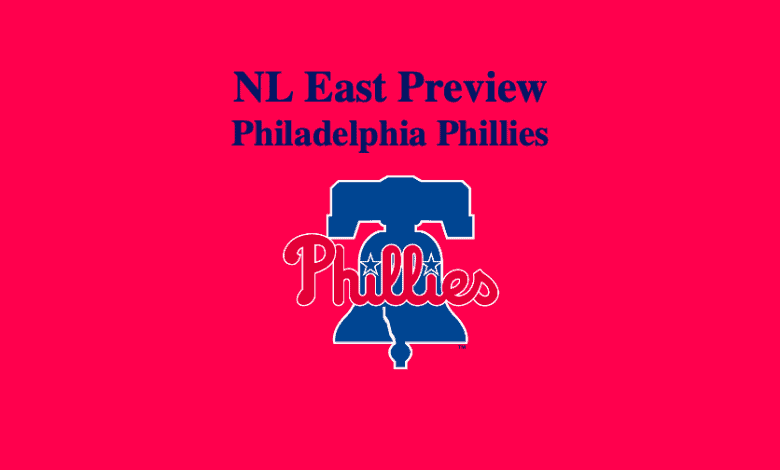 Our NL Philadelphia Phillies preview 2021 notes that the best record this team has record since 2011, which is the last time they were in the playoffs, was 81-81. It's been nine seasons since the Phills have won more games than they have lost. Last season, Philadelphia finished third in the AL East with a record of 28-32. Adjusting those numbers to a 162-game season, their virtual totals were 76-86. From 2018 through 2020, the front office committed over $700 million to free agents. The best they could do was an even record of wins and losses and two third-place finishes and one fourth-place final position. Now the budget belt has been tightened as they deal with the financial effects of COVID-19. The road to success may have gotten a bit longer for this franchise.
NL Philadelphia Phillies Preview 2021 – Pitching
The Phillies pitching staff certainly suffered from poor performance. Their 5.14 ERA and .279 OBA were both 14th in the league, while their 1.48 WHIP ranked 13th. These stats are despite the fact that the rotation accumulated 20 quality starts (3rd). However, relievers notch merely 11 saves (tied-12th). They were sixth in strikeouts (532) and allowed the fourth-fewest base-on-balls. However, they gave up 80 round trippers, tying them with the Pittsburgh Pirates for the sixth-most.
Philadelphia Rotation
Last season, first and second starters Aaron Nola and Zack Wheeler both posted WARs of 2.0. In 12 starts, Nola went 5-5 with an ERA of 3.28, while Wheeler was 4-2 over 11 starts with an ERA of 2.92. Nola, who has a WHIP of 1.08 and struck out 96 over 71.1 IP, mixes four pitches, a change, slow curve, 93mph fastball, and 92mph sinker. Although not overpowering, he has fine location and overall good stull. On the other hand, Wheeler commands six pitches, relying on two 97mph pitches, his four-seam fastball and sinker. He also brings three 90mph pitches, a slider, change, and splitter, as well as an 80mph curve. Wheeler can finesse pitches and has fine location skills.
Three Through Five
Zach Eflin, the third man in the rotation, looks primed for a breakout season. In 2020, he posted a record of 4-2 with a WAR of 1.6. Fourth starter Matt Moore, who's had health issues and spent last season in Japan, returns to revitalize his MLB career. 2021 marks his 10th MLB season. Moore has a lifetime record of 54-56 and a 4.51 ERA and 1.41 WHIP. In his first few seasons with the Rays, he won 28 and lost 15 games. However, since 2014, his production has dropped precipitously. Chase Anderson, who last season was with the Jays, starts fifth. Anderson is another starter who has recently had his struggles. Last year, over seven starts, he was 1-2 with a 7.22 ERA and 1.63 WHIP. If he can get back to form, he'll offer 30 starts and about 10 wins.
Relief
The bullpen was a disaster last season. With an ERA of 7.06, which was the worst in MLB since 1930, the Phillies lost 21 games where they had the lead. Jose Alvarado arrives from Tampa Bay. He's a hard-throwing lefty who can mow batters down in the late innings. Plus, six-year vet Archie Bradley, who played for Arizona and Cincinnati last season, has been added. Over 16 combined appearances last year, he was 2-0 with a WHIP of 1.00 and ERA of under three. In 18.1 IP, Bradley posted 18 Ks and three walks. Either Alvarado or Bradley could setup man or close. Finally, Brandon Kintzle, an 11-year vet, comes to Philadelphia with 61 saves and 85 holds. Last season in 24 appearances with Miami, he had 12 saves, one hold, and two blown saves. His ERA was 2.22 and WHIP 1.32.
Philadelphia Phillies Preview 2021 – Everyday Players
Philadelphia batters hit .257 (6th) with 82 homers (6th), 90 doubles (8th), and 306 runs (4th). Their OBP of .342 ranked third in the NL, while they recorded a .439 SLG% and .781 OPS. Both of which ranked sixth. There 500 hits came in at 8th in the league, while Philadelphia's 229 walks tied them for third with the Chicago Cubs. The Phillies accumulated the fifth-fewest strikeouts (480), while they stole the fourth-most bases (35). This team had solid offensive chops.
Philadelphia – Infield
Shortstop Didi Gregorius, who was a free agent, remains with the Phils. Last season, his first with Philadelphia, the former Diamond back and Yankee played in 60 games, hitting .284 with 40 RBI, 10 homers, and 10 doubles. He's also a fine defender. On the other side of the bag, Jean Segura plays second. Although not a defensive standout, he's and adequate defender. Over nine MLB seasons, he recorded a .284 BA with 184 steals, 196 doubles, and 402 RBI.
Rhys Hoskins starts at first and Alec Bohm is at third. Both provide plenty of production at the plate, while holding their own defensively. Hoskins, who in 2020 had an off and on season where he endured a season-ending elbow injury, had surgery in the off-season and returns healthy. Bohm, who was a rookie last year, led the majors with a .452 BA with runners in scoring positions. He tied for second in NL Rookie of the Year voting. Catcher J.T. Realmuto is a quadruple threat as a hitter, base runner, backstop, and clubhouse guy. He's is one of those catchers who get the most out of every pitcher. Our Philadelphia Phillies Preview 2021 projects his potential numbers to include 80 RBI, 25 homers, and 35 doubles.
Outfield
Right fielder Bryce Harper returns for his third-year of his 13-year, $330 million deal that brought him from the nation's capital to the City of Brotherly Love. When he's healthy, Harper has the skill and talent to earn MVP honors. However, last season, he struggled with an ongoing back injury that hurt his production. If he's healthy, he'll offer 35-plus homeruns and doubles and more than 100 RBI. Both left fielder Andrew McCutchen and center fielder Adam Haseley are questionable on defense and offense.
NL Philadelphia Phillies Preview 2021 – Final Word
This Philadelphia Phillies preview 2021 finds the new president of baseball operations Dave Dombrowski has a lot of work to do. The good news is Dombrowski has the experience and knowledge to solve the problems at hand, and this team does have talent. The major issue is the Phillies don't have enough depth to compete over the course of a 162-game season. Dombrowski is a proven winner, as is manager Joe Girardi, who joined the team last season. Between them, they have six World Series rings and 22 playoff appearances. Also, owner John Middleton has deep pockets and wants to win. But how motivated he'll be in the age of COVID is yet to be seen.
Summary – Philadelphia Phillies Preview
Record: 84-78 (Fourth-place NL East)