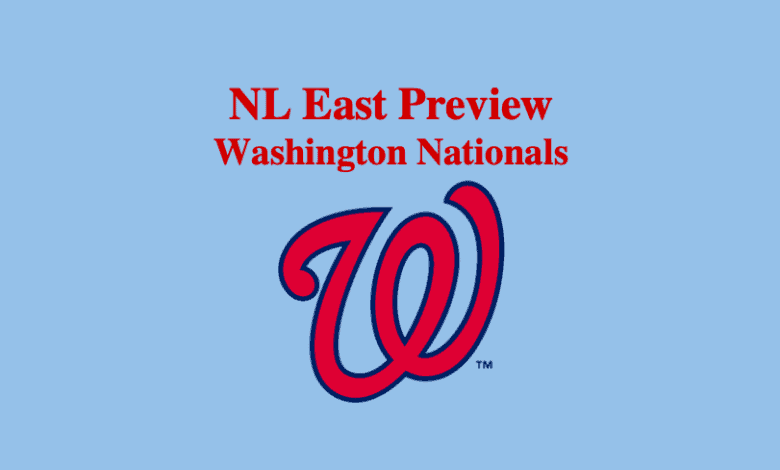 Our NL Washington Nationals Preview 2021 looks at whether this franchise can bounce back from a disappointing 2020 campaign. The Nats compiled a 26-34 record, finishing nine games back from the NL East leading Atlanta Braves. Over a normal 162 game season Washington was on pace to finish with a 70-92 record.
NL Washington Nationals Preview 2021 – Pitching
Washington struggled on the mound last season. They finished with the third worst ERA in the national league (5.09) as well as the second worst WHIP (1.52) among all Major League teams. A big reason why they struggled was because of their bullpen. They had just 12 saves on the year while blowing 10 other opportunities. Their .271 batting average against ranked 27th in the MLB in 2020.
Washington Rotation
Max Scherzer will headline the Nationals' rotation for the seventh consecutive season. While he has generally been in the Cy Young conversation throughout his career, Scherzer struggled somewhat last season. He had a 3.74 ERA over 12 starts while his 1.38 WHIP set a career high. Despite this, Scherzer is still considered one of the top pitchers in the National League. Scherzer will primarily rely up his 95mph four-seamer, while keeping batters guessing with a combination of his slider, changeup, cutter, and curveball.
Despite tearing a calf tendon during spring training, Stephen Strasburg is slated to be available to start the 2021 season after missing the majority of 2020 with carpal tunnel syndrome. He was limited to just 5 innings over two games last year. While he has been an ace throughout his entire career, his statline struggled due to the small sample size and injury in 2020. Strasburg allowed six runs in 2020, but put together a 3.32 ERA and 1.04 WHIP in his last full season. Now healthy he should return to his peak form.
Three Through Five
Patrick Corbin, and the newly acquired Jon Lester will slide into the third and fourth spots in the rotation respectively. Like Scherzer, Corbin had some uncharacteristic struggles last season. He went 2-7 through his 11 starts while registering a 4.66 ERA and a 1.57 WHIP. In contrast the southpaw maintained a 2.35 ERA and 1.18 WHIP over the 33 games he started in 2019. Lester is well past his prime and is unlikely to put together a super strong season. The 37-year-old is coming off a season where he posted the worst ERA of his career (5.16). Over this 12 starts with the Cubs in 2020 he registered six decisions winning half of them. Despite this, Lester remains a suitable option for a spot towards the end of the Nats' rotation.
Relief
The bullpen's 4.68 ERA was the eighth-worst in the majors. Their poor performance hurt the efforts of what is a very strong starting rotation. In 2020, Tanner Rainey had a breakout season. The hard-throwing righty appeared in 20 games and had 20 holds. He posted a 2.66 ERA, 0.74 WHIP, and 1.1 WAR. Look for him to be the primary setup man. Last season, Daniel Hudson saw his ERA and WHIP explode. Although over 20 appearances, he saved 10 saves, Hudson also recorded five clown saves. He'll provide middle-to-late inning service.
Lefty Brad Hand, who spent his last three seasons with the Indians, comes to the Phillies as their closer. In 2020 with Cleveland, he made 23 appearances and was 2-1 with 16 saves, a 2.05 ERA and 0.77 WHIP. Although not overpowering. Hand mixes three pitches, an 80mph slider, 92mph fastball, and a 92mph sinker. Our Washington Nationals Preview 2021 finds that Hand is a huge addition to the bullpen.
Washington Nationals Preview 2021 – Everyday Players
Washington has some very good young players who helped them be an offensive powerhouse in 2020. The ballclub finished with the fourth best batting average (.264) as well as the tenth most runs (293) in all of the Majors. They hit 55 home runs on the year along with a .769 OPS.
Trea Turner is slated to be the team's leadoff batter against right-handed pitchers, while Victor Robles will hit first against left-handers. Juan Soto, Josh Bell, and Kyle Schwarber are projected to make up the upper half of the batting order. Starlin Castro, Yan Gomes, and Josh Harrison complete the team's core group of hitters.
Washington – Infield
Josh Bell will be a new look at first base for the Nationals. Acquired via trade, Bell will be looking to have a bounce back season in his first season playing in the nation's capital. In 2020 the slugger hit eight home runs while finishing with a .669 OPS. In contrast, Bell had a .936 OPS in 2019. Starlin Castro will patrol the opposite corner of the infield for the Nats. Castro spent the majority of the 2020 season on the IR. He suited up in 16 games for Washington hitting .267 with a .752 OPS.
Josh Harrison and the speedy Trea Turner will play second base and shortstop respectively. Harrison had a solid 2020 campaign. The second baseman hit .278 over his 79 at bats. Harrison is versatile in his ability to play almost any position on the diamond. He saw time at five different positions last season committing just a single error. Turner had the second highest OPS (.982) on the Nationals last season. He also led the club with 78 hits and 41 RBI. Turner is one of the game's elite shortstops and will be a league leader in stolen bases. He gives Washington a very good lead off bat in their lineup.
Outfield
Our Washington Nationals 2021 prewview finds that the most dangerous bat in this ballclub's lineup is Juan Soto, who had a 1.185 OPS in 2020, the highest in the majors. He hit .351 while driving in 37 runs. Soto also blasted 13 home runs over the short season. He looks to be one of the most exciting players in baseball and should be in line for another great season. Kyle Schwarber and Victor Robles will play left and center field respectively in 2021.
Schwarber was signed this offseason after a tough 2020 season with the Cubs. He hit just .188 through 191 at bats. His .701 OPS was the lowest of his career. Robles had a down season as well in 2020. The Dominican born centerfielder hit .220 with a .608 OPS. He drove in 15 runs on the season. If both players can rebound this year, Washington looks to have a top outfield in the NL East.
NL Washington Nationals Preview 2021 – Final Word
Our NL Washington Nationals 2021 preview sees enough similarities between their club this year, and their 2019 roster that won the World Series. Despite this, they will need to be much better than they were last season. Many of their key players including Scherzer and Corbin had rough years. Overall, they have a good rotation as well as some studs in Soto and Turner. They could find themselves near the top of the NL East standings if they are more consistent this season. However, in 2021, they look to be more like a contender for a wildcard berth.
Summary – Washington Nationals Preview
Record: 91-73 (Second-place NL East)