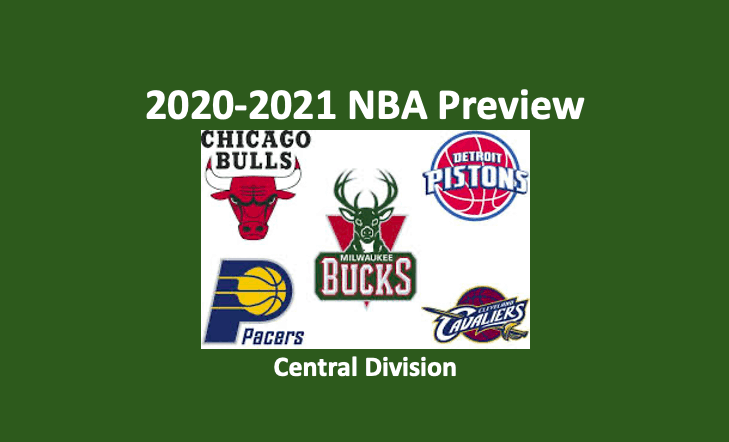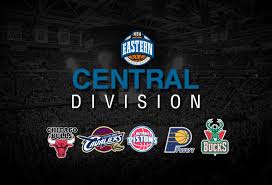 In our NBA Central Division preview 2020 – 2021, we note that a lot will stay the same in this division. That is, we don't see any major changes when it comes to where teams will end up when compared to last year's standings. The Milwaukee Bucks are still a dynamic basketball team. We expect that they will win the Central Division, and perhaps, the Eastern Conference. The Indiana Pacers should secure second place again. However, the Chicago Bulls may have something to say about that. Even if the Bulls finish third, we do find that they have a shot at making the postseason. The Detroit Pistons and Cleveland Cavaliers both possess some fine veterans and top-notch young talent. Although both have depth issues, they could pose potential threats to the middle of the pack.
Last Season
In 2019-2020, the Milwaukee Bucks (56-17) dominated the Central Division. At one point, they won 18 games in a row. The Indiana Pacers (45-28), who finished 11 games behind the Bucks, were the only other team from the Central Division who were playoff-bound. In the season series versus Milwaukee, Indiana went 1-3. They were virtually no match for the Bucks. There was a big fall off in the division after the Pacers. None of the other three teams came close to having a winning record. The Chicago Bulls (23-42) finished third. They were 30 games out of first place. After the Bulls, it was the Detroit Pistons fourth (20-46) and Cleveland Cavaliers third (19-46).
NBA Central Division Preview 2020 – 2021 – Teams
Chicago Bulls – Head coach Billy Donovan, who's known as a winner, is the new guy in town. He needs to change the culture and get this team to the point where it reaches its potential. There's enough talent here for the Bulls to make the playoffs in 2020-2021.
Cleveland Cavaliers – New head coach J.B. Bickerstaff, who replaced John Beilein in mid-season last year, brings a solid work ethic and plenty of head-coaching experience to this team. The Cavs have a very fine frontcourt and talent in the guard spots. But the reserves are thin and there are discipline and health concerns to deal with.
Detroit Pistons – Head coach Dwane Casey returns to Detroit for his third season. Casey is one of the best in the NBA, and he's got top-notch starters PF Blake Griffin and PG Derrick Rose in the lineup. They are two of the best. Casey will also be relying on some rookies heavily. This will be a much better team than the Pistons put on the court last year, but they have to garner experience as a team to get to the next level.
Indiana Pacers – There is a yet another new coach in the Central Division, Nate Bjorkgren. Bjorkgren embraces up tempo play, as he loves to have players penetrate and score or toss it up from downtown. That scheme may work well for the Pacers who have a lot of solid three-point shooters. This team's defense is very fine.
Milwaukee Bucks – Head coach Mike Budenholzer came to the Bucks two seasons ago, and they have been stellar. Middleton, Antetokounmpo, and Lopez comprise a dynamic frontcourt that is solid on both ends of the court. There's a whole lot of depth on the Bucks. However, Milwaukee's postseasons have been disappointing. Let's see if they can get that monkey off their back.
NBA Central Division Preview 2020 – 2021 – Projection
Our NBA Central Division preview 2020 – 2021 anticipates the following end of the year standings:
Milwaukee Bucks*
Indiana Pacers*
Chicago Bulls*
Detroit Pistons
Cleveland Cavaliers
*Playoff team
Central Division – Pluses and Minuses
Bulls are up and coming and may arrive
Chicago could have an issue at center
Cavs have some fine young talent and premium vets
Cleveland's thin on depth and SG/SF Kevin Porter's a concern
Pistons new coach Dwane Casey is premium
Detroit has plenty of untested, under-experienced talent
Pacers possess a solid D
Indiana needs more scoring
Bucks include a fantastic frontcourt and depth all-around
Milwaukee needs to break out of postseason doldrums
NBA Central Division Preview 2020 – 2021 – Final Word
Our NBA Central Division preview 2020 – 2021 acknowledges that things are changing in this division. The three bottom teams from last season have all improved. The Bulls look especially dangerous. However, despite upgrading in various ways, we expect that the Cavaliers and Pistons will miss the playoffs. Although, their records should improve. The Bucks will have to fight complacency. However, we expect head coach Mike Budenholzer won't let his team go there. Or, if they do, they won't be there too long. The Pacers have much better offensive potential than they showed last season. Might Chicago be a genuine competitor?