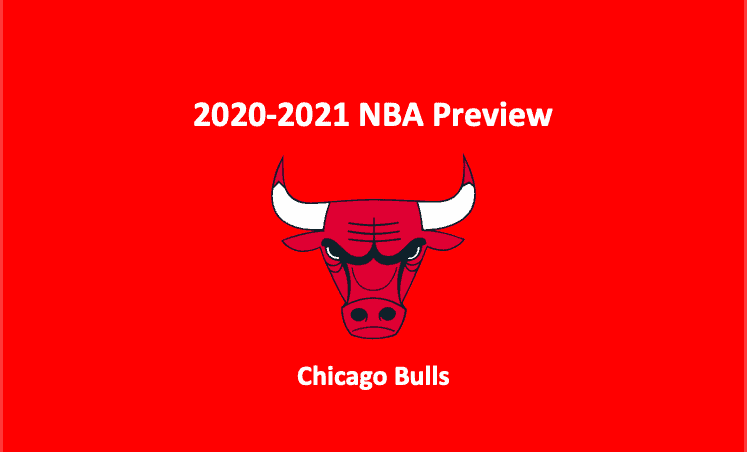 Our Chicago Bulls preview 2020 – 2021 observes that last season the Central Division included three teams with sub-500 records. The Chicago Bulls were the best of the worst with a record of 22-43. The Bulls finished 30 games behind the division- and conference-winning Milwaukee Bucks. They missed a playoff spot by seven games as they finished 11th in the Eastern Conference. It was a tough season for Chicago, which never won more than two games in a row. They did that three times. Their longest losing streak was eight games.
Chicago Bulls Preview 2020 – 2021 – Stats
The Bulls were 27th in scoring, averaging 106.8 PPG. On the other end of the court, they allowed opponents 109.9 PPG (15th). The teams PF/PA differential of -3.0 ranked 22nd in the league. Other areas in which Chicago struggled included rebounding (29th – 41.9 RPG), assists (23rd – 23.3 APG), and field-goal percentage (26th – 44.7%). The Bulls also struggled with ball control, committing 14.6 TO (24th), three-point percentage, which was 34.8% (22nd), and blocks, averaging 4.1 PG (26th). TheY did excel in shot blocking, averaging 10 per game, which was good enough for first in the NBA. However, defense was certainly lacking. Opponents shot 47.9% against then, which ranked 27th. They grabbed 45.5 RPG (20th), which resulted in a differential of -3.6 (28th).
Chicago Roster
This is a talented and young roster. Some of the starters and backups look ready to expand their minutes and upgrade their statistics. Still, there are concerns. The point needs to create more ball movement. At the point, Coby White is one of those players who could show considerable growth this season. Shooting guard Zach LaVine provides consistency. The frontcourt of Otto Porter Jr., Lauri Markkanen, and Wendell Carter has a lot going for it. Again, as is the case with the backcourt, there's potential for expanded contributions from this unit.
Chicago Bulls Preview – Backcourt
In his first NBA season last year, point guard Coby White started one game put played in 65, averaging 25.8 MPG. After recording 13.2 PPG, 2.7 APG, and 3.5 RPG, he's certainly ready to step into the starting role. His shooting percentages were strong with a 39.4 FG%, 35.4 3PT%, and 79.1 FT%. Shooting guard Zach LaVine, formerly of the Minnesota Timberwolves, starts his fourth season as a Bull. The last two years, he's been a consistent performer, averaging 24.7 PPG, 4.3 APG, and 4.8 RPG. Career shooting percentages, which are very strong, are 44.7 FG%, 37.5 3PT%, and 81.9 FT%. Last season, he either surpassed or was within range of those totals.
Bulls Preview – Frontcourt
The starting trio up front is comprised of small forward Otto Porter Jr., power forward Lauri Markkanen, and center Wendell Carter. Porter, who's fluctuated between Washington and Chicago, joins three-year Chicago Bull Markkanen and two-year Bull center Carter. Porter, who struggled with injuries last season, played in just 14 games. If healthy, expect him to contribute about a dozen points and grab approximately six rebounds per game. At power forward, Markkanen has been a consistent starter and performer each season. In 2019-2020, he averaged 14.7 PPG and 6.3 RPG. A sound inside/out shooter, he shot 42.5% in the frontcourt and 34.4% from downtown. He's also an 82.4% free-throw shooter. Last season, Carter, who's started at center each of his first two NBA seasons, averaged 11.3 PPG and 9.4 RPG. The potential double-double center posted a field-goal percentage of 53.4. Our Chicago Bulls preview 2020 – 2021 finds that with Markkanen and Carter early in their careers, this frontcourt has the potential to grow and perform beyond last season's stats.
Bulls Bench
For the Bulls in the backcourt, Tomas Satoransky and Ryan Arcidiacono come off the bench at point and Denzel Valentine (Day-to-Day) and Coby White provide support in the two-spot. Last year, Satoransky contributed 9.9 PPG and 5.4 APG while completing 43.0% of his field goals and 32.2% of his threes. He's also a good defender. Satoransky averaged 28.9 MPG. Arcidiacono, a 40% shooter from anywhere on the court, is a solid sub. When healthy, Valentine offers good backup and is capable of 10 PPG and 6.0 RPG. He has been dealing with injuries. In his rookie season, White posted good numbers for the Bulls. Averaging 25.8 MPG, he recorded 13.2 PPG.
The frontcourt includes small forwards Chandler Hutchison and Garrett Temple (Day-to-Day), power forwards Patrick Williams and Thaddeus Young, and centers Daniel Gafford and Cristiano Felicio. Hutchison offers about 18 MPG and eight points, while Temple, who's played 10 seasons with nine different teams, could provide substantial minutes and double-digit point totals. After one season with the Florida Gators, Williams joins the Bulls as the fourth overall draft pick. With Florida, he averaged 9.2 PPG, 4.0 RPG, 1.0 BPG, and 1.0 SPG. Young, who played his first seven seasons with Philadelphia and last six with three other teams, returns for his second season with Chicago. Last year, he gave Chicago 24.9 MPG, 10.3 PPG, and 4.9 RPG. Around the rim, Gafford, in his second NBA season, will likely expand on his 14.2 MPG and 5.1 PPG. Felicio, in his sixth season with Chicago, played about 15 MPG and recorded 4.5 points and rebounds.
Chicago Bulls Preview 2020 – 2021 – Coaching
Our Chicago Bulls preview 2020 – 2021 finds that new Chicago head coach Billy Donovan looks like just what this team needs. He replaces Jim Boylen, who was fired by Chicago. Donovan spent the last five seasons as the helmsman of Oklahoma City. Known for being a fine mentor, motivator, and communicator, Donovan is defined by his strong work ethic and his ability to connect with players in a strong manner. He inherits a team that has struggled but also has a lot of talent and a huge upside.
Chicago – Pluses and Minuses
Backcourt is strong
Solid bench
Donovan's a premium coach
Center position vulnerable
Team needs change of culture
Rookie Williams talented but untested
Chicago Bulls Preview 2020 – 2021 – Final Word
Our Chicago Bulls preview 2020 – 2021 finds that this team could see its fortunes improve. Hiring Billy Donovan was a smart move, and it should offer positive results immediately. Donovan will work vociferously to change this Bulls team, mentor this young group, and turn them into a competitor. It helps that Chicago is in the Central Division, which is not the most competitive in the NBA.
Chicago Bulls Projection – 34-38 Third-Place, Central Division