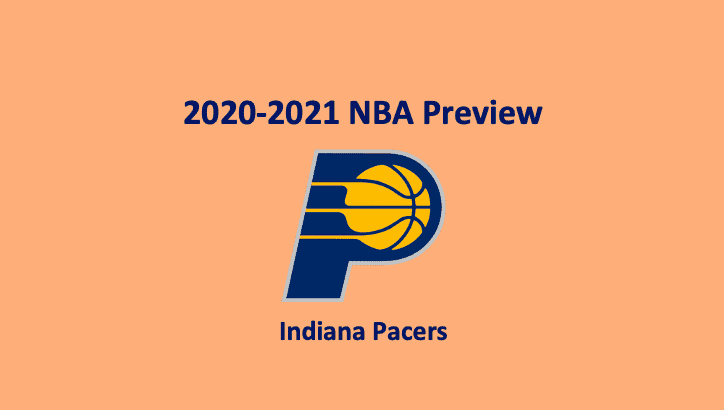 Our Indiana Pacers preview 2020 – 2021 observes that last season this team finished second in the Central Division. Their record of 45-28 left them 11 games out of first place and was good enough to earn them the fourth-spot in the Eastern Conference. In the first round of the playoffs last year, Indiana met the Miami Heat. The Heat vanquished the Pacers in four games. Over the last five years, Indiana has made the NBA postseason. Each time, they've been eliminated in the first round.
Indiana Pacers Preview 2020 – 2021 – Stats
In 2019-2020, the Pacers were 23rd in scoring, averaging 109.4 PPG. However, their 47.6 FG% ranked second in the NBA. Still, the team's field-goal attempts ranked 18th (88.5 PG), diminishing the strength of their shooting. Plus, they were 14th in three-point percentage and 12th in free-throw success. Indiana was not helped by its anemic rebounding, as they grabbed just 42.8 PG (25th). Plus, they were 20th in steals with 7.4 PG. The Pacers did excel at ball handling, averaging just 12.7 TO (5th). Their 5.2 BPG were 11th in the NBA, and the team's 25.9 APG came in 7th.
The Pacers offered a sound defense as they allowed 107.5 PPG (3rd) and held teams to a 44.6 FG% (6th). Indiana kept opponent threes at 34.1% (3rd). Other teams grabbed 45.2 RPG (16th). Indiana's PF/PA differential was +1.9, and their rebounding differential was -2.4. The Pacers also kept opponent steals low. Overall, this was a fairly sound defense.
Indiana Roster
Overall, the Pacers have a good starting five that led by PG Malcolm Brogdon. The point man put up some good numbers last season, while shooting guard Victor Oladipo dealt with injuries and gave attitude. In the paint, T.J. Warren and Domantas Sabonis can dominate when it comes to scoring, and Myles Turner, at center, is a fine defender. The subs include very fine and versatile attackers, but some need to improve on their three-point production. The Pacers are a bit thin at center.
Indiana Pacers Preview – Backcourt
Last season, point guard Malcolm Brogdon came to the Pacers from the Bucks and delivered 16.5 PPG and 7.1 APG. He also grabbed 4.9 RPG. Brogdon shot 43.8% from the floor and 32.6% from downtown. He's an 89% free-throw shooter. Shooting guard Victor Oladipo played in just 19 games last season due to a knee injury. Plus, reports have him being unhappy with the Pacers. Normally, Oladipo is good for about 18 PPG, but last season he averaged just 14.5 per game. He shot 39.4% from the floor and 31.7% from the arc. Both of those numbers were about five points off his career average. Word is that he's ready to return.
Pacers Preview – Frontcourt
In his first season with Indiana last year, small forward T.J. Warren averaged 19.8 PPG, 4.2 RPG, and 1.2 SPG. A solid shooter, he hit 53.6% of his field goals and 40.3% of his three-pointers. This is his seventh NBA season, five of which were spent with Phoenix. PF Domantas Sabonis had his first double-double season last year. Sabonis averaged 18.5 PPG and 12.4 RPG while recording 5.0 APG. Although he shot 54.0% from the floor, our Indiana Pacers preview 2020 – 2021 notes that Sabonis saw his three-point success rate plummet as he connected on just 25.4% of his attempts from downtown. Center Myles Turner, now in his fifth season with Indiana, is a solid defender. Last year, he averaged 2.1 BPG. Also, he was good for 12.1 PPG and 6.6 RPG. Turner was a fine inside/outside shooter, hitting 45.7% of his field goals and 34.4% of his threes.
Pacers Bench
At point guard, Aaron Holiday and T.J. McConnell step up off to rotate in, while Jeremy Lamb (Day-to-Day) and, again, Holiday come in at shooting guards. In his second NBA season last year, Holiday saw his number of minutes per game double to 24.5 PG, which led to him increasing his point production to 9.5 PG and assists to 3.4. He shot 41.4% from the floor and 39.4% from downtown. Last year in his initial season with the Pacers, McConnell, who was formerly with Philadelphia, recorded 6.5 APG and 5.0 RPG. Although his field-goals connected over 51% of the time, his threes were good only 29.4% of the time. Seven-year veteran Lamb arrived in Indiana last season from Charlotte. He averaged 12.5 PPG and 4.3 RPG for the Pacers.
Justin Holiday and Edmond Sumner back up at small forward. Power forwards Doug McDermott and JaKarr Sampson provide good coverage. The center position will be backed up by Goga Bitadze. Prior to coming to Indiana last season, Justin Holiday had played for six different NBA teams in six seasons. He was an able shooter for the Pacers, as he sank 42.8% of his field goals and 40.5% of his threes. Last season, Holiday recorded 8.3 PPG, 3.3 APG, and 1.2 SPG. Sumner offered a solid field-goal percentage but inadequate three-point rate. He averaged 4.9 PPG.
At PF, McDermott is an accurate shooter from just about anywhere, averaging 10.3 PPG, while Sampson, who's been with six different teams in five years, proved to be sound in the paint. For Indiana last season, which was his first in the NBA, Bitadze, averaged 8.7 MPG. The 6-11, 250-pound center recorded 3.2 PPG and 2.0 RPG. He could see his court time expand this season.
Indiana Pacers Preview 2020 – 2021 – Coaching
Our Indiana Pacers preview 2020 – 2021 notes that Nate Bjorkgren, who had been an assistant with Toronto for the past two seasons, arrives as the new head coach for the Pacers. Bjorkgren emphasizes a free-wheeling, up-tempo game and aggressive play on both ends of the court. He offers his players options on offense and will often coach the point guard or another player when the team is at the foul line. He likes to adjust play quickly and often.
Indiana – Pluses and Minuses
Front men can pop out and nail threes
Defense is solid
Coach Bjorkgren should be a good fit
More production on offense needed
Rebounding issues
Does Oladipo want to be in Indiana?
Indiana Pacers Preview 2020 – 2021 – Final Word
Our Indiana Pacers preview 2020 – 2021 finds that this basketball team has a good shot at the playoffs. If they do make the postseason, the Pacers will want to put their one and done penchant to rest. However, that will not be easy to do. New head coach Nate Bjorkgren will work with the team to help them be more creative and play at a quicker tempo. Indiana needs to pound the boards more, increase their second shot opportunities, and score more points. They'll have a hard time competing with the Milwaukee Bucks. Consequently, second place looks like where they will end up.
Indiana Pacers Projection – 46-26 Second-Place, Central Division