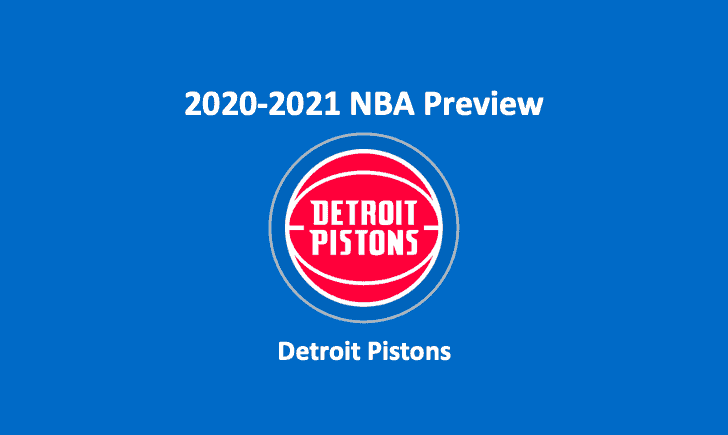 Our Detroit Pistons preview 2020 – 2021 notes that this team ended the season in a slide, losing five straight and nine of their final 10 games. Consequently, the Pistons finished the 2019-2020 season at 20-46. Thus, they were fourth in the Central Division, finishing 32.5 games away from the first-place Milwaukee Bucks. Detroit missed the postseason by 10.5 games. Like the Chicago Bulls, the longest winning streak the Pistons were able to manufacture in 2019-202 was two games. They did that three times. The team's longest losing streak last year was seven games.
Detroit Pistons Preview 2020 – 2021 – Stats
The Pistons averaged 107.2 PPG (25th), while they allowed opponents 110.8 PPG (15th). Those two stats gave the Pistons a PF/PA differential of -3.5 (23rd). Shooting statistics were 45.9 FG% (18th), 36.7 3PT% (11th), and 74.3 FT% (26th). Sometimes, the three-pointer helped this team keep games a bit closer than they might have been. The Pistons averaged 41.7 RPG, which was dead last in the league, while their 24.1 APG ranked 16th. Other stats include 4.5 BPG (22nd) 7.4 SPG (21st) 14.5 TO (20th).
Opponents grabbed 43.5 RPG, which was the eighth-least in the league, while opponents administered a whopping 5.6 BPG (27th). The Pistons were sixth in turnover differential at +1.3. In other statistical differentials, Detroit was -2.1 in field-goal completions (23rd) and -3.5 in free-throw percentage (26th). One positive area was three-point percentage, where the Pistons were +0.5 (12th). However, despite a few positive numbers, overall, the Pistons ranged statistically from mediocre to dismal.
Detroit Roster
This group has some sound veterans and talented rookies. Exactly how those rookies perform will have a lot to do with where this team finishes. Plus, there are vets joining this team who have played before with coach Casey. In essence, this is a very different Pistons team from last year's unit. Although they certainly have talent, Detroit is also thin at various positions. Plus, this is a very new mix of players. Consequently, it will take time for Detroit to gel.
Detroit Pistons Preview – Backcourt
PG Killian Hayes joins the Pistons after playing two years with LNB Pro A's Cholet and playing in the EuroCup. In three years of play, he averaged 7.4 PPG, 6.2 APG, and 1.5 SPG. Hayes, the seventh overall pick in this year's draft, is a fine playmaker who comes to the team with a 44.5% field-goal conversion rate. SG Delon Wright, who played for coach Dwane Casey at Toronto, comes to Detroit from Dallas. Last year, he shot 45.0% from the floor and 34.2% from downtown. Averaging 21.5 MPG, Wright posted 6.9 PPG, 3.3 APG, 3.8 RPG, and 1.2 SPG. This will be an interesting combo, which could either yield solid results or go south.
Pistons Preview – Frontcourt
Small forward Jerami Grant is another new addition to the Pistons. The seven-year veteran, who spent last season with Denver, averaged 12.0 PPG and 3.5 RPG while hitting 47.8% of his field goals as well as 38.9% three-point shots. Power forward Blake Griffin starts his 12th NBA season and fourth with Detroit. In 2019-2020, Griffin played in just 18 games. The star power forward sustained a season-ending knee injury, which resulted in surgery. It's hoped that this season he'll be one-hundred present. His career averages come in at 21.7 FG%, 8.8 RPG, and 4.4 APG.
At center, Mason Plumlee comes to the Pistons from Denver for his eighth NBA season. He spent the last three years with the Nuggets. For only two of his pro seasons has Plumlee been a starter. It's been four years since he's played more than 22 MPG. This will be a real test for Plumlee who last year averaged 7.2 PPG and 5.2 RPG while putting in 17.3 MPG. Our Detroit Pistons preview 2020 – 2021 likes this frontcourt. They could prove to be quite productive. However, there are some question marks regarding stamina and probable contributions.
Pistons Bench
The Detroit point guards include both Derrick Rose and Delon Wright, while the shooting guard spots are manned by Sviatoslav Mykhailiuk and Wayne Ellington. Rose is, in essence, a second starter. Last year, his first with the Pistons, he averaged 18.1 PPG and 5.6 APG while averaging 26.0 MPG. Wright, another player who worked with coach Casey in Toronto, arrives in Detroit after a one-season stopover in Dallas. He's a solid backup who hit threes at a 37% rate last season.
In the frontcourt, small forwards Sekou Doumbouya and Saddiq Bey come in the relieve Grant. In his initial NBA season last year, Doumbouya gave the Pistons 19.8 MPG, 6.4 PPG, and 3.1 RPG. Bey, a first-round, 19th overall pick in this year's draft, played two seasons with Villanova where he averaged 11.9 PPG and 4.9 RPG. He shot 41.8% from the arc. The power forward backups for this team are stretched thin as Doumbouya also subs for that spot as does starting small forward Grant. This group is thin.
Isaiah Stewart and Jahlil Okafor offer support in the middle. Stewart is the third first-round 2020 pick joining the Pistons this season. The 19th overall pick, who played one season with Washington, averaged 17.0 PPG, 8.8 RPG, and 2.0 BPG. Okafor, who's been with three NBA teams in five seasons, will provide about 20 MPG, 11.0 PPG, and 5.0 RPG. He can start in a pinch.
Detroit Pistons Preview 2020 – 2021 – Coaching
Dwane Casey, who was the 2018 NBA Coach of the Year, came to the Pistons two seasons ago. During his initial season, Casey guided the team into the postseason. However, last year, they did not earn a postseason berth. Despite this set back, Casey's Pistons could take some positive strides this season. He wants everyone to take three-pointers, which is reflected in the strength of that particular offensive statistic. Also, Casey pushes his players to keep the pace of play quick. Hard play, passing, and driving to the basket are emphasized. Mid-range shots are deemphasized. With Toronto, Casey engineered what was the top offense in the NBA. Our Detroit Pistons preview 2020 – 2021 finds that Casey does put boundaries on his players, but he also encourages them to test those boundaries. Note, the Pistons do play solid defense.
Detroit– Pluses and Minuses
PF Blake Griffin can be lights out
PG Derrick Rose is top-notch
Dwane Casey is a top-flight head coach
New players will need to gel
At times, rookie mistakes will compromise their chances of winning
Griffin's health is a concern
Detroit Pistons Preview 2020 – 2021 – Final Word
Our Detroit Pistons preview 2020 – 2021 finds that Casey's style of play and mentoring should result in a more positive outcome this season. However, as we've noted, this is a new team with lots of young players. There is talent, and they should adapt well to Casey's style of play. Although 12 more wins than they achieved last season is a lot, we do find that this team has the ability to make that happen.
Detroit Pistons Projection – 32-40 Fourth Place, Central Division