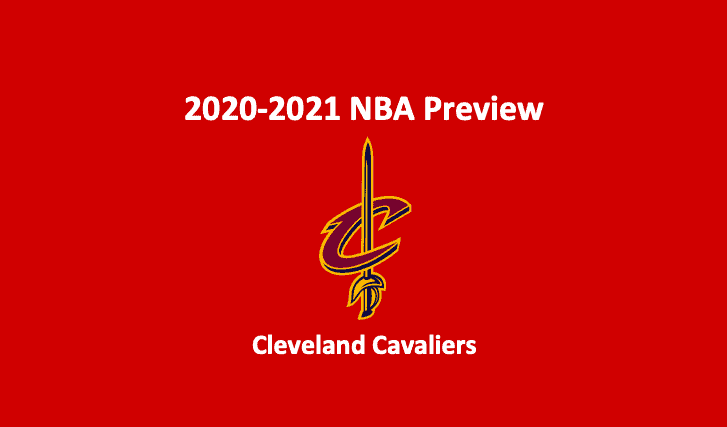 Our Cleveland Cavaliers preview 2020 – 2021 observes that the team has certainly struggled as of late. It's hoped that new head coach J.B. Bickerstaff, who replaced John Beilein part-way through last season, can turn this team around. Bickerstaff starts his first full season as the head coach of the Cavs. Last year, the Cavaliers, who were 19-46, finished 33 games out of first place in the Central Division. They were dead last in the Eastern Conference, missing the postseason by 12.5 games. They seemed to be a long way from the 2017-2018 NBA season when, for the fourth straight year, they made it to the NBA Finals. In each of the past two seasons, the Cavs have recorded 19 wins, been fifth in the Central Division, and finished 14th and 15th in the East.
Cleveland Cavaliers Preview 2020 – 2021 – Stats
Last season, the Cavaliers had two problems. Initially, they could not score, and, secondly, they could not stop other teams from scoring. Thus, this team had issues on both ends of the court. Subsequently, statistically they were in the lower tier of most categories, and often Cleveland finished 24th or lower.
The Cavs averaged 106.9 PPG (26th), 44.2 RPG (19th), and 23.1 APG (24th). In terms of shooting, they performed in the following manner, 45.8 FG% (19th), 35.1 3PT% (20th), and 75.8 FT% (20th). They were 25th in steals, 30th in blocks, and 28th in turnovers. The team's PF/PA differential of -7.8 PPG and -3.0 APG both ranked 28th. There was little positive for this team when it came to stats.
Cleveland Roster
A young but promising backcourt and two veteran big men up front, as well as a talented rookie in the small forward spot, make this unit look very attractive. Having Kevin Love and Andre Drummond both around the rim gives Cleveland an edge in the paint. The bench is good but thinner than one might expect due to legal issues facing the productive and versatile Kevin Porter and health problems that could sideline veteran center JaVale McGee.
Cleveland Cavaliers Preview – Backcourt
PG Darius Garland, the fifth pick in the 2019 NBA Draft, was a starter all last year. Averaging 30.9 MPG, he recorded 12.3 PPG and 3.9 APG. Garland shot 40.1% from the floor and hit 35.5% of his threes. It was a good first season. However, the point guard will need to show growth this season. Subsequently, it's expected he'll develop his playmaking, ball handling, and decision making skills. The Cavs need more from him on defense. SG Collin Sexton, who was the eighth overall pick in the 2018 draft, returns for his third season. In his initial season, he too was an immediate starter. He did show improvement last year, as he averaged 20.8 PPG and 1.0 SPG, while sinking 47.0% of his field goals. Although his three-point success rate dropped a few points, it was still a healthy 38.0%.
Cavaliers Preview – Frontcourt
The youth movement in Cleveland continues in the paint, as small forward Isaac Okoro, the fifth overall draft pick for 2020, joins the team. In college, Okoro, who played one season for Auburn, averaged 12.9 PPG, 4.4 RPG, 0.9 BPG, and 0.9 SPG. He field-goal attempts connected 51.4% of the time. The 6-6, 225-pound front man has a wide wingspan, which should serve him well as a defender. Veteran power forward Kevin Love, who has 12 NBA seasons to his credit, with the last six being at Cleveland, is still a stellar double-double threat. In 2019-2020, Love averaged 17.6 PPG, 9.8 RPG, and 3.2 APG while averaging 31.8 MPG. His shooting stats came in at 45.0 FG%, 37.4 3PT%, and 85.4 FT%.
Finally, center Andre Drummond, who came to the Cavs late last season, returns. Drummond, who spent over seven seasons with the Pistons, is a constant double-double threat. Last year, he averaged 17.8 PPG and 11.2 RPG. He shot 53% from the floor. Drummond is a premium defender. In 2019-2020, he averaged 1.5 BPG and 2.75 SPG. Our Cleveland Cavaliers preview 2020 – 2021 notes that the two vets and one rookie, all very talented, make this frontcourt look very intimidating.
Cavaliers Bench
In terms of guys coming off the bench, Kevin Porter, who's designated as the first backup for shooting guard and small forward, is listed as day-to-day. The versatile Porter, who was the 30th pick overall last year, averaged 23.2 MPG in his first NBA season. He was good for 10 PPG, 3.2 RPG, and 2.2 APG. His posted a 44.2 FG% and 33.5 3PT%. Last season, he went down with a knee sprain, and this November 15 it was reported that Porter was arrested on a weapons violation. SG Damyean Dotson joins the Cavaliers after spending his first three professional seasons with the Knicks. A 42.0% career shooter, who's hit 36.1% of his threes, Dotson has averaged 7.8 PPG.
The point is backed up by seven-year vet Matthew Dellavedova and two-year player Collin Sexton. Last season, Sexton, who's primarily been a starter his first two seasons, averaged 20.8 PPG, 3.1 RPG, and 1.0 SPG. Playing 33.0 MPG, he connected on 47.2% of his field goals and 38.0% of his three-point attempts. Although over the past few seasons Dellavedova has seen his shooting stats drop, he is an excellent ball handler and setup man.
Cleveland Cavaliers Bench – Frontcourt
In the paint, Cedi Osman comes in to relieve either the small forward or power forward spot, while Larry Nance Jr. is available to substitute at power forward or center. Last season, Osman, who started 65 games, was good for 11.0 PPG and 3.6 RPG. Nance, who's now in his sixth NBA season, had a better than average year. The forward/center put up 10.1 PPG and took down 7.3 RPG while completing 53.1% of his field goals and 35.2% of his shots from beyond the arc. JaVale McGee is the other center. However, he's presently listed as day-to-day. The 7-0, 270-pound veteran plays well at both ends of the court. McGee's major health issues concern COVID-19 and the fact that he's an asthmatic who a few years ago had a bout with pneumonia. All of these factors make him a greater health risk where COVID is concerned.
Cleveland Cavaliers Preview 2020 – 2021 – Coaching
Our Cleveland Cavaliers preview 2020 – 2021 observes that this will be head coach J.B. Bickerstaff's first full season at the helm for the Cavaliers. However, Cleveland's top man brings a wealth of head-coaching experience to this gig. Prior head-coaching endeavors include stints with the Houston Rockets and Memphis Grizzlies. Like his latest job, Bickerstaff inherited those two coaching positions after another head coach was let go in the midst of an ongoing season. Presently, his record as three different NBA teams' primary helmsman is 85-131. As a coach, Bickerstaff emphasizes hard work, being part of a team where the individual is less important than the group, and a total commitment by each player to the moment at hand. He sees this Cleveland team as a work-in-progress that should play much better basketball than they did last season.
Cleveland – Pluses and Minuses
PF Kevin Love is an excellent two-way player
Center Andre Drummond is a double-double threat
Coach Bickerstaff is solid
SG Kevin Porter has talent and legal issues
Thin bench
Young talent needs time to mature
Cleveland Cavaliers Preview 2020 – 2021 – Final Word
Our Cleveland Cavaliers preview 2020 – 2021 sees potential for this team to develop. It will not be an easy road for the Cavs. It is true that they possess some very fine players and coach Bickerstaff looks to be a good choice. But issues related to youth, aging, behavior, and health could all weigh heavily on this team. This will be an important developmental season. We expect that the Cavaliers will lose more games than they win. However, we also think they will be fun to watch as they progress throughout the season.
Cleveland Cavaliers Projection – 23-49 Fifth-Place, Central Division