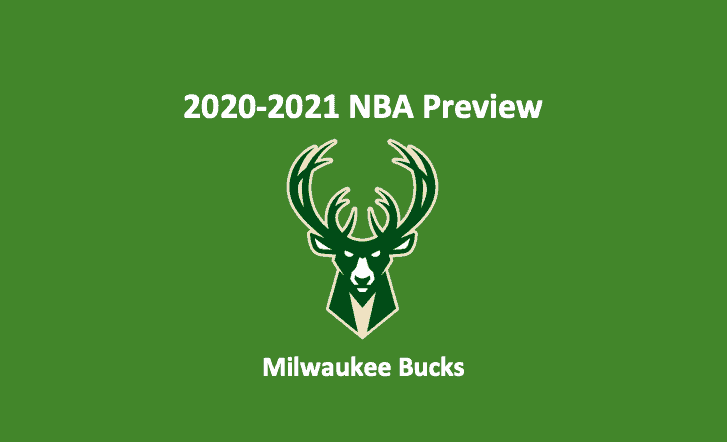 Our Milwaukee Bucks preview 2020 – 2021 observes that last season this team finished 56-17. That was the best record in the NBA. That meant that the Bucks finished first in the Central Division and in the Eastern Conference. Milwaukee looked primed to go all the way to the finals. In the initial round, the Bucks took down the Orlando Magic four games to one. Up next, it was the Miami Heat. That's where the playoff road ended for the Bucks, as the soon-to-be Eastern Conference champs, the Heat, took down Milwaukee in five games. Now, it's another season, and the Bucks appear to be one of the best teams in the NBA.
Milwaukee Bucks Preview 2020 – 2021 – Stats
The Bucks led the league in points per game with 118.7 and rebounding with 51.7. The team's shooting percentages were all over the place. Milwaukee excelled when it came to field goals, completing 74.2% of their attempts. In that area, they ranked third. However, the Bucks were near the bottom of the pack in free throws, coming in 27th, hitting 74.2%. They were near the middle of the league in three-pointers, ranking 18th while knocking down 35.5% of their attempts. Then Bucks were strong in ball movement, averaging 25.9 APG (6th) and solid in blocks with 5.9 PG (3rd). However, ball handling was an issue, as Milwaukee posted 14.7 TO (25th).
In points allowed, the Bucks ranked 8th, giving up 108.6 PG. That gave them the best point differential in the NBA, as they were +10.0. They also topped the league in points made differential (+4.3) and rebound differential (+5.9). Milwaukee was first in opponent field-goal percentage, holding teams to 41.4%. Opponents connected on 35.5% of their threes, which was 15th in the NBA. Milwaukee averaged 24.2 APG (11th), 7.4 SPG (12th), and 4.5 BPG (9th).
Milwaukee Roster
The Bucks' starting five is a sound unit that plays both ends of the court with aplomb. It includes four veterans with PF Giannis Antetokounmpo anchoring the paint and PG Jrue Holiday providing fine quarterbacking. Of the five starters, SG Donte DiVincenzo comes to the floor with the least amount of NBA experience, two seasons. This will be his first time as a full-fledged starter.
Milwaukee Bucks Preview – Backcourt
In his 12th NBA season, point guard Jrue Holiday comes to Milwaukee from New Orleans. Last season, he averaged 19.1 PPG, 6.7 APG, 4.8 RPG, and 1.8 SPG. He hit 45.5% of his field goals and 35.3% of his threes, while knocking down 70.9% of his frees. Shooting guard Donte DiVincenzo, who's in his second NBA and Milwaukee season, moves into the starting spot. Last season, he started 24 of the 66 games in which he appeared. The shooting guard was good on 45.5% of his field goals and 33.6% of his threes. Averaging 23.0 MPG last season, DiVincenzo recorded 9.2 PPG, 4.8 RPG, 2.3 APG, and 1.3 SPG. The duo of Holiday and DiVincenzo possess great potential.
Bucks Preview – Frontcourt
A trio of veteran players comprises the frontcourt. The triumvirate has been together just two seasons, however small forward Khris Middleton and power forward Giannis Antetokounmpo have been working together for seven years. Antetokounmpo is the primary force in the paint. A consistent double-double player, he does it all. Last season, Antetokounmpo averaged 29.5 PPG, 13.6 RPG, and 5.6 APG. He also averaged 1.0 BPG and 1.0 SPG. A 55.5% field-goal shooter, Antetokounmpo hit 30.4% of his threes. At small forward, Middleton is a sound inside/out player who completed 49.7% of his field goals and 41.5% of his threes. Last season, Middleton completed 91.6% of his frees, which is an amazing success rate. Also, he averaged 20.9 PPG, 6.2 RPG, and 4.3 APG.
Last season, center Brook Lopez proved to be an avid defender as well as a reliable scorer. Lopez averaged 2.4 BPG and scored 12.0 PPG. He recorded 4.6 RPG. A 43.5% field-goal shooter, like his two frontcourt compatriots, Lopez can also drain the basket from downtown. In 2019-2020, he completed 31.4% of his threes. Additionally, he completed 83.6% of his shots from the charity stripe. Considering the talent and versatility up front, our Milwaukee Bucks preview 2020 – 2021 finds that this is one of the best paint crews in the game. The players coming off the bench, many of whom are capable of starting, add a lot of depth.
Bucks Bench
Milwaukee features D.J. Augustin as the primary backup at the point, while DiVincenzo is considered to be the third-man in. Augustin, who's a 15-year vet, joins the Bucks from Orlando. With the Magic last season, he was good for 10.5 PPG and 4.6 APG. Also in the backcourt at shooting guard is Bryn Forbes and Torrey Craig. Forbes, who spent his first four years with the Spurs with the last two of those being as a starter, averaged 11.5 PPG in his last two seasons. In 2019-2020, Forbes was good on 41.7% of his field goals and 38.8% of his threes. Craig, who is also new to the Bucks, enters his fourth NBA season after spending his first three with Denver. Last year, he averaged 18.5 MPG, 5.4 PPG, and 3.3 RPG.
The versatile Craig may also be used at small forward, although the primary man coming off the bench for this spot is Pat Connaughton. Last season, Connaughton averaged 18.6 MPG, 5.4 PPG, and 4.2 RPG. The power forward position is occupied by Bobby Portis and D.J. Wilson. Portis, who's got six NBA seasons under his belt, comes to the Bucks from the Knicks. A solid player, he averaged 10.1 PPG and 5.1 RPG. In his fourth season with Milwaukee, Wilson recorded 3.6 PPG and 2.5 RPG while plaing 9.8 MPG. Portis and Antetokounmpo back up Lopez at center.
Milwaukee Bucks Preview 2020 – 2021 – Coaching
Head coach Mike Budenholzer came to the Bucks in 2018 after 17 years as an assistant with San Antonio and five years as a head coach with Atlanta. In both seasons with Milwaukee, Budenholzer led the team to first-place finishes as they tabulated a .748 winning percentage. He was coach of the year in 2014-2015 with Atlanta, and again in 2018-2019 in his first season with Milwaukee. As a head coach, Budenholzer has never won an NBA title.
In his first season with the Bucks, he transformed the team that had been playing undisciplined basketball on both ends of the court. Budenholzer did this by emphasizing personal responsibility, each player's individual development, and efficiency. He's top-notch at developing schemes and is known as a premium Xs and Os guy. At the same time, the coach creates close relationships with each of his players. Our Milwaukee Bucks preview 2020 – 2021 observes that Budenholzer emphasizes defense, rebounding, and creating quality scoring opportunities.
Milwaukee – Pluses and Minuses
Dynamic frontcourt
Excellent depth
Budenholzer is a first-rate head coach
DiVincenzo must reach next level
Postseason has been unremarkable
Can they repeat as the top team?
Milwaukee Bucks Preview 2020 – 2021 – Final Word
Our Milwaukee Bucks preview 2020 – 2021 sees this team as being the one to beat in the East. The Bucks have one of the best starting units in the game, a top-notch head coach, and a fine group coming off the bench. Plus, they play in a division that is defined by relatively weak competition. We don't see another team in the Central Division, not even the Indian Pacers, that can compete against the Bucks.
Milwaukee Bucks Projection – 53-19 First-Place, Central Division