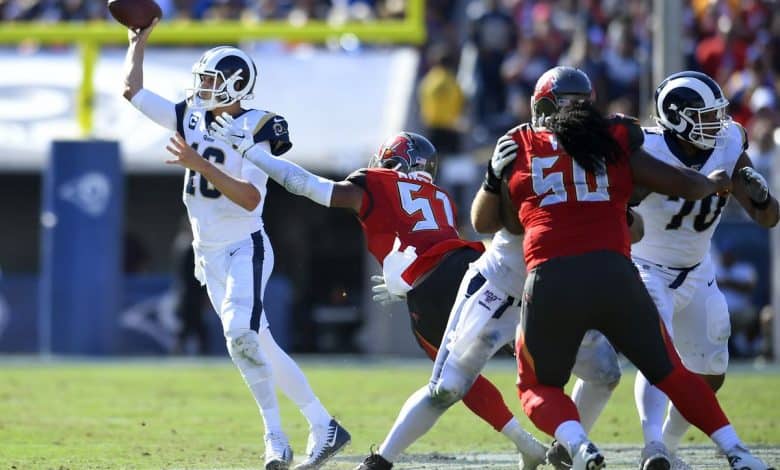 The NFL's week 11 schedule comes to an end in the Rams at Buccaneers pick, a game that could go a variety of ways. The last time we saw Tampa Bay at home they were getting slaughtered 38-3 by the Saints in week 9 as 3-point favorites. The Bucs did bounce back nicely in a 46-23 win at Carolina last week to easily cover the -6 number however.
L.A. comes into the Monday Night tilt with some momentum after staving off the Seahawks 23-16 in week 9 and recharging on the bye last week. The Rams have flip-flopped wins and losses for the last five weeks though, which doesn't bode well heading into Tampa Bay. The Rams are 2-3 on the road this season compared to Tampa Bay who are 3-1 at Raymond James Stadium. In that regard the TB -4 spread almost looks on the low side at first glance.
Can Rams Get Running Game Going Monday?
One of the major goals for Sean McVay in the Rams at Buccaneers pick is to get Darrell Henderson, Malcolm Brown, Cam Akers and the multi-faced L.A. run offense churning out yards. That may be easier said than done though as Tampa Bay boasts the league's #2 ranked run defense that allows just 76.6 ypg.
The Rams rank 7th in the NFL in rushing offense, but they also have no problem turning things over to Jared Goff, who was 27/37 for 300+ yards to key the Rams win over Seattle. L.A. had just 106 yards on the ground in that game. Goff is still only a couple weeks removed from his 2 INT performance against Miami however, and has now completed 57% or less of his passes in two of the last four.
For all the challenges the Rams offense may face against the #3 defense in the league on Monday night, L.A.'s defense doesn't exactly have a cake walk either. The Rams do have the confidence of holding Russell Wilson to a 22/37 day with 0 TD and 2 INT two weeks ago though, and Aaron Donald would also love to get his first career sack of Tom Brady.
Tampa Bay Struggles In Prime Time
For having such a star-studded team, the Buccaneers have really been the not ready for primetime players this season. Tampa Bay has lost 20-19 to a very bad Chicago team on Thursday Night Football, squeaked by the Giants 25-23 as -13 point favorites on MNF, and had their doors blown off by the Saints by 35 points on Sunday night football.
Tampa Bay was downright atrocious against a good-but-not-great Saints defense in their last home game. The Bucs managed just 8 yards rushing on 5 carries, and Brady had only 209 yards through the air with 3 INT. Drew Brees threw 6 incompletions and 4 TD vs. the vaunted Tampa defense in that week 9 tilt.
The Bucs did look much better last week in Carolina, running for 210 yards with Brady tossing for 341 yards and 3 TD. It seems unlikely that the Rams' #5 rush defense will give up a 98-yard run to Ronald Jones like the Panthers did though. Overall L.A. has the top total yards defense in the league, and also rank #2 in passing yards and points allowed. The betting total of 48.5 gets a lean towards the 'under.'
Free Rams at Buccaneers Pick
This game feels like either a Tampa Bay blowout or an outright loss. With the way the Bucs have played on the national stage and the fact that the Rams front 7 is rested after a bye last week, it's looking like a night of nice potential for L.A.
Rams 26 – Buccaneers 17
Free Pick: Rams +4